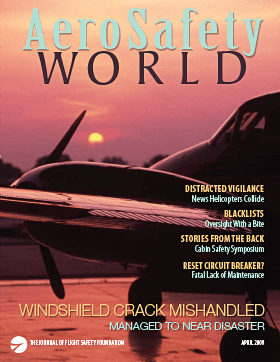 Entire Issue
AeroSafety World April 2009 [PDF 5.0M]
Features
Distracted 5 pages. [PDF 457K]
The pilots of two TV news helicopters were busy with news-reporting duties in the seconds before their midair collision in Phoenix.
Beyond Compliance 3 pages. [PDF 224K]
Seminar speakers stress the need to exceed basic requirements.
Knock Yourself Out 5 pages. [PDF 295K]
Overreaction to a shattered windshield led to loss of consciousness and control.
Bucking Convention 4 pages. [PDF 291K]
Symposium showcases innovations to reduce crew turbulence injuries and hold accountable passengers who impede safety.
**Web Exclusive** Bucking Convention [Expanded version of article]
Separation Anxiety 4 pages. [PDF 264K]
Imminent approval of software upgrade promises safer TCAS II collision avoidance system logic.
Back to the Drawing Board 3 pages. [PDF 209K]
The FAA wants sweeping changes to airline crewmember and dispatcher training.
Making a List 4 pages. [PDF 245K]
Published lists of air carriers and civil aviation authorities that are up to par — and those that fall short — are playing an increasingly influential role in aviation safety.
Every Trip Has a Story 4 pages. [PDF 314K]
Resetting a circuit breaker without knowing why it opened can be deadly.
Departments
President's Message | Safety in Bad Times [PDF 94K]
Editorial Page | Green and Safe [PDF 73K]
Safety Calendar | Industry Events [PDF 79K]
In Brief | Safety News [PDF 198K]
Foundation Focus | FSF — International Is 20 [PDF 191K]
Smoke Fire Fumes | Selected Smoke Fire and Fumes Events [PDF 77K]
Data Link | Tanzania's Runway Game [PDF 271K]
Info Scan | From Ideal to Real in the Cockpit [PDF 137K]
On Record | 'Salvaged' Approach Ends Badly [PDF 310K]