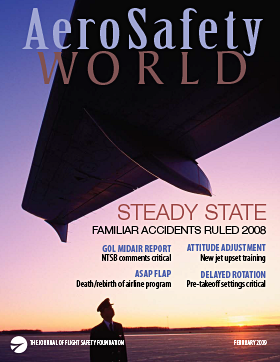 Entire Issue
AeroSafety World February 2009 [PDF 5.3M]
Features
Midair Over the Amazon 5 pages. [PDF 353K]
Controversial Brazilian report cites loss of situational awareness by pilots and controllers.
Investigation Turns Criminal 2 pages. [PDF 204K]
Pilots, controllers indicted in wake of collision that rocked Brazil.
Steady State 6 pages. [PDF 436K]
Accident categories in 2008 were mostly familiar, including the unwelcome return of the no-flaps takeoff.
Error Management 6 pages. [PDF 632K]
Only in recent years have aviation maintenance errors been recognized as a symptom of wider problems in the workplace.
Attitude Adjustment 6 pages. [PDF 440K]
Updated guidance and research findings boost confidence that airplane upset recovery training is on the right track.
Rebuilding ASAP 4 pages. [PDF 227K]
With several aviation safety action programs out of commission, the industry is looking for ways to bolster voluntary safety-reporting endeavors.
Moment of Truth 4 pages. [PDF 268K]
Rigid adherence to procedures for takeoff weight, center of gravity and stabilizer trim setting reduces the likelihood of uncommanded or delayed rotation.
Departments
President's Message | When the Sun Doesn't Shine [PDF 92K]
Editorial Page | Absolutely Nuts [PDF 74K]
Air Mail | Letters From Our Readers [PDF 164K]
Safety Calendar | Industry Events [PDF 79K]
In Brief | Safety News [PDF 190K]
Leaders Log | James C. May [PDF 202K]
Foundation Focus | CASS 2009 Preliminary Agenda [PDF 181K]
Data Link | U.K. Business Jet Accident Rates Comparatively High [PDF 545K]
Info Scan | Drive to Succeed [PDF 243K]
On Record | Engine Cowling Departs on Landing [PDF 320K]