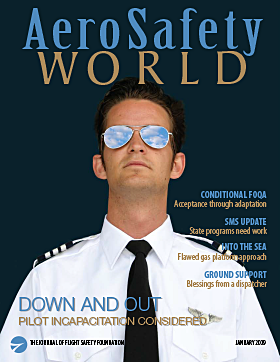 Entire Issue
AeroSafety World January 2009 [PDF 4.1M]
Features
Down and Out 5 pages. [PDF 272K]
There is no checklist for pilot incapacitation, a rare but serious threat.
Ground Support 6 pages. [PDF 481K]
A good dispatch team enhances safety and efficiency while reducing disruptions.
Into the Mainstream 7 pages. [PDF 353K]
Although many operators will miss ICAO's January deadline for implementation of a safety management system, the SMS concept is gaining ground.
No Smoking in the Cockpit 4 pages. [PDF 179K]
It's time to implement recommendations for mitigating smoke/fire/fumes events.
'Flying into the Sea' 5 pages. [PDF 338K]
Investigators said that a lack of visual cues likely led the pilots of an SA 365N to lose control during a nighttime approach to an Irish Sea gas platform.
Fairly Disciplined 6 pages. [PDF 343K]
Shanghai Airlines reports positive results after launching China's first conditional nonpunitive FOQA program.
Departments
President's Message | Changing the Conversation [PDF 88K]
Editorial Page | Still Needed: Trained People [PDF 70K]
Safety Calendar | Industry Events [PDF 73K]
Air Mail | Letters From Our Readers [PDF 168K]
In Brief | Safety News [PDF 179K]
Leaders Log | Nicholas A. Sabatini [PDF 117K]
Foundation Focus | Donoghue Recognized [PDF 112K]
Data Link | Disparate Measures [PDF 171K]
Info Scan | Picture This [PDF 168K]
On Record | 'Don't Say Anything' [PDF 291K]