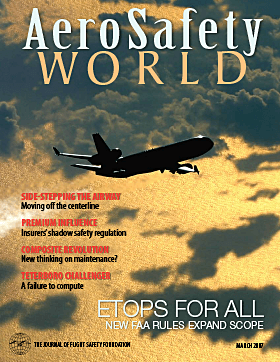 Entire Issue
AeroSafety World March 2007 68 pages. [PDF 5.2M]
Features
ETOPS Redefined 5 pages. [PDF 351K]
A new name and sweeping new rules for 'extended operations.'
The Composite Evolution 5 pages. [PDF 1.2M]
New uses of composite materials in airliners will result in new ways of thinking for maintenance personnel
Premium Influence 5 pages. [PDF 323K]
Perspectives of aviation insurers widen the scope of resources available to aircraft operations risk managers.
**Web Exclusive** | Premium Influence [Expanded version of article]
Off-Balance Overrun 7 pages. [PDF 477K]
Nose-heavy Challenger would not rotate for takeoff.
Threat-and-Error Detectives 3 pages. [PDF 292K]
A pioneering regional airline recounts its LOSA experience for other turboprop operators.
Sidestepping the Airway 6 pages. [PDF 266K]
Some voices in the aviation industry are challenging the traditional belief that the centerline of an airway is the safest position for an airplane.
Tail Wind Traps 2 pages. [PDF 147K]
Birds never land downwind. Should we?
Departments
President's Message | Starting Down the Road [PDF 93K]
Editorial Page | Incursions, Excursions & Confusions [PDF 75K]
Air Mail | Letters From Our Readers [PDF 202K]
Safety Calendar | Industry Events [PDF 64K]
In Brief | Safety News [PDF 290K]
Foundation Focus | Call for Nominations [PDF 90K]
Leaders Log | Forging New ATM Links in the Global Safety Chain [PDF 108K]
Foundation Focus | Improving Your Library [PDF 77K]
Data Link | Is There a Doctor Aboard? [PDF  90K]
Info Scan | A Case of Safety [PDF 170K]
On Record | Right Layout, Wrong Airport [PDF 450K]