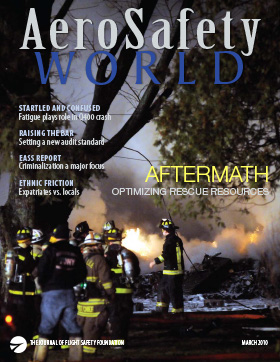 Entire Issue
AeroSafety World March 2010
68 pages. [PDF 4.1M]
Features
Mixed Culture 3 pages. [PDF 258K]
Strained relationships between Nigerian and expatriate maintenance technicians interfere with common safety objectives.
Raising the Bar 6 pages. [PDF 543K]
The new FSF Basic Aviation Risk Standard is designed to help mining and resource companies around the world develop common aviation safety standards.
Startled and Confused 6 pages. [PDF 405K]
A bad reaction to a stick shaker triggered a stall.
Mutual Aid 6 pages. [PDF 359K]
When the Q400 struck a house and exploded, the volunteer fire chief pulled ARFF specialists into a massive response.
**Web Exclusive** Mutual Aid (Expanded version of original article) Text only
Line Up and Wait 4 pages. [PDF 217K]
SMS risk assessments convince the FAA that more of ICAO's ATC clearance procedures and phrases can be adopted safely.
Gear Collaspe 3 pages. [PDF 215K]
An Avro 146's nose landing gear failure can be traced to fatigue cracks in its main fitting, investigators say.
Combining Resources 4 pages. [PDF 288K]
European seminar highlights strategies for safety improvement.
Battery Rules 3 pages. [PDF 237K]
U.S. officials are considering proposed changes in the requirements for transporting lithium batteries in cargo and passenger aircraft.
Departments
President's Message | Building on the Basics [PDF 85K]
Editorial Page | Unintended Consequences [PDF 70K]
Safety Calendar | Industry Events [PDF 71K]
In Brief | Safety News [PDF 187K]
Data Link | By the Book [PDF 106K]
Info Scan | A Code Shared Accident [PDF 198K]
On Record | Takeoff Rejected Well Above V1 [PDF 288K]