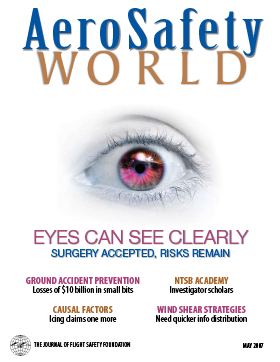 Entire Issue
AeroSafety World May 2007 68 pages. [PDF 4.6M]
Features
Better Sight for Flight 5 pages. [PDF 377K]
Although laser eye surgery is growing in popularity, some aeromedical specialists warn that — for pilots — it may carry risks.
Wide-Angle Safety 3 pages. [PDF 211M]
"Times of change" are bringing specialists together to create safety systems that transcend companies, industry segments and regions.
Defusing the Ramp 5 pages. [PDF 307K]
Progress report on FSF efforts to stem the toll of ground accidents.
Thin But Deadly 6 pages. [PDF 644K]
Another hard lesson that even a little ice can be dangerous.
Real-Time Defenses 5 pages. [PDF 317K]
Wind shear avoidance can reach the next level if airlines and ATC update their procedures to match current detection capabilities.
Curing Incursions 3 pages. [PDF 206K]
Much has been said about stopping runway incursions, but the safety board wanted to find out what has been done.
Graceful Arrivals 4 pages. [PDF 269K]
Compliance with world standards reduces the opportunity for error using visual docking guidance systems.
Lessons From the Wreckage 4 pages. [PDF 325K]
The NTSB Training Center uses the reassembled remains of TWA Flight 800 as the centerpiece in its wide-ranging classes for aviation accident investigators.
Departments
President's Message | Growth Pains [PDF 97K]
Editorial Page | Spread the Word [PDF 84K]
Air Mail | Letters From Our Readers [PDF 226K]
Safety Calendar | Industry Events [PDF 69K]
In Brief | Safety News [PDF 248K]
Leaders Log | Donald Spruston [PDF 102K]
Foundation Focus| Saw You in Amsterdam; See You in Seoul [PDF 83K]
Data Link | More Bird Strike Reports, Please [PDF 134K]
Info Scan | Factors in Vulnerability [PDF 180K]
On Record | An Automation Anomaly [PDF 455K]