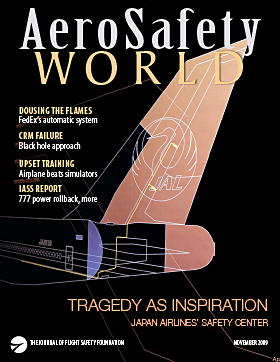 Entire Issue
AeroSafety World November 2009
68 pages. [PDF 4.4M]
Features
Precious Lives. 5 pages. [PDF 349K]
Japan Airlines Safety Promotion Center compels reflection on solemn responsibilities of aviation professionals.
**Web Exclusive** Precious Lives [Expanded version of article]
ATC Crisis Management Training Pays Off. 3 pages. [PDF 214K]
Prior training proves its worth in a real-life event.
Topsy Turvy. 4 pages. [PDF 176K]
Time in a simulator can enhance a pilot's upset recovery skills, but there's no substitute for aerobatic training.
A New Human Factors Tool on SKYbrary. 2 pages. [PDF 259K]
The FSF Operator's Guide to Human Factors in Aviation debuts on a Eurocontrol Web site.
Grappling with the Unexpected. 6 pages. [PDF 363K]
Ice-induced engine rollbacks, runway excursion alerts and proposed aid to criminal investigations capture industry attention.
Teamwork Fades in a Black Hole. 6 pages. [PDF 380K]
Lack of CRM training factored in a muddled approach and go-around.
Dousing the Flames. 5 pages. [PDF 300K]
FedEx is equipping its aircraft with an automatic fire-suppression system — a first for transport category cargo airplanes.
Departments
President's Message | Regulating Fatigue. [PDF 87K]
Editorial Page | Delicate Balance. [PDF 70K]
Air Mail | Letters From Our Readers. [PDF 197K]
Safety Calendar | Industry Events. [PDF 73K]
In Brief | Safety News. [PDF 179K]
Foundation Focus | European Regional Airlines Applaud Article. [PDF 115K]
Foundation Focus | Flight Safety Foundation Members. [PDF 203K]
Data Link | Madrid Accident Overshadows EASA Data. [PDF 507K]
Info Scan | Sample Case. [PDF 395K]
On Record | MD-83 Clips Approach Lights on Departure. [PDF 296K]