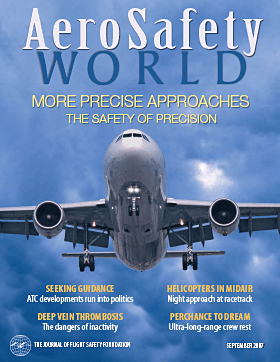 Entire Issue
AeroSafety World September 2007 68 pages. [PDF 7.1M]
Features
Seeking Guidance 7 pages. [PDF 715K]
Those running the quest for new generation ATC systems are fighting to overcome political problems, not technical problems.
Pursuing Precision 2 pages. [PDF 97K]
Introduction to a series focusing on the development and safety benefits of precision-like approaches.
All-Weather Ops 8 pages. [PDF 2.0M]
Approach guidance has evolved from four-course ranges to satellites.
Eurocontrol Provides Alerts 2 pages. [PDF 402K]
Program offers information with regional and global benefits.
Failure to Look 4 pages. [PDF 227K]
The pilot of an EC 130B4 was killed in a collision with another helicopter during a nighttime approach to a busy heliport.
Perchance to Dream 4 pages. [PDF 245K]
Crew rest facilities assume critical importance when flights exceed 16 hours.
**Web Exclusive** | Perchance to Dream [Expanded version of article]
The Clotting Factor 5 pages. [PDF 1.98M]
New studies confirm a link between DVT and long-haul flights but show that, for most people, the risk of developing such blood-clotting disorders is slight.
Teamwork in Motion 3 pages. [PDF 708K]
Flight crews play a pivotal role in safety during business jet towing and parking.
Departments
President's Message | China's Way [PDF 89K]
Editorial Page | The Airports' Tale [PDF 70K]
Air Mail | Letters From Our Readers [PDF 129K]
Safety Calendar | Industry Events [PDF 74K]
In Brief | Safety News [PDF 228K]
Leaders Log | Accident Investigations Still Important [PDF 118K]
Data Link | Fewer Fatalities in Hull Loss Accidents [PDF 187K]
Info Scan | Safety à la Mode [PDF 144K]
On Record | Go-Around Decision Delayed [PDF 273K]