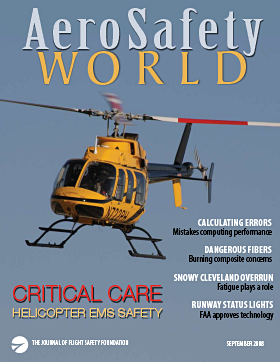 Entire Issue
AeroSafety World September 2008 68 pages. [PDF 4.9M]
Features
Critical Care 6 pages. [PDF 433K]
Frustrated by a cluster of fatal crashes, the U.S. helicopter EMS industry and the government are pressing for safety improvements.
Undiminished Activity 3 pages. [PDF 238K]
Economic slowdowns in the developed world are largely unnoticed as the developing world sustains the momentum.
Snowed 6 pages. [PDF 597K]
The runway was in and out of sight, but the crew pressed ahead.
Calculating Errors 5 pages. [PDF 309K]
Mistakes in determining takeoff parameters are frequent, a French study says, and methods of detecting them are not always effective.
New Standards for International GA 4 pages. [PDF 257K]
Safety and fatigue management systems are on the books for general aviation.
Downwind Debris 4 pages. [PDF 333K]
Australian study summarizes post-crash health risks from fiber composites in transport aircraft.
Timing is Everything 5 pages. [PDF 645K]
The FAA's decision to deploy runway status lights over the next three years aims to further reduce the risk of collision.
Departments
President's Message | Doing the Right Thing [PDF 81K]
Editorial Page | Anniversary [PDF 68K]
Safety Calendar | Industry Events [PDF 147K]
In Brief | Safety News [PDF 230K]
Foundation Focus | IASS 2008 Agenda [PDF 267K]
Leaders Log | New Initiative for Latin America and Caribbean Airlines [PDF 108K]
Data Link | Lack of Available Safety Equipment Faulted in Accidents [PDF 83K]
Info Scan | 'You Shouldn't Be Anywhere Near Kilo' [PDF 160K]
On Record | Dead-Stick Landing [PDF 285K]