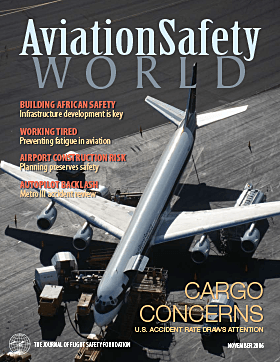 Entire Issue
Aviation Safety World November 2006 68 pages. [PDF 4.2M]
Features
If You Don't Snooze, You Lose 5 pages. [PDF 246K]
There's more to fighting on-the-job fatigue than simply limiting the number of hours worked.
Basic Needs 7 pages. [PDF 525K]
Sub-Saharan Africa cannot afford to delay air transport infrastructure upgrades.
Listen Up! 3 pages. [PDF 207K]
A study seeks to model — and improve — passenger attention to safety briefings.
Balancing Cargo Safety 6 pages. [PDF 385K]
The United States grapples with a relatively high accident rate in freight operations.
Rebuilding Airport Safety 4 pages. [PDF 295K]
Airport managers and pilots must take precautions so that changes in taxiway and runway configuration during construction and maintenance do not create a hazard.
Audit Management 2 pages. [PDF 147K]
An effective safety management system should be an essential ingredient in all flight departments.
Tricks of Light 2 pages. [PDF 159K]
Fifth in a series focusing on approach and landing incidents that might have resulted in controlled flight into terrain but for timely warnings by TAWS.
Shutting Out the Noise 4 pages. [PDF 623K]
Technological advances have resulted in headsets that enhance communication and protect pilots' hearing.
Cross-Control Upset 5 pages. [PDF 248K]
The Metro's autopilot was engaged when the pilots induced a sideslip to balance fuel. When the autopilot reached its control limits and disengaged, the aircraft rolled and entered a spiral dive.
Departments
President's Message | An Introduction [PDF 119K]
Editorial Page | Open Minds [PDF 92K]
Air Mail | Letters From Our Readers [PDF 264K]
Safety Calendar | Industry Events [PDF 61K]
In Brief | Safety News [PDF 268K]
Leaders Log | Basil J. Barimo [PDF 121K]
Data Link | Looking East [PDF 150K]
Info Scan | Airworthiness Now [PDF 183K]
On Record | Recent Accidents and Incidents [PDF 427K]