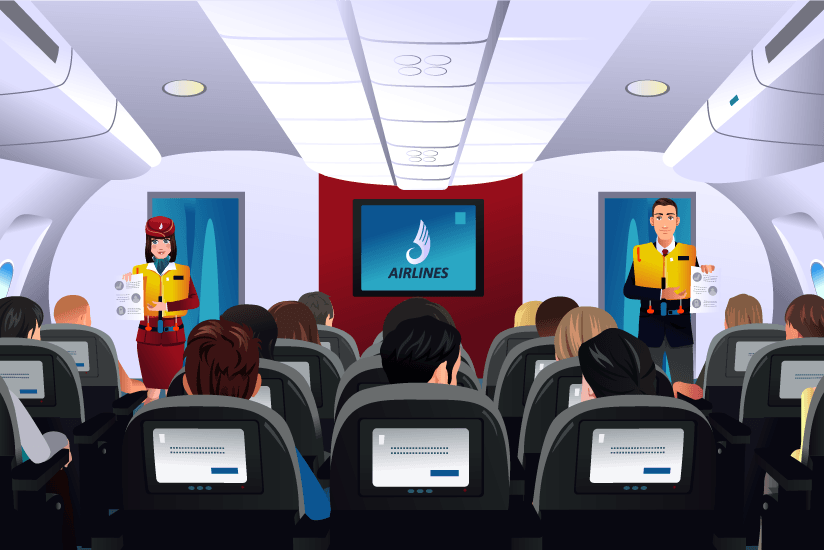 About 75 percent of U.S. flight attendants currently benefit from competency-based training programs, compared with 90 percent of airline pilots, says an official representing the Federal Aviation Administration's (FAA's) advanced qualification program (AQP). The numbers of cabin crewmembers trained this way, however, surpass the totals for flight crewmembers. Flexibility of training design and measurable improvements in crew performance during normal line operations and emergencies have been cited as reasons for the growing professional appreciation of the competency-based approach.
Doug Farrow, AQP program manager, FAA Voluntary Safety Programs Branch, told the World Aviation Training Conference and Tradeshow (WATS 2015) in Orlando, Florida, U.S., in April that U.S. airlines' embrace of the concept of customizing their flight attendants' initial and continuing qualification (CQ) began in 2005.
"We have a traditional training rule and a competency-based training rule, and we allow the airlines to choose. So far, no one who has transitioned from traditional training to competency-based training has ever gone back," he said. "My view is that the ideal training situation is … unique to my airline, unique to my fleet, unique to my route structure, unique to my demographics. … The worst thing I can think of is generic training that is not tailored in any way, that was developed by a committee many years ago, based on accidents that happened a long time ago that may not repeat themselves again. To me, that is kind of what traditional training is."
ICAO Endorsement
The International Civil Aviation Organization's (ICAO's) Cabin Crew Training Manual (Doc 10002), published in 2014 after a two-year rewrite and expansion of 1990s guidance, also promotes competency-based training of flight attendants as a best practice, preferable to the traditional approach that prioritized logging training hours, checking task-completion boxes and passing exams. Martin Maurino, technical officer, safety, efficiency and operations, noted that AQP in the United States and related competency-based training concepts in other nations served as models for the manual.
Competency-based training is not mandated, but ICAO endorses the value seen in AQP, AQP's non-U.S. counterparts and especially its effectiveness in multi-crew pilot license training. "[We said,] 'It's a good thing for them, it's a good thing for us, let's go down that approach,'" Maurino said. "What we want from training is to have competent cabin crewmembers … to make sure that we equip people to face what is going to happen on the line. So in order to do that, you've got to first think about what makes a competent cabin crewmember and then go backwards [with] a detailed job and task analysis. … You'll be able to then develop a fully integrated training program that is what we call outcome-based." The manual details the full framework of job and task analysis, competency units, performance criteria and other elements that enable an airline to transition from traditional training.
The manual also defines what competency-based training means, and then weaves the concept into recommendations for cabin crew indoctrination into aviation, normal operations safety training, emergency procedures, dangerous goods, human performance, fatigue management, special training of in-charge cabin crew, crew resource management, human factors, threat and error management (TEM), and safety management systems as applied to flight attendants. For example, the content regarding in-charge cabin crew covers qualifications, competencies and responsibilities of cabin crew safety training managers, cabin crew instructors, cabin crew examiners and training program developers.
Maurino's copresenter about the new manual was Kellie White, training manager, safety and emergency procedures, Emirates Airline. She told the conference that competency-based training currently plays a critical part in addressing the operational challenges and safety-related risks of rapid airline growth. As of April, the airline was adding about 120 new cabin crewmembers weekly and had 500 cabin crewmembers receiving continuing qualification training weekly within a workforce comprising 136 nationalities.
"[Maintaining] consistent standards of delivery with that amount of training is, as you can imagine, one of our biggest challenges," White said. "The other big thing … we are faced with [is the learning difference among] the generations. … Measuring the demonstrated behaviors against competencies is another big key." Practical scenarios in a simulator assess knowledge, skills and attitudes. The trainees now must be proficient in the full range of competencies because they do not know which they must apply on any given training day, she said.
"What happens to me if [I'm a flight attendant and] I don't meet the competencies? Naturally, you get a reset. … And if you don't pass, you get retrained. So you have an opportunity. … Anyone can be competent. At the end of the day, we need to ensure that they're actually confident in applying anything that they learned. … The practical [assessment] is based on scenarios, and everything in the manual is demonstrated practically by everybody — initial crew, recurrent [crew], pilot."
Regional Airline Benefits
Paul Caldwell, manager, InFlight Training Development (AQP), SkyWest Airlines, said that AQP reveals a "bucket of things that we don't know that we don't know [so] then we don't go out and research [them].
"We found out there were a lot of things in this bucket that we didn't even know existed. So in 2011, we rolled AQP into our CQ training program … We're looking at our operational data to determine how the subjects will be covered in CQ. And then also we analyze the previous year's data for trends or errors or areas that benefit … to really drive and specialize our training to what's going on."
One system that makes such currency possible has been sending each flight attendant one training guide and four to six computer-based training modules per year. This compares with the pre-AQP practice of annually refreshing content in relation to data and then sending each flight attendant about 150 pages of information to study all at once.
"The other benefit that [AQP] allows is focusing on hot topic areas that we may have going on in the operation," Caldwell said. "We can really address [these] much sooner and to an entire audience versus to the very small percentage of people who would be coming in for training in a particular month."
Feedback from participants reflects appreciation of interactive, engaging content that demands practice until they can demonstrate proficiency, which increases confidence. "AQP also identifies any weaknesses in our procedures" in ways that cabin safety instructors and the management group may not recognize despite their in-depth knowledge of latest procedures, he said.
Joint training in an emergency scenario — a 2.5-hour session in a Bombardier CRJ-200 static trainer — has become shorter but much more effective than in the past, said Caldwell. "We found real value comes from the pilots seeing what the flight attendants actually do."
Another departure from lectures and slides has been the production of a video designed to depict a regional jet evacuation using a significantly different procedure introduced in 2013. "There was quite a bit of angst among our flight attendant group [when] we changed the order in which we would evacuate and how quickly, so we had to do a big education piece," he said. "What SkyWest decided to do was to actually film a live flight."
Volunteer passengers participated without full knowledge of what would happen to them in the filmed scenario, handled as a drill by air traffic control and aircraft rescue and fire fighting personnel. The video was well received although crewmembers' unexpected errors in conducting the new procedures could not be corrected in the video. This was undesirable but not unrealistic for real emergencies (see "Senior Flight Attendant's Survival Motivates Child-Restraint"). "Basically … we turned [errors] into a teaching opportunity" Caldwell said.
Moreover, in an emergency situation in which the flight crew expects a normal landing, training scenarios have revealed issues of pilots failing to be clear and precise when giving an instruction to cabin crew or assuming a mutual understanding of the situation. "If [pilots] just say to the flight attendant, 'I want you to prepare the cabin. We have an engine flameout.' … [the flight attendant] may think, '[they] want me to do my prepare cabin checklist' — which is going to be a 10-minute ordeal to read to the passengers on how to brace … when, in fact, maybe they just wanted [the cabin crew] to tidy the galley and take their seats," he said.
Merging AQPs
The merger of two airlines — each with highly customized training — presents considerable challenges, said Stephen Howell, director of flight service training and professional development for American Airlines. In the 18 months before his WATS presentation, American Airlines and US Airways overcame the challenges through nine rigidly scheduled procedure-revision cycles, culminating in April with the receipt of a single FAA air operator certificate (SOC), he said.
"Very importantly, [our 18–24 month change plan] had to weigh the risks and mitigate the risks of each policy and procedure that we were analyzing [and] harmonizing at the two carriers. And we had to then develop the best procedures possible to sustain the single-certificate operation," Howell recalled. "Our philosophy was to adopt the procedures and the operating systems of the larger carrier when at all possible."
The first phase harmonized all legacy procedures, the second phase stabilized the combined operations within the airline and the third phase was a framework for post-SOC optimization of selected procedural issues recognized during the first phase.
"As procedures and training folks, it was really hard not to want to cherry-pick best practices [from both legacy airlines]. … But we needed to 'adopt and go' [saying,] 'Let's put it on the list then circle back after SOC,'" Howell said of the harmonizing–stabilizing–­optimizing process. "We brought the procedures together and realigned everything … which really did minimize the training requirements, which then in essence minimized the risk that was out there. If we [were to instead] train all 25,000 flight attendants on everything that was new, there's more risk that someone won't know what to do when they're out there [flying the line]. … Our corporate safety review board partnered with every single department [and] conducted just a little bit more than 1,700 comprehensive safety risk assessments. … We were able to make sure that we truly were mitigating risks to the ALARP [as low as reasonably practicable] level."
No deviations were allowed from the revision-cycle timeframes, but the safety risk assessments pinpointed a number of legacy US Airways procedures that were "much more beneficial and much more efficient and kept within the margin of safety much closer [than the American Airlines counterparts]," he said.
Through this transition, flight attendants from legacy US Airways had the heaviest training burden in terms of the extent of change. "If you add it all up, for the most part, about 90-some odd percent of their world completely changed," he said, a challenge addressed in the AQP environment through a blended approach and format tuned to the diversity of the blended workforce. For legacy American Airlines flight attendants, new TEM content already familiar to legacy US Airways colleagues was introduced over time through continuing qualification training along with a legacy US Airways monitoring-challenge procedure that reduces inadvertent slide deployments.
Featured image: © artisticco | Adobe Stock
Jan Brown: Wayne Rosenkrans