Airlines and regulatory agencies have improved their management of risks associated with flying over the world's conflict zones in the aftermath of the 2014 downing of Malaysia Airlines Flight 17 by a surface-to-air missile, according to a report by the Dutch Safety Board.1
The report, Flying Over Conflict Zones, was issued in February as a follow-up to 11 safety recommendations that had been included in the board's final investigation report on the July 17, 2014, crash of the Boeing 777 in Hrabove, Ukraine. That report was issued in October 2015.2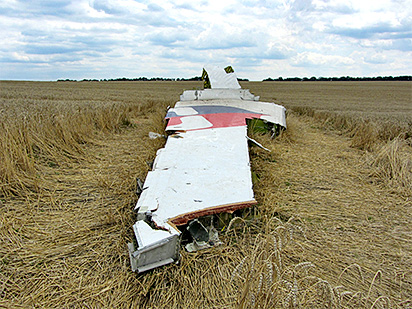 The board concluded that the crash, which killed all 298 passengers and crew, came after a surface-to-air missile struck the 777 as it flew over an area of armed conflict near Ukraine's border with Russia. The missile later was identified as a Buk surface-to-air missile — developed by the Soviet Union and, later, the Russian Federation.
Ukraine had prohibited flights of civil aircraft below 32,000 ft. Flight 17 was being flown at 33,000 ft.
Among the recommendations in the board's 2015 report were four items that were directed specifically to the International Civil Aviation Organization (ICAO), calling for upgraded ICAO standards and recommended practices in dealing with armed conflict in their territory
The new report said that after the crash, ICAO began a lengthy process to amend standards, recommended practices and manuals "to embed and promote the sharing of threat information and the performance of risk assessments." Some of those proposals have been implemented, and others are pending, the report said.
"This is a long-term process due to the involvement of 192 ICAO member states with differing views and interests," the report added. "The first steps towards amending the ICAO documents were taken in 2014, but it will take until at least 2020 for all of the foreseen amendments to be implemented."
Other recommendations called on ICAO to work with the International Air Transport Association (IATA) to ensure that the risk assessment standards are reflected in the IATA Operational Safety Audit (IOSA) and to encourage countries and aircraft operators to share relevant information about threats in foreign airspace with others having an interest in aviation safety.
Although none of the 2015 recommendations was addressed to the European Union (EU), its institutions also have implemented enhanced risk management efforts, the report said.
"EU member states now exchange relevant intelligence information in order to arrive at a joint assessment of the risks associated with flying over conflict zones," the report said. "The advantage of this cooperation is that intelligence information and risk analysis capabilities of both larger and smaller states are combined. If the outcome of the assessment is that the risk for a certain area is considered high, EASA publishes a conflict zone information bulletin. These bulletins are not only used within the European Union but also as an information source by states and airlines based outside of Europe. This European initiative thus contributes to a better global understanding of the risks."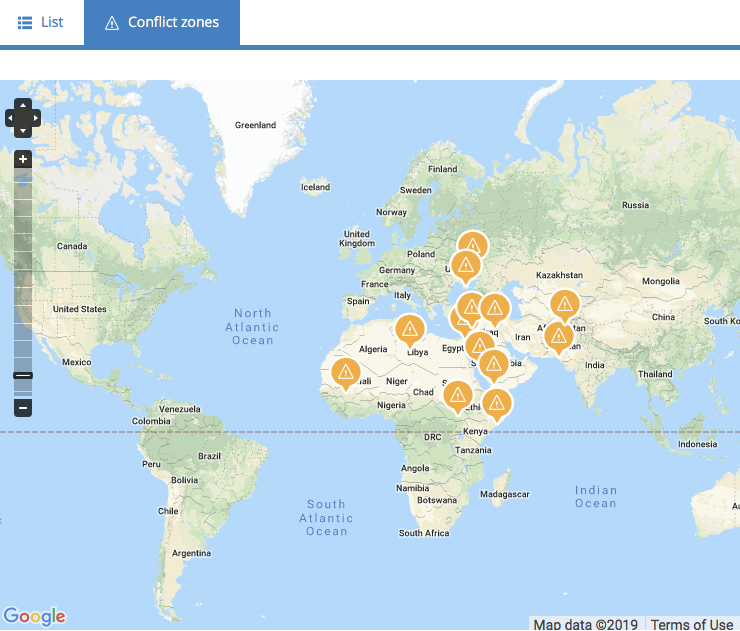 Source: European Aviation Safety Agency
Other countries, including France, Germany, the United Kingdom and the United States, publish similar information, sometimes in the form of notices to airmen (NOTAMs) the report said.
FAA NOTAM
In fact, the U.S. Federal Aviation Administration (FAA) on Feb. 19 issued NOTAM KICZ A0001/19, urging "caution when flying into, out of, within or over the territory and airspace of Venezuela below FL 260 [Flight Level 260, approximately 26,000 ft] due to potential hazards to civil aviation associated with ongoing political instability and increased tensions in Venezuela."3
In an accompanying statement, the FAA said it was concerned about political unrest and Venezuela's "recent military posturing, which included a national-level military exercise." The statement added that Venezuelan forces have stockpiles of advanced portable air defense systems that may be capable of gaining altitudes of up to 25,000 ft.
The statement said that "although Venezuelan military forces are believed to have no intent to target civil aviation," there are concerns that the air defense systems could fall into the hands of "potentially violent and unpredictable non-state actors who may have different intent and a lower level of training."
The NOTAM applies to U.S. air carriers and commercial operators and individuals with FAA pilot certificates, except operators of foreign air carriers and individuals operating foreign air carriers.
Airlines' Role
Airlines also have begun to play a more active role in gathering information about risks presented to their operations by conflict zones, the report said, noting that the quantity and quality of relevant information have improved since 2014.
"Risk assessments are performed in a more structured manner, and some airlines explicitly state that they take uncertainties and risk-increasing factors into consideration as part of the risk-assessment process," the report said. "Furthermore, there is evidence to suggest that, if there are doubts about the safety of a flight route, airlines are more inclined not to fly."
Nevertheless, airlines have indicated that the information they receive sometimes is not detailed enough for them to conduct an adequate risk assessment, the report said. In some cases, this is a result of obstacles that complicate the sharing of private information.
"Conditions for exchanging threat information include a proper information network and mutual trust," the report said. "For access to relevant information, a good relationship and mutual communication between airlines and the intelligence services of the state in which the airline is based are essential. However, these are not a given everywhere in the world."
Airspace Management
In the aftermath of the Flight 17 crash, few changes have been made in airspace management by countries involved in armed conflicts, the report said, adding that these countries "will have difficulty when it comes to guarding the safety of their airspace. … With the exception of Ukraine, states have not implemented airspace restrictions related to the overflying of conflict zones. Although ICAO is in a position, as an intergovernmental organization, to urge and support states to safeguard the safety of their airspace, ICAO is not doing so."
Overall, the report said, existing mechanisms for risk assessment and information sharing were designed primarily for dealing with long-term conflicts; challenges arise in coping with new conflicts or sudden escalations of existing clashes. Many of these cases are dealt with only through informal or hastily assembled mechanisms.
Aviation safety and aviation security have traditionally been kept separate — "worlds with their own laws and regulations, for which the responsibilities are assigned to various parties and departments within organizations," the report said. "However, as the crash of Flight MH17 shows, safety and security are intertwined. To manage the risks related to flying over conflict zones and other risks at the interface of safety and security as [well] as possible, closer cooperation between both worlds is necessary."
Notes
Dutch Safety Board. Flying Over Conflict Zones. February 2019.
Dutch Safety Board. Crash of Malaysia Airlines Flight MH17; Hrabove, Ukraine; 17 July 2014. Oct. 13, 2015.
FAA. NOTAM KICZ A0001/19, Security: United States of America Advisory for Venezuela and FAA Background Information Regarding U.S. Civil Aviation — Venezuela. Feb. 22, 2019.
---
Featured image: © misha1986 | VectorStock, modified by Susan Reed
MH-17 debris: Dutch Safety Board