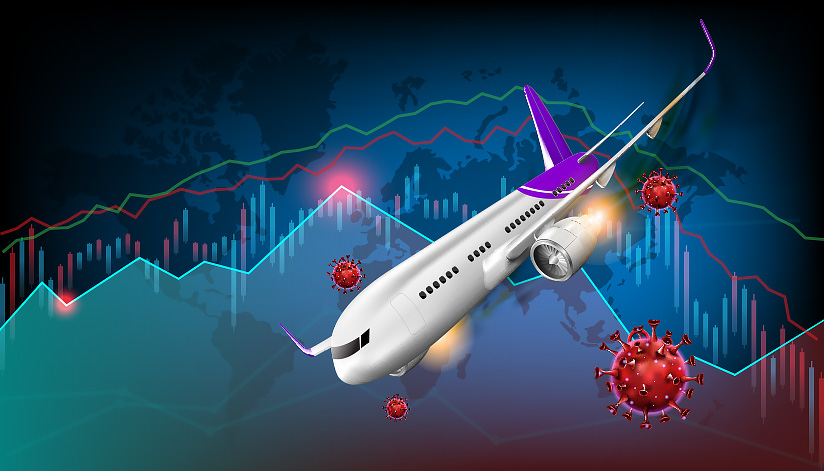 An updated count indicates there have been 44 confirmed and potential cases of COVID-19 in 2020 in which transmission "may have been associated with a flight journey," the International Air Transport Association (IATA) says. About 1.2 billion passengers have traveled during the same period.
In a statement issued Thursday, IATA said that the count includes confirmed, probable and possible cases of the disease and that the numbers show that the risk of a passenger contracting COVID-19 is "very low."
Dr. David Powell, IATA's medical adviser, added, "With only 44 identified potential cases of flight-related transmission among 1.2 billion travelers, that's one case for every 27 million travelers. We think these figures are extremely reassuring. Furthermore, the vast majority of published cases occurred before the wearing of face coverings in flight became widespread."
IATA pointed to research by Airbus, Boeing and Embraer that described how aircraft airflow systems control the movement of particles through cabin air, thus limiting the spread of viruses, including the virus that causes COVID-19; simulations have produced similar results, IATA said.
In general, IATA said, the research found that "aircraft airflow systems, high efficiency particulate air (HEPA) filters, the natural barrier of the seatback, the downward flow of air and high rates of air exchange efficiently reduce the risk of disease transmission on board in normal times. The addition of mask wearing amid pandemic concerns adds a further and significant extra layer of protection, which makes being seated in close proximity in an aircraft cabin safer than most other indoor environments."
Compiling an exact count of flight-related cases of COVID-19 is impossible, but airlines, health authorities and researchers all indicated that transmission of COVID-19 during flight is rare.
"There is no single silver-bullet measure that will enable us to live and travel safely in the age of COVID-19," said IATA Director General and CEO Alexandre de Juniac. "But the combination of measures that are being put in place is reassuring travelers the world over that COVID-19 has not defeated their freedom to fly. Nothing is completely risk-free. But with just 44 published cases of potential in-flight COVID-19 transmission among 1.2 billion travelers, the risk of contracting the virus on board appears to be in the same category as being struck by lightning."