Gilberto López Meyer joined the International Air Transport Association (IATA) as senior vice president of safety and flight operations in 2015 following a distinguished and varied aviation career in his native Mexico. This is the first in a planned series of question and answer sessions with international industry leaders.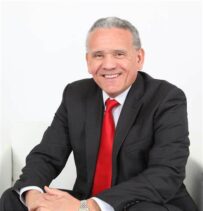 Q: What first drew you to aviation?
A: As long as I can remember, I wanted to be a pilot. I grew up in the countryside in northern Mexico and used to see crop-dusting airplanes flying around every day. I was really delighted with that, and it helped me confirm my passion for aviation.
Q: What did you fly at Mexicana and how did your career proceed there? Did you move from line flying to management at some point?
A: I had the privilege to work at Mexicana Airlines for almost 17 years, flying the Boeing 727 and Fokker 100. While I was there, I had the opportunity to be elected and served for two terms as president of the Mexican College of Pilots, which is our professional organization. From there, I moved to work as director general of the Mexican civil aviation authority.
Q: How has your experience as a line pilot shaped your view of the industry and of safety?
A: Being an airline pilot gave me a clear perspective of the different operational problems the industry was facing. In the end, a pilot is at the center of any aircraft operation, and that position helps you understand, probably like no other, the multiple challenges that need to be solved for a safe and efficient operation. But I must admit that also being a lawyer helped me a lot to understand aviation better, from different perspectives. Most of the decisions and actions in the operational area have a complex legal and regulatory background and may have serious legal consequences if ignored or misapplied. Understanding both aspects of it has been of great help.
Q: You twice served as director general of the Mexican civil aviation authority. What prompted you to make the move from Mexicana to the CAA? Had it been a goal or was it more of a situation where an opportunity presented itself?
A: Twenty years ago, I was very happy with my life as an airline pilot and as president of the pilot's organization where I had to work a lot with different authorities in my country. Unexpectedly, one day I received a phone call from the Mexican undersecretary of Transport offering me the job and I decided to take it. Honestly, I did not plan for it. Unless you make a career inside the government, it is almost impossible for an airline pilot to have this as a realistic goal. The opportunity just presented itself!
Q: Did you arrive at the CAA in 2003 with definite ideas of what you wanted to accomplish based on your experiences at Mexicana? While you were at Mexicana, did you ever think: "If I ever become a regulator, I'm going to change X?"
A: Yes, I saw this as an opportunity to build a bridge between the purely theoretical perspective of a regulator and the actual problems in the field. I did my best to get the Mexican CAA closer to the "real problems" in the "real world." I also wanted to speed up the deregulation process that had started in Mexico some years before, which because of different reasons, had almost stalled. Many different measures were taken during my administration that had a positive outcome. As evidence of that, the number of passengers being transported in Mexico doubled in just a few years after I started my appointment, while safety of operations was maintained.
Q: Did your philosophy or beliefs about safety change once you started looking at the industry as a regulator rather than a pilot or airline executive?
A: Yes, of course. As director general, I clearly understood the huge responsibility that is placed upon the shoulders of the CAAs. Good safety is the result not only of a well-trained pilot or a well-maintained aircraft. CAAs play a pivotal role in, firstly, developing sensible and smart regulations, but then secondly, interpreting and enforcing them appropriately, looking always for the right balance between promoting a just culture and cooperative environment, and at the same time being willing to make the tough decisions when necessary, such as suspending or revoking licenses from technical personnel and even operators. I had to fully ground airlines on several occasions, and this is something that is not pleasant but that has to be done firmly, when the moment comes.
Q: What were your greatest challenges at the CAA and how did you address them?
A: In Mexico, all aviation activities are concentrated in the Mexican CAA. We took care of safety, and security as well. We were in charge of all air accident investigation and at the same negotiating the bilateral air services agreements with many states. Economic regulation of airlines and airports was also in our portfolio. A very intense, but extremely rewarding, agenda, with a lot of learning opportunities.
Q: Between your stints as director general of Mexico's CAA, you served as director general of Aeropuertos y Servicios Auxiliares and director general of Mexico City International Airport. How has that airport experience shaped your outlook? The relationship between airlines and airports sometimes can be fraught, particularly when it comes to fees and who is going to pay for improvements, etc. Are you more empathetic to the airports' position than airline executives who have not worked in airport organizations?
A: I think so, but this is a very complex question. The issue starts with the very different business models that airlines and airports have. Airlines are almost always competing among themselves. With very few exceptions, airports do not compete with each other. Airlines invest sometimes very large sums of money with limited certainty that these investments will generate a sufficient return on investment (ROI) to justify the investment. Airports' ROI is much more stable and predictable. Together, that produces a playing field that sometimes is not seen as being level for all industry players. The airport business is also quite complex and requires a very long-term investment timeframe that not all investors are willing to participate in; and as COVID-19 has shown, it can be a risky business as well. I would say, based on my experience, that part of the secret here is to have appropriate regulations in place. Economic regulation on the airline side tends to encourage strong competition in the majority of countries. As already noted, airports do not typically compete among themselves, so airport economic regulation must be carefully written, implemented and strongly enforced to avoid market distortions due to airports' natural monopolistic power.
Q: During your tenure at IATA, you have implemented the digital transformation of the IATA Operational Safety Audit (IOSA) and the Global Aviation Data Management (GADM) modernization. Is it possible to overemphasize the importance of safety data collection, analysis and sharing in the pursuit of safety performance improvement?
A: The sharing of safety intelligence among industry stakeholders is critical to identifying emerging issues related to aviation hazards and safety risks. It is through this free flow of safety intelligence that we can improve safety performance, in an ultra-safe industry such as aviation, by exploiting marginal gains. In enacting the digital transformation processes you've mentioned, we acknowledge that their success is conditioned on the continued flow of data and information between all stakeholders involved, while respecting data sensitivity, protection and ownership rights.
We can never overemphasize the importance of safety data collection, analysis and information sharing to improve aviation safety performance and, as per the well-known phrase, you "cannot manage what you do not measure." By collecting safety data and information from various sources, we are better able to identify risks to the aviation system. Safety management activities, being performance-based, are completely reliant on timely and accurate safety data and information.
Q: What are your top pandemic-related safety concerns?
A: I have specific concerns relating to the loss of experienced personnel from the industry who have been instrumental in contributing to the continued safety performance of aviation over the past 40-plus years. Many have lost their jobs in organizations that still remain in business, and there are also those out of work as a result of their organizations failing during the pandemic. We must ensure that the safety DNA of aviation is not lost during, or post, crisis, especially where new airlines emerge with leaders, and investors, who are new to aviation.
The considerable changes seen in aviation since the outbreak of COVID-19 need to be clearly understood and, in particular, the management of change needs to be fully understood within the context of an organization's SMS [safety management system]. My concern is whether all aviation stakeholders, including regulators and service providers, have the capacity or capability to effectively understand/assess/manage safety risks introduced as a result of these changes. So, we need to work together to assure this. The IATA COVID-19 Safety Risk Management System has been developed to support industry through the production of generic safety risk assessments, guidance material and operational notices.
During the pandemic, states have approved alleviations to the traditional training and operational requirements for the licensed personnel. The value of these alleviations was clearly to ensure operations when maintaining recent experience was difficult to achieve, the training capacity was limited, and the administrative licensing revalidation process was disturbed. Now, in the context of the end of the alleviations expected to come soon, combined with the restart of the operations, we need to make sure that personnel who are returning are competent and confident to go back safely to operations.
Q: What are your top non-pandemic-related safety concerns?
A: Our top aviation fatality risks have not changed or disappeared. We need to keep alert, and focused, on the high-risk outcomes of runway excursions, controlled flight into terrain, loss of control-in flight and midair collisions, plus their many precursors.
We also need to remain forward-looking and understand aviation hazards and safety risks from innovation, in new technology and business models, that are rapidly emerging. This includes issues such as hybrid and electric aircraft, integration of urban air mobility/drones and space vehicles, cybersecurity and safety, single pilot and pilotless aircraft. From an air traffic management perspective, one of the concerns that we have been trying to address is the unauthorized use of drones in close vicinity of airports. Other risks that we continue to look at include global navigation satellite system (GNSS) interference, and we are working with the International Civil Aviation Organization to ensure protection of the aviation spectrum, which is critical for safety of operations.
We must remember that just a year ago, just before the pandemic, the lack of skilled staff was among the top priorities within the industry. The pandemic is an important disruptor but in the medium term our industry will need significant human resources to sustain safe and efficient operations. Taking into account the time needed to train qualified personnel, I consider that our industry needs to plan right now on how to cope with the challenges to attract, train and retain the suitable candidates that will ensure the next decade's operational safety.
Safety of operation is and will remain the main pillar of the airline industry, while the operators' sustainability will become more than ever conditional to their environmental, social and governance performance. The two aspects are complementary to each other. However, the implementation of digitally transformed aircraft operations, including digital threads for aircraft assets as well as the integrated aircraft health management, enables optimization of aircraft maintenance. But it's about making sure the information is beneficial for safety and efficiency, rather than a distractor. IATA's role in acting as a facilitator and advocate for the above is important not only within the airline community but also vis-à-vis the aviation original equipment manufacturers, maintenance, repair and overhaul organizations and state regulators.
Q: What has been your biggest challenge at IATA?
A: The airline business is a very competitive business, and airlines compete fiercely against each other in every aspect of the business — except safety and security.
As the trade association for the global airline industry, IATA can sit down with all players at the same table and analyze and take decisions together about safety and efficiency that are relevant and important for the industry as a whole, not for any specific airline or country or region only. That requires a smart negotiation and good communication among the different stakeholders, and as such, this is a big challenge for our organization.
The good news is that IATA has developed, through its 75 years of existence, a very strong and mature governance structure that makes this possible. Following the mandate of our Board of Governors, IATA's Safety, Flight and Ground Operations Advisory Council (supported by multiple very specialized working groups) acts as an adviser on all matters that relate to the improvement of safety and efficiency of civil air transport, ground operations and baggage. The Council is comprised of 20 members appointed by the IATA director general on the basis of member CEO nominations. For me, it is an honor to work with such a distinguished group of safety and operations specialists. We could not do what we do without their support; it is as simple as that.