As the air transport industry and airline travel recover from the impacts of the COVID-19 pandemic, the demand for qualified personnel, including pilots and technical staff, will increase, and the industry may again be faced with the prospect of a critical labor shortage. Outside of human resources departments, women hold relatively few senior executive positions within the industry. The same is true on the flight deck, where women represent about 5 percent of the global pilot population and an even smaller percentage of captains.  Both the International Civil Aviation Organization (ICAO) and the International Air Transport Association (IATA) have ongoing gender diversity initiatives, but women still face significant workplace barriers. When Irene Koki Mutungi joined Kenya Airways in 1995 as a second officer flying Fokker 50s, she became the first female pilot in the airline's history. In the 26 years since, Capt. Mutungi has achieved a number of other "firsts," including becoming the first female captain at the airline (on the Boeing 737) and the first African woman to qualify as a captain on the 787. The following interview has been edited for length and clarity.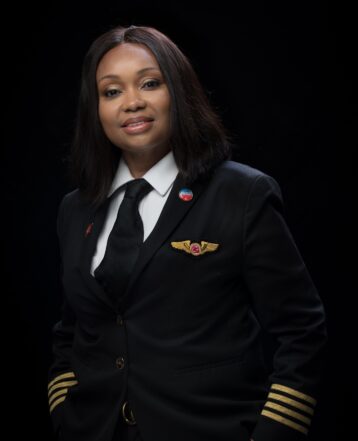 Q: At what age did you start flight training and where? Where did you complete your training?
A: I was 17 years old when I began my flight training. I began in Kenya at the Kenya School of Flying and completed at Crabtree Aviation, Guthrie, Oklahoma, U.S.
Q: In which aircraft are you type rated?
A: I am rated on Cessna C150, C172, Piper PA28, C310, C402, Fokker 50, Boeing 737, 767 and 787.
Q: When did you transition to flying 787s? When were you promoted to 787 captain? How does the 787 compare to other aircraft you've flown? Do you have a favorite aircraft?
A: I transitioned to the B787 in 2014. I was promoted as a captain. The Dreamliner is the most sophisticated commercial airliner on the market right now. Due to technological innovations, a lot of the workload is reduced compared to other aircraft. As much as I love flying the Dreamliner, I have a soft spot for the B767. I guess because I flew it the longest.
Q: What are your favorite routes to fly?
A: I love flying to the U.S., Europe and the Far East. I get to experience the extremely busy airspaces and adverse weather, which is a challenge I like to take on. The airspace in Africa is not as busy and we don't have extreme weather like hurricanes, snowstorms, etc. Apart from that, most destinations are great. I get to see different cultures, try their cuisine and sightsee. Basically, it's a paid holiday.
Q: Your father was a pilot at Kenya Airways, but initially he didn't want you to become a  pilot. Why not, and what changed his mind?
A: Having been a pilot, I don't think he thought I could cope with the lifestyle, as a woman. He thought about the challenges of having a family and flying and was not sure it was the best for me at that time. There was also uncertainty of how my male counterparts would accept me with all the stigma surrounding the male-dominated career, as I would have been a first. It took my persistence and convincing from his friend Capt. J.M Ririani, who owns the Kenya School of Flying, to let me give it a shot. The rest, as we say, is history.
Q: Early in your career, a passenger initially declined to board the aircraft when he realized  you were one of the pilots. Were you surprised by his reaction? What type of reaction, if any, do you get from passengers now? Do men and women have different reactions?
A: Coincidentally, the passenger who declined to fly with me was on my first Fokker 50 flight from a city in Kenya, Kisumu. He said he was not a guinea pig to be flown by a woman. I was very surprised. The captain I was with then asked the staff to offload him. Since he really wanted to travel, he had to apologize to me first.
These days we have lots of female pilots flying all over the world and passengers are accustomed to being flown by them. Occasionally you do get a few who want to meet me because they followed my career path or consider me a role model to their kids.
Q: In your career to date, you have accomplished a number of memorable "firsts"— first female pilot at Kenya Airways and first female African 787 captain, among others. You were also on the Forbes list of 20 Youngest Power Women in Africa in 2014. Do you see yourself as a role model for young women, particularly young African women? Did you have any female role models in aviation when you were training to become a pilot and as you moved up the ranks at Kenya Airways? If so, who were they?
A: I consider myself a role model for young women and men as well. As a mother of boys, I'm all for empowering women, but let's not forget the next generation of boys. I go out  and give talks at schools and aviation clubs as part of what I consider my mentorship responsibility to the youth. It is very fulfilling.
I had a female role model briefly when I started flying, in Oklahoma. She was the chief pilot at my flying school and always reminded me flying was about skill, not gender. Unfortunately, she was killed in an aircraft accident.
At Kenya Airways I did not have any female role models as I was their first female pilot  and the only one for six years.
Q: Did it surprise you that you were the only female pilot at Kenya Airways for six years after you joined the carrier?
A: I did not notice that I was the "lone ranger" as I had become one of the "boys" and I guess it was also focus on work and just getting work done. It ceases to be about your gender and more about your expertise and technical abilities.
Q: You were part of an all-female flight crew in 2005. How did that make you feel? Does that happen very often at Kenya Airways?
A: It was a huge milestone for an airline from a third world country. I was proud to have had  the opportunity to command that flight. It is now a common occurrence to have female pilots in the flight deck at Kenya Airways.
Q: Slightly more than 5 percent of the world's airline pilots are women. Do you think enough is being done to encourage women to go into aviation? If not, what else should the industry be doing?
A: I think more subsidies and scholarships should be made available to women when it comes to training. Airlines should offer positions to qualified female pilots more readily as part of their  inclusivity programs. Airlines should have female pilots as pivots for their projects to bring awareness to the general public. When people see the female pilots, it will garner a degree of interest.
Q: Is the aviation industry in Africa making progress in growing the ranks of female pilots? Are there still cultural barriers in Africa that make it difficult for women to go into careers in aviation? If so, can you explain or describe those barriers?
A: The evolution of the industry in Africa regarding female pilots has been phenomenal. Kenya Airways is one of the highest employers of female pilots in percentage worldwide. Cultural barriers are almost non- existent now.
Q: According to International Air Transport Association statistics, women hold relatively few CEO, COO or CFO roles at the world's top 100 airlines. What do you think are the reasons and do you have any interest in a senior leadership role if you ever decide to reduce your flight schedule? If there were more women in senior executive positions, do you think it would be easier to attract women into the industry to be pilots, air traffic controllers or engineers?
A: I think the door to fly has been opened to female pilots, but entry into the C-suite is still  an unspoken preserve for men. We have very capable and qualified women to take up these positions. I hope we will see the numbers rise in the future. I definitely would also like to be a part of those women I speak about in the C- suite when I decide to reduce my flying duties. Having a female leader in management positions is key for inclusive decision-making.
Q: What would be your message to young women considering a career in aviation?
A: This is one of those industries with diverse career opportunities. There are various options like flying, engineering, accounting, marketing, name it. It has been challenging, fulfilling and lucrative. I would definitely encourage more young women to consider careers in the aviation industry.