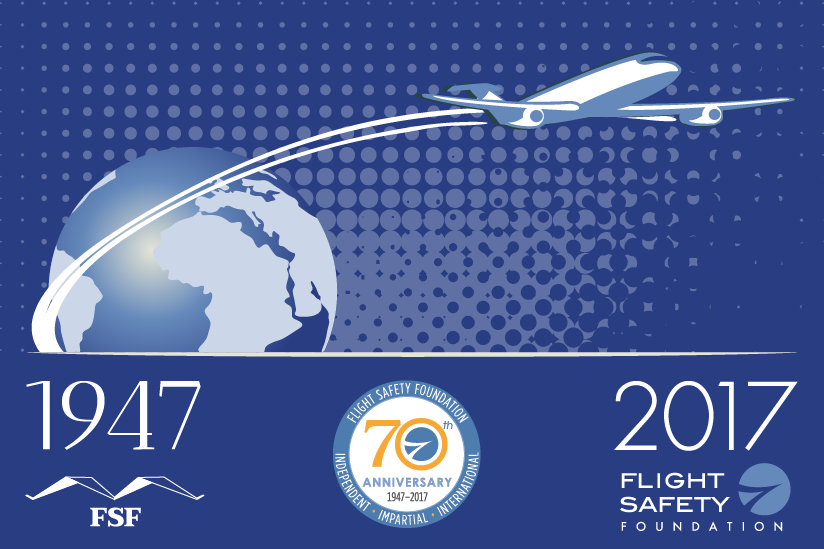 Aviation has changed dramatically since Flight Safety Foundation, as it is structured today, was organized in 1947. Advances in technology and training, insight into the human-machine interface, greater understanding of human endurance and communication, and the growth of "just culture" have combined to produce a historically low accident rate. A look back at the Foundation's 70-year history shows not only the Foundation's role in advancing safety, and the foresight of its leadership over the decades, but also that some safety issues are particularly resistant to resolution.
FSF Origins
In 1945, the desire of a group of aeronautical engineers to improve the interface between human and machine in the airplane cockpit led to creation of a nonprofit research organization called Flight Safety Foundation. The William Teller Crane Foundation initially sponsored the new organization, but development plans called for it to become self-sufficient through consulting fees paid for various independent research projects.
In 1946, Jerome F. "Jerry" Lederer, who would become the driving force behind the Foundation's launch as its organizer and first director, was a chief engineer conducting accident-related work for a pool of aviation insurance companies. In July of that year, a TWA Lockheed Constellation loss of control fatal accident occurred near Reading, Pennsylvania, U.S. Accident investigators later concluded that dense smoke of electrical origin had filled the cockpit and impaired the pilots. Five crewmembers were killed and one crewmember was seriously injured; the aircraft was destroyed.
Prompted by the accident, Lederer soon organized a meeting in New York that resulted in support from industry organizations that wanted to help create a new foundation. Its main purpose would be to disseminate safety information while transcending competing commercial interests and national borders.
Other aeronautical engineers then asked Lederer to help develop a new organization to provide methods for exchanging aviation accident–prevention information. At the urging of representatives of industry and government — including his own employers — Lederer set up shop in donated space at the Institute of Aeronautical Sciences (IAS) under the name Aircraft Engineering for Safety.
At the recommendation of Preston Bassett — president of Sperry Corporation, who also served as president of IAS — and two founders of the group calling itself Flight Safety Foundation — Richard Crane and David Morrison — the two organizations merged, in 1947, to become the Flight Safety Foundation we know today.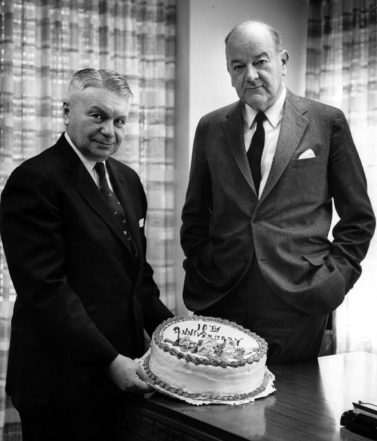 From then until his retirement in 1967, Lederer conducted many FSF research projects, international exchanges of accident prevention information, safety seminars and training courses for aviation accident investigators. He was concurrently, from 1950 until 1967, the founder and director of the Cornell-Guggenheim Aviation Safety Center, which published Design Notes on safety in aircraft design, conducted annual global surveys of aviation research and recommended new subjects for research.
In many speeches and articles, Lederer, who died in 2004 at the age of 101, recommended novel methods for worldwide exchange of aviation safety information, for counteracting complacency among pilots of highly automated aircraft, for real-time remote monitoring of pilot/aircraft performance via telemetry and for alerting flight crews to signs of fatigue. In a 1951 conference presentation, for example, his remarks were prescient regarding what the aviation industry now calls just culture principles. He said, "Our answer to the problem of securing information on near-accidents is to have a place where personnel can confess without being ridiculed or punished or [required to] publicly cast [a negative] reflection on fellow workers."
In notes written in 1959, Lederer also said, "[Flight Safety Foundation's] main objectives are to combat complacency (which often is the outgrowth of a good safety record), to refresh the memories of pilots and mechanics to safety lessons they may have forgotten, call their attention to new techniques and plead with them always to remember their tremendous responsibility to their fellow men. … The fact that the Flight Safety Foundation has requests for one million [safety] bulletins per year from airlines indicates it fills an important gap. The Flight Safety Foundation enjoys a freedom of expression and a liberty of action which is often denied a government organization or an industry association."
In a 1978 paper about the Foundation's first 20 years, Lederer listed several safety priorities and accomplishments. He said the Foundation in 1947 had begun to collect and disseminate aircraft mechanical-malfunction reports before the Civil Aeronautics Board performed this function.
The Foundation also advocated wide adoption of flight data recorders, anti-collision lights, training for aircraft rescue and fire fighting, use of simulators in accident investigation and standardization of pilot training. In 1964, the Foundation initiated an anonymous pilot safety-reporting system.
Throughout Lederer's tenure, the Foundation conducted safety research and investigations under government grants or contracts, along with confidential safety-related projects for Foundation members. Subjects included crew-complement evaluation, the costs of general aviation accidents, weather as a contributing factor in air transport accidents, synthesis of aircraft crash/fire/rescue and evacuation technology, and communication of weather intelligence to general aviation.
Other subjects were a survey of occurrences involving loss of control of swept-wing aircraft, economics of safety in civil aviation, revision of medical standards for pilots, psychological requirements for air traffic controllers, a near-midair collision study, technology for detecting clear air turbulence, terminal area air traffic control (ATC), the effect of runway grooving on general aviation aircraft, and cabin evacuation.
During Lederer's tenure and the following 20-year period, governments and the aviation industry gradually recognized Flight Safety Foundation as:
A politically and culturally neutral, independent and objective organization skilled in facilitating and moderating confidential discussions of controversial safety issues;
An effective coordinator in convening teams of government and industry experts to accomplish pressing safety research and development projects;
A respected, non-partisan advocate of safety mitigations to the International Civil Aviation Organization (ICAO), civil aviation authorities (CAAs) and other stakeholders; and,
A trusted source of information with global stakeholder relationships and communication outreach.
Prime Example of Advocacy
One of the best examples of capitalizing on these strengths was Foundation leadership striving to refine and expand flight operational quality assurance programs (FOQA programs, also known as flight data monitoring [FDM], or by other terms) in the 1980s and 1990s. (The value of FDM analysis of routine flights had been demonstrated by British Airways and TAP Air Portugal since the 1960s.)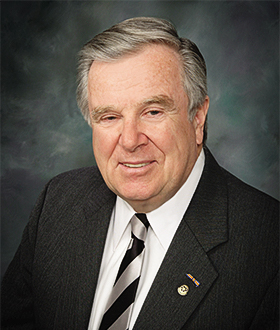 In a 1998 speech, for example, then-Foundation President Stuart Matthews told the Third Global Analysis and Information Network World Conference, "Airlines increasingly are installing quick-access recorders (QARs) to store the same types of data recorded by DFDRs [digital flight data recorders intended for post-accident investigation], but use the QAR's removable disks or memory cards so that these data can be analyzed routinely. Analysis of data captured by QARs can show us what is normal and identify adverse trends that can be corrected before they contribute to an incident or accident. … To ensure the most open and frank dialogue, data monitoring and voluntary crew reporting should be conducted in a confidential and nonpunitive manner. … Flight Safety Foundation strongly supports FOQA programs as a powerful means of identifying and correcting problems that otherwise could lead to incidents and accidents."
These efforts helped to encourage wide adoption of, and statutory protections for, FOQA programs, which proved to be crucial in the United States, for example. FOQA makes possible today's tightly integrated work of the Commercial Aviation Safety Team, analysts in the U.S. Federal Aviation Administration's (FAA's) Aviation Safety Information Analysis and Sharing (ASIAS) program, and the twice-a-year, confidential FAA-industry meeting called Aviation Safety Infoshare, which serves as the primary means of communication about the latest risks, airline experiences and related ASIAS activities.
Major Accident Prevention Example
Flight Safety Foundation announced in 1998 what became one of its most enduring, widely disseminated and welcomed safety initiatives, based on work by the FSF Approach and Landing Accident Reduction (ALAR) Task Force. The task force represented civil aviation authorities, accident-investigation agencies, airlines, manufacturers, pilot unions, academia, corporate flight departments, airport authorities, air traffic systems, and other expert stakeholders in the international aviation industry.
The task force's landmark report said that 287 approach-and-landing accidents (ALAs) — resulting in 7,185 fatalities — involving Western-built transport-category aircraft had occurred from 1980 through 1996. The ALAR Task Force had been created in 1997 as a follow-up activity of the FSF Controlled Flight into Terrain (CFIT) Task Force. Both task forces received support from the aviation industry worldwide, including from CAAs, ICAO and the International Air Transport Association.
"The average ALA rate is 14.8 fatal accidents per year," said the report, presented as an article with the disturbing title "Killers in Aviation." "If the trend observed continues, 23 fatal accidents per year can be expected by 2010."
The task force issued eight conclusions regarding ALAs. They covered the critical issues of creating and adhering to standard operating procedures and flight crew decision-making processes; overcoming flight crew failures to execute a missed approach when appropriate under specified stabilization criteria; the role of unstabilized and rushed approaches; and improved mutual understanding of different work environments of airline flight crews and air traffic controllers.
Other conclusions covered high risks of ALAs during flight operations in low light, poor visibility, and wet or otherwise contaminated runways, as well as visual or physiological illusions. The task force also stressed effective use of radio altimeters and FOQA programs. Teams from the task force, independently created national or regional teams, and FSF staff traveled worldwide to present ALAR hundreds of times in a multi-year awareness and training campaign.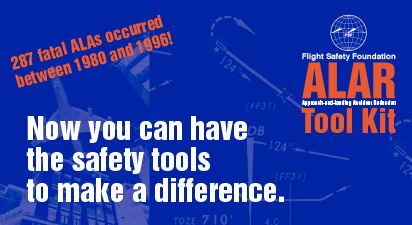 Each ALAR report conclusion makes recommendations for preventing or reducing ALAs with low-cost and universally applicable methods. Follow-up work included issuing 82 ALAR Briefing Notes, and later the complete multimedia FSF ALAR Tool Kit (translated into several languages by airline pilot associations and CAAs that also conducted the ALAR workshops with these materials and local adaptations).
During the Foundation's 50th anniversary celebration in 1997, presenters cited these examples of FSF contributions to aviation safety:
Landmark studies that formed the basis for revising medical standards for pilots and air traffic controllers;
Initiation of the first international, civil aviation safety–oriented, anonymous pilot reporting system;
Pioneering work in the collection and distribution of aircraft mechanical malfunction reports;
An international campaign to alert operators to the hazards of bogus parts;
Studies demonstrating the benefits of head-up guidance systems to reduce landing accidents; and,
Creation of the global industry task force with the goal of reducing CFIT accidents by 50 percent.
Other FSF studies before 1997 had focused on wind shear, pilot fatigue and, especially, broad implementation of innovative applications of DFDR/FOQA technology, as noted. Researchers already envisioned routine data analysis that could enhance flight crew performance, monitor aircraft systems and identify technical and human performance trends that could result in an accident or serious incident.
Major Shifts at 60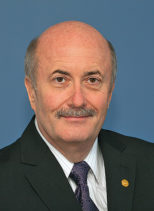 At the 60-year milestone in 2007, William R. Voss, then president and CEO of the Foundation, acknowledged that some FSF efforts to advance beyond an accident-reactive mode were not working. The Foundation typically had been compelled in the past by shifts in the air transport risk environment to "reinvent itself to meet the demands of the times," Voss wrote.
"Spectacular reductions" in commercial air transport accident rates during the early 2000s made it tempting to stay with historically comfortable safety initiatives, he said. But a new strategic consensus by FSF leadership centered on the urgent need to refocus efforts on the world's next wave of emerging safety threats. Opportunities had to be seized to leap forward in safety data collection and analysis, safety information sharing and safety information protection, for example.
"For many years, the risk of having an accident was reduced by invention and communication; safer hardware and techniques were developed, and information about those developments was disseminated. Lives and aircraft were saved by fostering the open exchange and publication of objective, accurate technical information," Voss said. "Our orientation toward excellence in the technical aspects of aviation safety — including how to mitigate human error — also carried forward, for example, to the 1990s, when international specialists transformed accident data into credible methods of reducing approach-and-landing accidents, including those involving controlled flight into terrain, and the other dominant accident categories."
The same year, FSF leaders identified the highest-priority emerging risks to commercial air transport as being unprecedented growth in the industry, unforeseen ATC risks as nations and regions introduced next-generation ATC systems, lack of qualified personnel industrywide, lack of political will (including failure to commit adequate resources or exploiting safety weaknesses for profit), safety management challenges, rise of criminalization (unwarranted application of criminal laws, fines and imprisonment for human error after accident investigations, and abusive uses of aviation safety data), and runway safety–related accidents and incidents.
"Fewer future challenges will have purely technical solutions. Instead, they will engage us in complex political, social and cultural issues that industry and government bodies are poorly positioned to deal with," he added. "If the global movement towards criminalizing accidents and abusing safety data goes unchecked, the proactive safety approach that depends on trust, openness and innovation — which has driven the recent dramatic improvements in the accident rate — will be compromised irreparably.
"The free flow of confidential data that can warn us of an impending accident will be lost, and there will be more accidents. … Flight Safety Foundation will remain a neutral forum, an integrator of initiatives and an independent advocate. … Our work has been, and will continue to be, driven by data rather than politics or commercial interests."
Industry advisers simultaneously saw an urgent need to enhance organizational competencies through staffing, consultants and sponsored partnerships. New objectives of the FSF Board of Governors called for the new competencies and teamwork to support research and analysis on safety-related industry issues, to conduct and to participate with external experts in high-level analysis of trends in aviation safety, to perform program/product research and development, to analyze de-identified aggregate safety data and to enhance Flight Safety Foundation's capabilities in safety data analysis and performance-gap analysis, as recommended by ICAO's Global Aviation Safety Roadmap.
70 Years On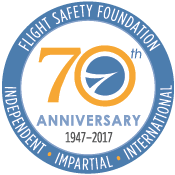 At the 70–year mark in its history, the Foundation continues to evolve to remain relevant and effective. That evolution has involved work on emerging safety issues, like the exponential growth of unmanned aircraft systems (also called drones), and the dramatic increase in the number of passenger-carried lithium battery–powered personal electronic devices that are finding their way into passenger cabins and cargo holds, while continuing to work to mitigate historical risks, like fatigue and complacency. The Foundation's evolution has necessarily included its own internal systems and processes, as well, in order to continue to serve its members. In the past 18 months, the Foundation has digitized AeroSafety World and updated a variety of membership-related processes.
One of the most significant developments of the past 10 years was the launch in 2010 of the Basic Aviation Risk Standard (BARS) program, which was developed by the Foundation and the mining and mineral resources industry to address the safety issues facing aviation operations in the resource sector by establishing common safety standards.
"Aviation risk management has always been one of the single greatest challenges to the safety of personnel in the resource sector," Trevor Jensen, then the FSF international program director and manager of the BARS program, said in an article in the March 2010 AeroSafety World. "Combined with the challenging and often remote areas of operations, additional variables increase the difficulty, including the variety of aircraft types, adverse weather and terrain, wide number of aircraft operators and differing levels of regulatory oversight."
Before BARS was launched, there were no clear industry benchmarks for resource companies when assessing the safety of contracted aviation activity. Aircraft operators often were subjected to multiple audits that emphasized different sets of standards. With BARS, operators contracted to BARS member organizations are audited to a single standard, improving safety and cost effectiveness.
Today, BARS comprises a suite of risk-based industry standards with supporting implementation guidelines. BARS uses a risk-based model framed against the actual threats to aviation operations, particularly those that occur within challenging and remote environments. It directly links these threats to associated controls, recovery and mitigation measures as opposed to outdated and prescriptive formats previously used within a number of industries.
Another significant recent accomplishment includes the multi-year Go-Around Decision-Making and Execution Project. Failure to conduct a go-around is the number one risk factor in approach and landing accidents and a primary cause of runway excursions. The global industry's rate of compliance with go-around policies historically is very poor. The Foundation, through its International Advisory Committee and its European Advisory Committee, launched the go-around project in 2011 to research and answer the question "why are we so poor at complying with established go-around policies?" The project also aimed to better understand the risks associated with executing go-arounds and to make recommendations to improve compliance and mitigate risks associated with the go-around maneuver itself.
Other recent reports and studies have focused on fatigue risk management, flight path monitoring, unreliable airspeed and functional check flights.
With the decline in accidents over the years, the industry is faced with figuring out how to expand and exceed safety improvements previously achieved through accident investigations. In 2015, current Foundation President and CEO Jon Beatty said, "It is increasingly clear that the collection, analysis and sharing of safety data and information represent the greatest potential for continued, long-term improvement of the aviation industry's already stellar safety performance. It is also clear that realizing that potential on a global scale requires a coordinated, international effort among industry and government stakeholders."

The Foundation has long been engaged in trying to help accelerate the industry transition from reactively learning from past mistakes to proactively learning from current operations and predictively identifying emerging safety risks. Since late 2014, the Foundation has addressed that challenge with its FAA-supported Global Safety Information Project (GSIP). Through GSIP, the Foundation is producing toolkits that describe, at varying levels of risk-mitigation/performance intensity, the best ways of performing data collection, data analysis, information sharing and information protection.
FSF leaders believe making the transition to a proactive and predictive future will result, in part, from industry adoption and effective deployment of these toolkits. Further research to build upon the existing toolkits and how best to use them is essential, Beatty said.
Despite the sweeping changes that have come to aviation in the 70 years since the creation of Flight Safety Foundation, much remains the same, and the industry is still grappling with some of the issues laid out years ago by Jerry Lederer.
"Many of the safety issues that existed early in the Foundation's history continue to require vigilance and mitigation today," Beatty said. "But today, these issues exist against a modern backdrop, with technological advances that have given us new tools, including data-driven safety campaigns, to propel us forward in our quest to constantly upgrade the industry's safety record."
Featured image: composite, Susan Reed; 70th anniversary logo, Jennifer Moore; background, © paseven | Vector Stock
Other images: © Flight Safety Foundation