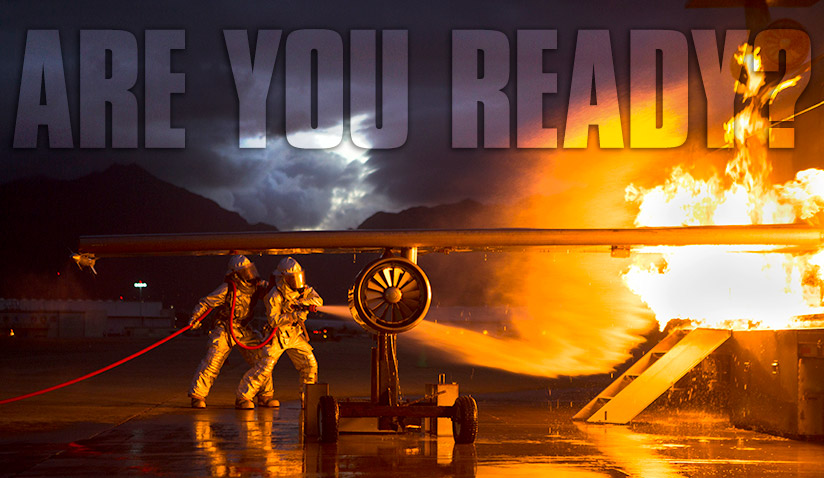 Given that most emergencies in commercial aviation occur at or near airports, airport emergency response plans (ERPs) are an important element in the aviation safety system. Effective emergency response planning requires that responsibilities be well-defined, that plans reflect the complexity of the airport operations and include a broad spectrum of stakeholders, that provisions are made for shifting from normal operations to emergency operations and back again, and that emergency preparedness is ensured by means of simulations.
To manage emergencies efficiently, an emergency response structure, in which everyone knows the leadership chain, must be in place at airports. The International Civil Aviation Organization (ICAO) and the International Air Transport Association (IATA) have issued manuals and documents to support airports, airlines and ground service providers in developing ERPs. In their development efforts, airport authorities reference the standards and recommendations of these manuals and documents and comply with national laws and regulations.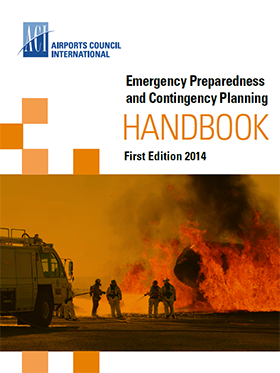 "Within the whole scope of comprehensive emergency management, a need exists for a plan to specifically handle business continuity and initial recovery from incidents and accidents that occur on or around an aerodrome," according to Airports Council International's (ACI's) Emergency Preparedness and Contingency Planning Handbook.1 "This implies that specific planning is required to handle any mitigation, administrative and long-term recovery issue associated with an emergency. The initial goal is to facilitate business continuity, a short-term recovery to set the stage for successful long-term recovery."
According to the ACI Handbook, an aerodrome operator should be responsible for overseeing the business continuity plan (BCP) and planning process, which includes:
Establishing policy by determining how the aerodrome operator will manage and control identified risks to its business continuity;
Allocating knowledgeable personnel and sufficient financial resources to implement the BCP;
Ensuring that the BCP is independently reviewed and approved periodically;
Ensuring that employees are trained and aware of their roles in the implementation of the BCP; and,
Ensuring that the BCP is regularly tested in relation to emergency exercises.
Key Individuals
According to the ACI Handbook, a good practice is to establish an Emergency Preparedness Committee. "This committee should be present at the genesis of the ERP process. It should be opened to all stakeholders and connected to other relevant committees, such as the Airline Operators Committee. This forum has an objective to allow every organisation to better understand the roles and responsibilities of others and to communicate its needs."
Different departments in an airport operator's organization, as well as governmental organizations and authorities and commercial entities, need to take action in an emergency situation. "It is necessary that all parties are involved, [and that] the tasks and responsibilities, as well as the communication, [are] documented and assigned in an emergency plan," says Josef Pfanzelt, who is responsible for crisis management at Munich Airport. "Many responsibilities and tasks are assigned by law. For tasks that concern an airport operator, in-house assignments must be made in terms of who provides the alerts, who does what, who informs which stakeholders, etc."
The most important participants are:
Air traffic control;
Airport rescue and fire fighting (ARFF) personnel;
Airport and terminal operations personnel;
Security personnel;
Ground handling service providers;
Care teams/airport clergy;
Local (off-airport) firefighters and emergency medical services; and,
Law enforcement.
"We have been preparing ourselves and the airport community from time to time to react during contingencies. When a contingency is encountered at our airport, we will activate the Airport Emergency Centre (AEC) for command, control and communications," says a spokesman for Airport Authority Hong Kong, which operates Hong Kong International Airport (HKIA). "Located inside the Integrated Airport Centre (IAC), the AEC performs an important role in managing the crisis as key personnel from different airport operations, including airlines, ramp operators, handling agents, government departments and other business partners, are gathered for coordination."
At airports managed by Spain-based Aena, which claims to be the world's largest airport management company, there are three levels of command. "The strategic level is to take high level decisions (among all the stakeholders involved in the management of the emergency). This is the Crisis Committee. The tactical level is where the coordination of the different points activated at the airport takes place. This is the Main Command Post. The operational level at the emergency location is the post where the different involved stakeholders coordinate their actions. This is the Advanced Command Post," says Elisa Callejo, head of the terminal area department at the operations division of Aena, which manages airports throughout Spain and the Canary Islands. The emergency plan defines which members of the staff are responsible for the three posts and includes a document that details each person's responsibilities and tasks, she says, adding that all the emergency teams are required to follow the instructions received from this leadership chain.
At Václav Havel Airport Prague, the operational manager on duty is responsible for evaluating information provided by the emergency dispatcher and taking immediate steps in accordance with the emergency plan. "In case of extensive emergency, the operational manager on duty calls for the emergency command team with members representing key airport entities. Emergency command team structure varies from each specific state of emergency," says Milan Špaček, member of the Prague Airport Board of Directors responsible for safety and security.
Size, Nature and Complexity
Airport organizations can differ in size, nature and complexity, and each has unique features. Some are small, uncomplicated facilities, while others are large communities with industrial and commercial facilities serving major metropolitan areas. But regardless of the size of an organization, an ERP is essential for all airports, the ACI Handbook says. "For small airports, their location and national policies can affect the contents of the ERP. The aerodrome operators should, therefore, be responsible for ensuring that all the relevant aspects are included in the plan and are within the national requirements."
Good knowledge of an airport structure and of the responsibilities of every emergency organization at the airport is crucial for ERP implementation. "The ERP has the role to define all possible types of emergency and all normal operations that might be effected by an emergency, as well as [to] specify precisely the responsibilities of each airport entity involved in emergency. The ERP also serves to set up effective cooperation among the different entities and describe in detail the emergency process and all the immediate steps needed," says Špaček. "Small organisations should also practice and deliver frequent emergency training as these are key in setting up a functional ERP. Another important measure is a functional system of notifications and alerts whereby all the staff involved in an emergency [are] immediately informed as soon as the state of emergency is called. Information flow is then secured, especially among members of the emergency command team."
Aena, which has a network of 46 airports and two heliports of differing sizes, types of locations and traffic, has developed guidelines to standardize the emergency plans at all the airports it manages. "The result is that templates, guidelines and support of headquarters are provided to all airports, including the smallest ones," says Callejo. "Moreover, due to the limited resources at smaller airports, the coordination of the airport with the local civil protection authorities is a priority. This target can be achieved in the drills, emergency committees, or other meetings arranged to share information and improve coordination."
Shifting the Operational Mode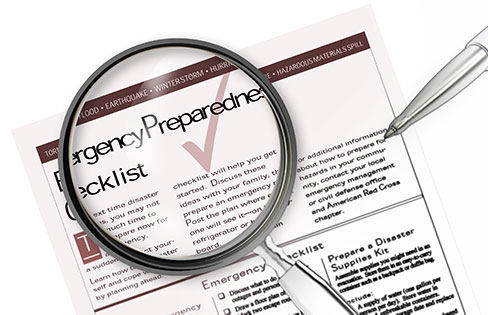 A key to ensure an orderly and safe transition from normal to emergency operations is the appropriate activation of the airport emergency plan. "This implies not only the activation of human resources (emergency teams) but also facilities to ensure the appropriate management of the emergency (meeting points, access controls, etc.). In order to achieve this, human factors have to be taken into account by using checklists, diagrams, task sheets, etc., to facilitate the intervention of the emergency teams and minimise omissions or mistakes. In these task lists, all the tasks needed to maintain safety (e.g., NOTAMs [notices to airmen], runway inspections) must be clearly stated for the emergency phase and also for the recovery phase," says Callejo.
During the transition from normal to emergency operations, the alerting system has a key role. "Alerts are sent to all emergency organisations on the airport at the same time. This ensures that no useful time gets lost. After alerting, more information about the details of the emergency will be provided to all emergency organisations (police, fire brigade, crisis organisation, care team, telephone enquiry centre). The goal of airport crisis management is to return to normal operations, step by step, and as soon as possible," says Rudolf Farner, head of emergency management at Zurich Airport.
Even when returning to normal operations, it is crucial that roles and responsibilities include precisely defined action steps. "Each member of the emergency command teams has exactly specified checklists of responsibilities. Once the list is checked by each member and all the necessary steps are done, the return to normal operations is called. The key is in planning, anticipating, coordinating and sharing of information," says Špaček.
The Role of Simulations
In ERPs, simulations are important because they enable members of the emergency teams to get to know each other, which is essential during a crisis. "As an international airport, we are obliged by the ICAO to undertake a major emergency exercise every other year. Last year, we had one with many different organisations involved," Farner says.
Simulations are important not only to test the effectiveness of the defined procedures but also to train the members of the different emergency teams and improve the coordination among them. "Drills are very useful to detect aspects that should be improved in a simulated background. This is the reason why it is important to test different types of emergencies (aircraft accident, building fire, unlawful acts) in different situations and locations," says Callejo. "The minimum frequency for full-scale drills at the airports determined by the aeronautical regulations is two years. However, airports run every year several partial drills, with a limited resource mobilisation, where they can check if the improvement measures are effective and also focus on specific key issues, such as communications, emergency lounges for families, etc."
According to Špaček, it is appropriate to split the simulation exercises into two parts. "The first is a full emergency exercise and the second is a partial exercise. The full emergency exercise is focussed on the cooperation among involved airport entities, the spreading of alerts, the definition of responsibilities, the emergency command teamwork, information sharing and flow, and following procedure. The partial emergency exercise is especially focused on specific procedures which would not be possible to practice in detail during the extensive full exercise."
Airport Authority Hong Kong conducts a full-scale aircraft crash and rescue exercise annually called CrashEx. "The exercise aims at providing the participating parties, including the airport community, relevant government departments and organisations, the opportunity to familiarise with the emergency procedures for dealing with aircraft accidents as stated in the emergency procedures manual of HKIA. Participants from airlines and handling agents are invited to join these exercises as they are the ones who serve air passengers and cargo in the daily operations, while airlines would also coordinate with their agencies and contractors potentially involved in an emergency response situation," says Airport Authority Hong Kong. "We set different scenarios of emergencies for the CrashEx every year to enhance HKIA's readiness for emergency responses, including aircraft collisions, landing failure, aircraft on fire and more, involving various types of aircraft. Over 1,000 representatives from more than 100 groups and organisations participate the CrashEx annually."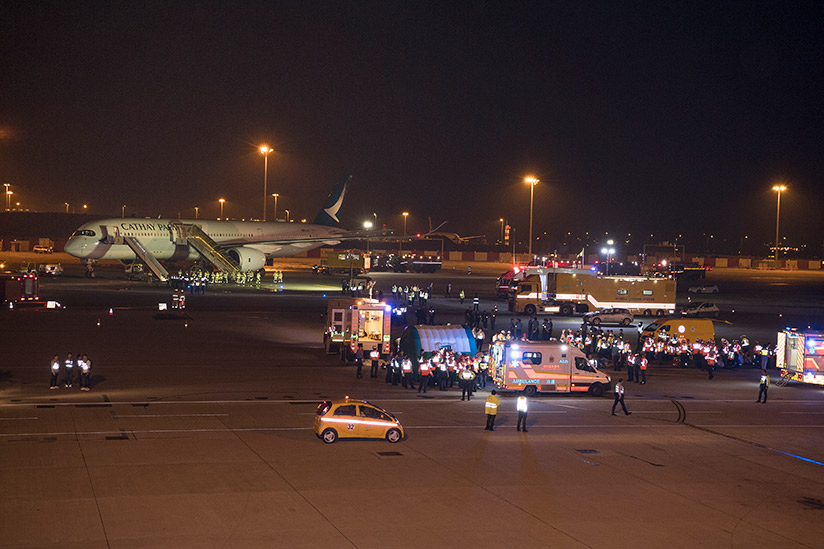 In addition to the annual CrashEx, HKIA conducts more than 100 drills, exercises and training seminars covering various aspects of operational contingencies every year with its business partners. "Scenarios include severe weather, system failures, equipment malfunctions, public health incidents, as well as fires and security issues. Through intensive trainings, different parties at HKIA can ensure their readiness for an orderly and professional handling of emergency situations in accordance to our ERP, and to assure business continuity and a speedy operations recovery thereafter. Proper coordination between organisations during the provision of their services can be seen," says Airport Authority Hong Kong.
Mario Pierobon is a safety management consultant and content producer.
Note
Airports Council International (ACI).

Emergency Preparedness and Contingency Planning Handbook – First Edition 2014
---
Featured image: Cpl. Matthew Callahan, U. S. Marine Corps | Wikimedia Public Domain, modified by Susan Reed
Handbook cover: Airports Council International
Checklist: © vitanovski Adobe Stock
Crash simulation photo: Hong Kong International Airport