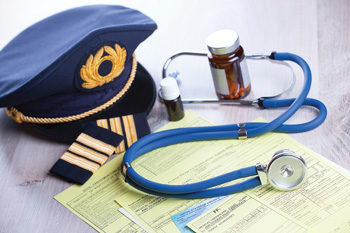 Misconceptions among professional pilots about their prospects of continued qualification for an airman medical certificate can prove costly in safety, health and financial terms, says Quay Snyder, a physician1 and president and CEO of Aviation Medicine Advisory Service and its parent company, Virtual Flight Surgeons. In the United States, inaccurate information has a tendency to seep into some pilots' understanding at different stages of the dynamic process of revising Federal Aviation Administration (FAA) medical certification standards, he said.
Looking back at 12 months of changes, through first quarter 2014, shows a mostly positive impact on this pilot community, Snyder told the Business Aviation Safety Summit (BASS 2014) in San Diego, a conference hosted by Flight Safety Foundation and the National Business Aviation Association (NBAA).
The FAA's authority to issue waivers to pilots on some certificate requirements stems from agency policy governing the work of aviation medical examiners (AMEs), and this policy essentially expects AMEs to help pilots identify, to the extent possible, any medical conditions that might prevent them from flying safely, Snyder said. However, pilots should realize that the FAA is being tasked to do more with less while constantly being asked "Is that safe?" with respect to changes of medical certification standards and special issuances under them, he said.
"You'll be safe if you stay healthy," Snyder said. "Don't avoid seeking any medical evaluations. Get what you need because, generally, the FAA will waive you. … The sense I hope I'm conveying is that the FAA has flexibility despite not publishing the policies they're using — flexibility to liberalize the standards."
Fred Tilton, a physician and former U.S. Air Force F-15 pilot who retired from the FAA post of federal air surgeon in January, published policy-directive language to AMEs through the quarterly Federal Air Surgeon's Medical Bulletin that can be summarized as "issue a certificate whenever possible," Snyder said. "He did not want to see them deferred. [Tilton would tell AMEs,] 'If you're looking at a deferral, call the regional flight surgeon or call the Aeromedical Certification Division in Oklahoma City to see if you can get permission to issue that certificate.'"
James Fraser, a former U.S. Navy physician appointed in March as federal air surgeon, has continued the deferral-averse stance, Snyder noted. Fraser has invited experts' consensus about the latest scientific evidence for the remaining prohibitions against AMEs issuing an airman medical certificate. The physicians often use an unofficial term — conditions AMEs can issue (CACI) — for the physical and mental conditions that previously required FAA-level approval for special issuance of a medical certificate (Table 1). Those had resulted in pilots not being able to fly after visiting an AME for a medical certificate, having it deferred and waiting maybe three or four months to get the certificate, Snyder said.
Personal Responsibility
Compliance with FAA requirements, one tenet of aviator professionalism, is the foundation of the national airman medical certification system. "The one regulation that we, as pilots, have to look at every time we fly — [Federal Aviation Regulations (FARs)] Part 61.53, ["Prohibition on operations during medical deficiency"] — is not a medical regulation [but] a certification regulation," Snyder said. "You can't act as a pilot-in-command — nor can you act as a required crewmember — if you have any medical condition or are taking any medication that may … make you [unsafe]. And you have to do this before every flight. It's a self-certification process separate from the medical certificate that you hold."
Although, as noted, the FAA does not publish its aviation medical policy, the agency periodically updates and posts its free Guide for Aviation Medical Examiners3 — available online in the searchable Adobe Acrobat PDF format. The Guide discloses, for example, the long-requested "do not issue, do not fly" list of medications (Table 2). The idea of publishing that list had been controversial for years. "The most important thing is 'What's the underlying condition you're taking the medicine for?'" Snyder told BASS attendees. "You could be taking an allowed medicine for a disallowed condition — or something that wouldn't be safe."
Fitness for Duty
Deficits in pilot cognition related to aging and impairments associated with medications or other known factors recently have become a focus area for the NBAA Safety Committee and the FAA General Aviation Joint Steering Group, BASS presenters said. Snyder's firm, for example, has been assessing flight operations personnel during the past four years for a major company that provides fractional aircraft services.
"We have [the company's] data on between 30 and 40 people right now," he said. "What was initially surprising is we find a lot of different conditions' physical and mental — all [items on the FAA's] IM SAFE checklist2 — but also many nuances." Sleep apnea (ASW, 2/14) and depression (ASW, 5/12) were the most common conditions noted among these pilots, and others were of a psychologic, neurologic or drug-induced nature.
Difficulties in safely performing flight duties, sometimes manifested by such conditions, had been observed by coworkers in some cases. "The interesting part is that these are people who no one will fly with, have violated FARS, can't pass training events [and] can no longer requalify on recurrent training on their aircraft," Snyder said. "In about 70 percent of [such] people, [AMEs] identify a treatable condition. [They] do cognitive testing before and after, and we see that treating the medical or psychologic condition returns [pilots] to a healthy cognitive and psychologic state so they are qualified to fly, and the FAA routinely certifies them."
Backlog Empowers AMEs
One of every pilot's health-related objectives should be to develop and maintain a strong relationship with what he called a "good" AME, one who is not only qualified as a physician, educated in the applicable FARs and closely monitoring pilots' health changes, but also motivated, willing and ready anytime to communicate with the FAA on the pilot's behalf. "That's the person to go to," he said. "A good AME is worth his or her weight in gold."
In his experience, however, some pilots claim it's a great idea to search for an AME who has a reputation for signing medical certificates after a cursory medical assessment or even without an examination. "That really is not good because you could be [in] a situation where you have a disqualifying condition that's never been looked at — and that's an AME who's not willing to make a phone call if something [e.g., an undesired test result] comes in," he said.
"If you don't have an AME who — if there's a question — is willing to call the FAA, you need to find a new AME because that person who won't call will cost you a lot of money in sick leave, downtime, wasted effort and extra tests. If you don't have a good AME who will pick up the phone, get rid of that AME."
During the past 12 months, this advice has increased in relevance. The FAA's process of reviewing cases of U.S. pilots with problematic medical conditions, making decisions and issuing waivers slowed significantly because of a temporary government services interruption. By April 2014, however, the average duration of this process dropped from several months to 46 working days, Snyder said.
"The good part is that [the FAA] pushed all the [backlogged] work out to the AMEs," he said. "The AMEs are given more authority — more autonomy — and are encouraged to call the FAA to … reduce the paper flow that's coming in, the 'bandwidth' [workload] taken up in all the waivers going back and forth. … If the AME is willing to make a phone call to the FAA, you can speed that process up."
Disqualifying Diagnoses
FARs Part 67, Medical Standards and Certification — technically the FAA's only medical regulation — lists only 15 diagnoses that disqualify an applicant for an airman medical certificate; that list can be a point of confusion, Snyder noted. The small number appears here because this regulation also states that the federal air surgeon — "based on the case history and appropriate, qualified medical judgment relating to the condition involved"— has the authority to identify any condition, medication or treatment that would make the person unable to safely perform the duties or exercise the privileges of the airman medical certificate applied for or held.
The Guide to Aviation Medical Examiners, 336 pages long in 2014, contains more than 300 disqualifying diagnoses that for many years were difficult for non-AMEs to discover. "There's a downside in that [FAA medical policy] is a mystery to everyone, but the upside is that, as technology improves [and] medicine improves, they can adopt changes without going through a rulemaking process," Snyder said.
Certificate-Keeping Tactics
Apart from strategically selecting an aviation medical examiner (AME) and building a long-term relationship, airline pilots can avoid or overcome problems in the issuance of a U.S. airman medical certificate by applying simple tactics to the office visits, according to Quay Snyder, a physician and president and CEO of Aviation Medicine Advisory Service and its parent company, Virtual Flight Surgeons. His recommended tactics include:
Schedule the office visit early in the month of certificate expiration. That way, if Federal Aviation Administration (FAA) requirements impose a two-week wait before issuance, you still can fly on the current certificate.
Prescreen your medical status and history, and be ready to talk about treatments received or available, and medications being taken.
Don't show up sick on the day of the examination. The AME will not be able to issue the certificate in that circumstance. From the AME's perspective, rescheduling the appointment does not result in a penalty and has no detrimental effect on obtaining a new certificate — even if the postponement causes the current certificate to lapse.
Be ready for the physical examination by bringing all relevant medical records, corrective lenses and hearing aids. If you already have an FAA letter of authorization for special issuance, present the letter so the AME knows what documents must be checked. There are more "conditions AMEs can issue" than ever — i.e., AMEs often have authority to immediately make decisions about issuance — but only if the pilot can present all required documents.
Don't unwittingly induce strange electrocardiogram (ECG), heart rate or blood pressure measurements, which will prevent the immediate issuance of the certificate. Prior to an office visit involving these tests, minimize consumption of caffeine, a factor that can induce unusual heart rhythms. Anything causing significantly high blood pressure during the visit can be a problem. By the same token, a resting heart rate of 50 beats per minute or less — while normal among fairly well conditioned athletes — will be problematic for the AME, so performing an activity such as jogging in place before the ECG is advisable so that the rate exceeds this low end of the normal range of typical patients.
In practice, if the airman brings the appropriate documentation (see "Certificate-Keeping Tactics") to the office visit, the AME now can perform the examination and complete a standardized worksheet for special issuances. Assuming all requirements are fulfilled, "the airman walks out with a medical certificate — bypassing the process that used to take two or three months," Snyder said.
A group of advocates for further updates, including Snyder, recently was informed that the FAA has adopted 14 of the 18 most recently proposed changes, expanding "protocols for conditions that we think should be well within the authority of an AME to issue," he said. "Some of the ones we weren't successful in getting approved immediately — but I think will — are in the cancer category, particularly lymphoma and leukemia."
Intoxicated Driving
If a professional pilot in the United States is charged by police with violating a state law that prohibits driving a motor vehicle under the influence of alcohol (or other intoxicating substances or medications), potentially irreversible consequences to an aviation career can result. Driving under the influence (DUI) and driving while intoxicated (DWI) are two common terms for this offense.
"The FAA doesn't look kindly upon drinking," Snyder told BASS attendees, referring to such arrests, convictions and administrative actions. If an applicant ever has registered a blood alcohol level greater than 0.1499 in the context of an alcohol-related driving incident — in other words, 0.15 or higher — the AME cannot issue a medical certificate, he said. Likewise, if the applicant refused to provide a breath-alcohol sample to a law enforcement officer, the AME cannot issue a medical certificate. In practical terms, the pilot is likely to lose flying privileges for three to six months while dealing with the paperwork required before the FAA rules on whether to restore the airman medical certificate.
The AME also must defer certification, for example, if any alcohol-related or drug-related driving incident occurred within the preceding two years and there has been another arrest, conviction and/or administrative action at any other time. "[If] you had a minor-in-possession charge 30 years before [the latest incident,] that is disqualifying; the AME cannot issue," Snyder said. He cited that scenario because it was an actual case involving a pilot who was arrested for DUI while driving away from celebrating a daughter's wedding to assist someone involved in a car accident. The arrested pilot had to provide the AME a record from the 30-year-old incident.
Moreover, the AME cannot issue if the applicant has had a total of two arrests, convictions or administrative actions within the preceding 10 years, or has had a total of three arrests, convictions or administrative actions within a lifetime, Snyder said.
Generally, the AME does not take further action until the pilot provides all police reports, driving records from all states that ever issued the pilot a driver's license, arrest records, court records and military records. This process also includes a requirement that the pilot write and sign two personal statements, one explaining the circumstances that caused a law enforcement officer to stop the pilot and investigate, and the other describing the pilot's entire drinking history from taking the first drink until the present time — including how much alcohol is consumed, what types of alcohol are consumed and in what situations the pilot drinks alcohol.
"Then you have to get a substance-abuse evaluation [compliant with detailed] FAA standards," Snyder said. "You may as well pay for [this] evaluation up front with the person who's qualified to do it. … So my bottom line is 'You can't afford a DUI — not in this career.'" Some BASS attendees indicated that they already were familiar with the national Human Intervention and Motivation Study–based abstinence program, which began in the early 1970s and essentially allows U.S. airline pilots who have a diagnosis of substance abuse to continue flying if they are identified to the FAA and if they are participating successfully in the program (ASW, 9/06).
"It's a wonderful, collegial program [among] the airline management, the unions and physicians, both FAA and commercial," he said. "We've returned 4,800 airline pilots with drug and alcohol dependence to flying. … They have to attend a 12-step [treatment] program. They have to do weekly after-care, a group meeting with a professional [substance-abuse counselor present]. They have to get annual psychiatric assessments. … The minimum period of time for alcohol [abuse] is three years in that monitoring program, after which they have to maintain abstinence for the duration they hold the medical certificate. For drugs or recurrent alcohol [problems], it's a minimum of five years to do that, although some [cases] can be extended." Sponsors of the pilots dictate how much random drug and alcohol testing, generally off-duty testing, that each participant must undergo.
Sleep Apnea Update
Tilton, the former federal air surgeon, generated controversy within the professional pilot community by proposing a new requirement that AMEs proactively screen all airline pilots for obstructive sleep apnea (OSA) based on factors such as body mass index (BMI). The proposal was withdrawn but led to high awareness of this condition and the serious risks to commercial aviation. "OSA has been a disqualifying condition since 1996 with the FAA," Snyder said. "People have been getting waivers for it. In the past, there was no effort to screen for OSA."
In December 2013, 15 advocates for pilot medical interests — including Snyder — met with FAA officials and worked out an agreement on how to address the issue of OSA in pilot ranks. "[FAA] will screen based on BMI," he said, summarizing the status of new agreements as of mid-April. "If you have a BMI of 40 or greater … that's what's considered morbidly obese, and 98 percent of people who have a BMI like that will meet medical criteria for sleep apnea."
In practice, the pilots newly identified by these criteria now get 90 days to see a primary care physician for assessment of possible OSA, and several types of physician-prescribed home studies are allowed. "The screening is different [now, no longer requiring evaluation only by a sleep medicine specialist], and … unless you have [OSA] that's not treated, it's not grounding," Snyder said.
"If the doctor writes a note that says 'I don't think Joe Pilot has sleep apnea,' you give that to the AME — that's the end of the evaluation. No more questions. … If you come in and [tell the AME, furnishing documents and compliance data,] 'I have sleep apnea and I'm on a CPAP [a continuous positive airway pressure machine] and I'm using my CPAP, the AME is directed to clear you right then. Or you can continue to fly while you're going through the evaluation as long you're making progress toward getting the treatment initiated."
The only thing required for certificate renewal is delivering current compliance data to the AME, such as validating the pilot's correct use of the CPAP. The recent ASW article offers details of three other OSA-treatment options allowed by the FAA.
Notes
Snyder holds doctor of medicine and master of public health degrees.
He said that the FAA Aeronautical Information Manual [

AIM

], Section 8-1-1, "Medical Facts for Pilots" — which recommends use of the IM SAFE personal checklist — constitutes the only guidance on physical/mental fitness for duty published widely for all U.S. pilots. In the

AIM

edition last updated Aug. 22, 2013, the checklist says every pilot should be able to say before flight, "I'm physically and mentally safe to fly; not being impaired by: illness, medication, stress, alcohol, fatigue [or] emotion." This AIM section elaborates on the scope of issues within each listed item, as well as broader aviation medical facts to consider. Snyder said that a future edition will combine the "emotions" item content under the "stress" item and introduce "eating and hydration" as the last checklist item.
FAA.

Guide for Aviation Medical Examiners

. April 22, 2014.