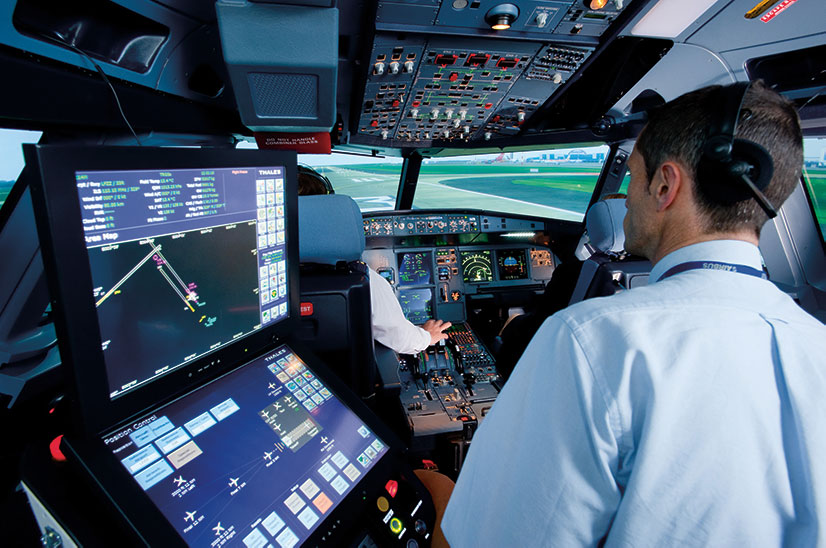 After several years of efforts to revise safety-related priorities in U.S. airline pilot training, the Federal Aviation Administration (FAA) and the industry have been cooperating to ensure the effectiveness of enhanced technological tools required by some of the additional content. Among these tools, the aviation community has clarified the necessary capabilities of flight simulation to be deployed — although some still are being refined.
National policy changes for this training began to take effect March 12, 2014, but some still are on the horizon, and must be implemented no later than March 12, 2019. Airlines and approved training organizations (ATOs) therefore have passed the one-year mark in what essentially is a five-year period of voluntary adoption. Although some requirements do not take effect in this period, associated regulations do provide airlines and ATOs details about expected technological capabilities — especially in full flight simulators (FFS) and other flight simulation training devices (FSTDs) used for training pilots and other aircraft crewmembers.
The documents should make it relatively straightforward for air carriers to plan steps/stages in their own pilot training programs — whether by a traditional structure (in Federal Aviation Regulations [FARs] Part 121, Subparts N and O) or by tailoring them using data-driven concepts and approvals from the FAA's Advanced Qualification Program (AQP, Subpart Y). In the remaining four years, the policy especially will enhance all aspects of airplane upset prevention and recovery training (UPRT), a key aspect of reducing the risk of loss of control–in flight accidents, according to FAA (see "Technology's Future Influence on Training").
For interim use by these stakeholders between November 2013 and November 2014, the agency provided a document titled "Qualification, Service, and Use of Crewmembers and Aircraft Dispatchers," and its provisions recently have been incorporated into regulatory amendments and are being incorporated into guidance material such as advisory circulars (ACs).1 The document said, "The FAA expects to revise or publish additional ACs in the future regarding stall prevention and recovery, upset prevention and recovery, remedial training, and other provisions for which compliance is required no later than March 12, 2019."
The final rule on airline pilot qualifications, which became effective in November 2013, responded to statutory requirements and time frames set in August 2010 by the U.S. Congress, in a law titled the "Airline Safety and Federal Aviation Administration Extension Act of 2010." The final rule derived from this law in part added training and qualification requirements for pilots in initial, transition, upgrade and recurrent training categories. The rule notably offered, effective March 12, 2014, opportunities for certificate holders to modify Part 121 training program requirements for pilots when the certificate holder operates multiple aircraft types with similar design and flight-handling characteristics, if the FAA administrator has designated the affected types as "related aircraft."
The FAA's implementation of the law also has taken into consideration voluntary training-related programs already in place at a number of airlines in relation to cumulative government-industry risk-reduction efforts. "Accordingly, the final rule … contains provisions that enhance pilot training for rare, but high-risk, scenarios, and that provide the greatest safety benefit," the policy said.
FAA anticipated that many air operator certificate holders — now evaluating their own pilot training and that of ATOs in anticipation of some supporting technology yet to become available — would want to know, for example, if they could begin to revise their Part 121 pilot training program to include UPRT extended-envelope flight training even though the agency will not require compliance in this area until March 12, 2019.
The FAA answered: "Yes. However, many [FFSs] currently lack the data package necessary to accomplish some of the extended envelope flight training maneuvers and procedures, such as full stall and upset recovery. Therefore a certificate holder desiring to conduct the extended envelope flight training maneuvers and procedures should contact the National Simulator Program (NSP) for additional guidance on evaluating an FFS for those maneuvers. The FAA has initiated rulemaking to address the necessary changes in Part 60 which will be needed to deliver the FFS fidelity [ASW, 6/11, p. 24] and instructor operating station [IOS] capabilities [ASW, 8/13, p. 34] needed to effectively deliver many of the extended envelope flight training maneuvers and procedures."
Scope of Added Training
In requiring compliance with this final rule, the FAA presumed that airlines by the 2019 final date will have adequate supporting technology to cover elements in the full scope of added training. The regulations specify, for example, the types of FFS required to be used unless the FAA Air Transportation Division authorizes an operator to deviate.2,3 The training encompasses the following elements:
"All pilots operating under Part 121 must complete ground training on stall prevention and recovery and upset prevention and recovery during initial, transition, upgrade and recurrent training. The minimum programmed hours for initial ground training must be increased by two hours, and the minimum programmed hours for recurrent ground training must be increased by 30 minutes.
"All pilots operating under Part 121 must complete flight training in a Level C or higher [FFS] on the following maneuvers and procedures during initial, transition, upgrade and recurrent training: manually controlled slow flight, manually controlled loss of reliable airspeed, manually controlled instrument departure and arrival, upset recovery maneuvers, recovery from bounced landing and recovery from full stall and stick pusher activation, if equipped.
"All pilots operating under Part 121 must complete flight training and checking on runway safety maneuvers and procedures and crosswind takeoffs and landings with gusts.
"All pilots operating under Part 121 must perform pilot monitoring while not flying the aircraft. All line-oriented flight training (LOFT) must provide the pilot an opportunity to demonstrate pilot monitoring and workload management.
"All LOFTs in a Part 121 training program must include at least two flight segments and scenario-based or maneuver-based stall prevention training.
"All pilots in command (PIC) operating under Part 121 must complete a proficiency check, within the preceding 12 calendar-months, in each aircraft type in which the PIC serves.
"All flight instructors, check pilots, and check flight engineers (FE) who conduct training or checking in [an] FSTD under a Part 121 training program must complete initial or transition and recurrent training on the operation of each FSTD and the FSTD's limitations.
"All Part 121 training programs must include remedial training and tracking of pilots with performance deficiencies during training and checking and/or multiple failures during checking.
"All training equipment, other than FSTDs approved under [FARs] Part 60 ["Flight Simulation Training Device Initial and Continuing Qualification and Use"], used in a Part 121 training program must be approved."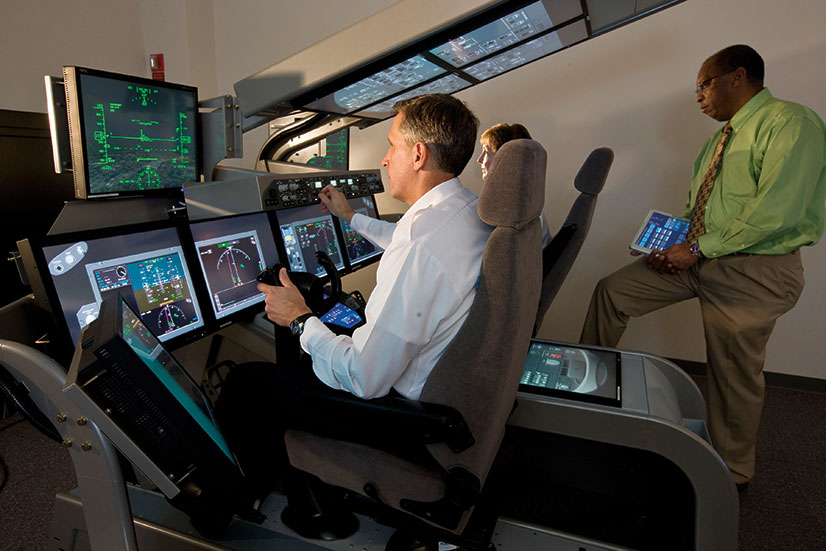 Equipment-Focused FARs
Under the current training policy, examples of FARs added or amended to require specific training equipment no later than March 12, 2019, include the following. Part 121.423 says "each training program must include extended envelope training for each pilot in a level C or higher FFS. The maneuvers and procedures must be completed every 24 or 36 calendar-months, as specified."
Part 121.407, which aligns requirements for approval of airplane simulators and training devices in air carrier training programs with Part 60 requirements for evaluation, qualification, and maintenance, further specifies that an airplane simulator must be used to complete the pilot flight training requirements in Part 121.423. The term stall prevention is now used for the simulator-trained maneuver previously called approaches to stalls, and the simulator used therefore must be compatible, for example, with training pilots to initiate the approved recovery procedure at "the first indication of an impending stall (buffet, stick shaker, aural warning)."
Part 121.403 says "each training program curriculum must include a list of all the training equipment approved under [Part] 121.408."
Parts 121.413 (covering initial and transition ground training for check pilots and check flight engineers who conduct training or checking in an FSTD) and 121.414 (covering initial and transition ground training for flight instructors who conduct training or checking in an FSTD) say in part that no later than March 12, 2019, airline/ATO training "must include subjects specific to the device(s)" and that they must complete recurrent training "on the subjects specific to the device(s) every 12 calendar-months."
Setting The Stage
U.S. and non-U.S. experts4 discussed some relationships between the new scope of training and the availability of supporting technologies at a breakout session during the World Aviation Training Conference and Tradeshow (WATS 2014) in April in Orlando, Florida, U.S.
They noted that ICAO Doc 10011, Upset Prevention and Recovery Training, advocates a worldwide effort to continue and enhance airline/ATO training designed to prepare pilots to deal with developing and developed airplane upsets. Regarding simulators, the document says, "The use of FSTDs … complements the application of knowledge and techniques introduced through on-aeroplane UPRT at the CPL(A) [commercial pilot license] or MPL [multi-crew pilot license] level, [and] FSTDs can allow for practical skill development in upset prevention and recovery in a crew environment and with aeroplane-specific systems, instrument indications, control response and procedures."
Among points relevant to U.S. carriers' planning toward the FAA's final training compliance date, the presenters told the attending airlines and ATOs, "Of major concern in the delivery of UPRT in FSTDs is adherence to the valid training envelope (VTE) for a particular device. Use of FSTDs in regions of the [airplane] flight envelope beyond the FSTD's ability to provide accurate fidelity has the potential to introduce misleading concepts or inappropriate understanding of techniques which can result in a 'negative' training experience."
To allay these concerns about adhering to valid VTEs, they noted the availability of expert consultation for training instructors about VTEs; IOS UPRT tools that depict VTEs; accurate information to counteract several training myths (such as that all maneuvers exceed VTE); correctly exposing pilots to both approach to stall and full aerodynamic stall; the proper emphasis on recovery; the role of on-airplane training to overcome gaps in FFS motion cueing at an early stage in professional pilot qualification; special UPRT instructor qualifications; creating a related risk-mitigation plan under a safety management system; and ensuring consistency of training with the Airplane Upset Recovery Training Aid, Revision 2 (Revision 3 has been drafted but not released; ASW, 3/15).
FAA's Robert Burke at the breakout session noted that, as devices designed to provide the required FFS capabilities gradually gain agency qualification, airlines and ATOs will be able to conduct the extended-envelope training, as noted. This must include instructor-guided, hands-on experience of recovery from full stall and stick pusher activation, if equipped. Meanwhile, the ongoing rulemaking process to amend Part 60, he said, will address FFS fidelity, criteria for evaluating how an FFS simulates full aerodynamic stalls, FFS requirements for UPRT, and IOS instructor tools that identify the VTE. These and other related Part 60 standards will be in place to allow time for operators and ATOs to modify and evaluate FSTDs/FFSs before the final compliance date applicable to traditional airline training programs, the presenters said. 
Notes
FAA. The national policy notice was effective Nov. 4, 2013, through November 4, 2014, and summarized changes in a final rule with the same title. These policy changes emerged from the work of one aviation rulemaking committee created in January 2009 to consider "comprehensive reorganization and revision to crewmember and aircraft dispatcher qualification, training, and evaluation requirements" and another created in August 2010 to consider "stall and upset prevention and recovery training and remedial training."
The FAA recognizes, for example, that in limited cases, some operators may need to seek authorization of deviation either because a Level D full flight simulator does not exist or the operator's access to the required device is limited.
Airlines training aircraft crewmembers other than pilots, notably flight attendants, also must use equipment that meets new FAA approval criteria no later than March 12, 2019. Except for flight simulation training devices qualified under Part 60, FARs 121.408 "Training equipment other than flight simulation training devices" specifies that "all training equipment used in a Part 121 training program that functionally replicates aircraft equipment must meet certain requirements and be approved by the administrator. It must also have a record of discrepancies. Training equipment with a missing, malfunctioning or inoperative component may not be used during training or checking."
Adrian, Philip; Boiardi, Andrea; Burke, Robert; Fox, Mitchell; Németh, Lou. "ICAO [International Civil Aviation Organization] Doc 10011,

Upset Prevention and Recovery Training.

"  Presentation to WATS 2014, April 2014. Doc 10011 was among a set of UPRT publications published by ICAO on March 3, 2014.
---
Featured image: © Airbus
Boeing training: © Boeing