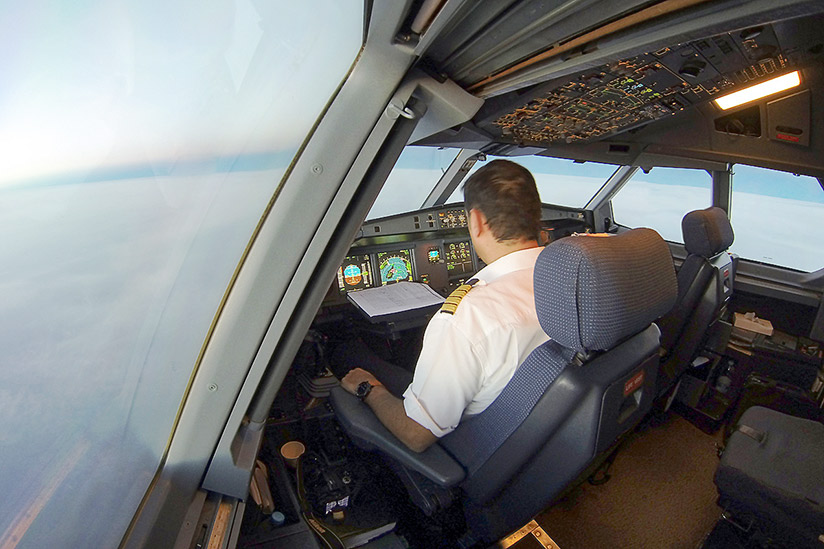 The "next logical step" in commercial airplane pilot operations probably will be reducing the on-board flight crew from two pilots to one, with the remaining single pilot receiving heavy support from automated systems and other sophisticated technology, one industry training expert says.
Nevertheless, Joe Houghton, vice president for training and operations support at the Airbus Training Center in Miami, says a successful transition to single-pilot operations will depend largely on public attitudes.
"In the 1960s, we went from five people in the cockpit to three people in the cockpit," Houghton told the World Aviation Training Summit (WATS) 2018, meeting in mid-April in Orlando, Florida, U.S., noting the disappearance from the cockpit of radio operators and navigators. Two decades later, flight engineers were phased out.
"No one thinks twice about that today," he said. "The next logical step … is probably two to one, and having a single pilot in the cockpit."
This step probably will be "more disruptive than what we've experienced in the past," he added, explaining that he was comparing the likely impact on aviation to the "disruptive" effect that the introduction of Uber ride-sharing has had on the taxi industry.
"Will the public accept the fact that there's only one pilot up front there?" Houghton wondered.
He said that public opinion is one reason that the switch to a single pilot in the cockpit will probably proceed gradually, beginning with cargo airplanes. Just as the public is adjusting to other types of changes — such as artificial intelligence in the form of virtual assistants, and the rise of Uber and other ride-sharing companies — people eventually will adjust to the idea of single-pilot flight operations, he said, noting that the experience gained during similar transitions in other areas of transportation — for example, self-driving cars — might prove relevant.
"The Ubering of helicopters is coming before you think," he said.
Changes in public attitudes also would need to be accompanied by physical changes in the cockpit, Houghton said, adding that a cockpit redesign would require considerable study. For example, he said, two sets of instruments would no longer be required, and the single pilot presumably would be seated in the center of the cockpit.
First officers would still exist, but they would be stationed in a remote "mission-control type" of facility and probably would monitor six to 10 flights rather than focusing on only one, he said. If the on-board pilot failed, someone from the monitoring facility would take over the airplane while another person in the remote facility would continue to monitor the other flights.
He noted that the mission-control concept already is familiar to the American public, largely because of years of exposure to the National Aeronautics and Space Administration's (NASA's) mission control during television coverage of space flights.
The human-machine interface also is becoming more familiar, he said, citing virtual assistants and the maps and navigation app Waze, which is capable of providing directions and keeping drivers informed about traffic accidents or road work that might block their paths.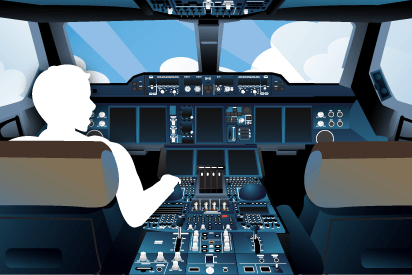 Even with a single pilot in the cockpit, crew resource management (CRM) will still be an essential element of flight operations, he said, and pilots will interact not only with a mission control pilot who is monitoring their flight but also with the automatic equipment in the cockpit.
"CRM would be different," Houghton said. "We'll miss non-verbal cues that we're accustomed to. Interacting with the cockpit itself will be different. Information presented to the pilot will be information that they need to know, when they need to know it."
For example, an automated voice might tell a pilot, "'I reset a generator, and I want you to know that … and you don't have to do anything about it,'" he said.
Other possibilities, he said, are that a machine will monitor an approach to landing and if it detects a problem, it will tell the pilot to go around, or that a machine will decide that too much time has passed since it last interacted with the pilot and will respond by notifying air traffic control.
Despite the increasing use of virtual reality (VR) and artificial intelligence, both on the flight deck and in training, some forms of these technologies are not yet sophisticated enough to play useful roles, Houghton said. He noted that pure applications of VR in training are "still primitive," while some forms of VR, such as an immersive set of VR glasses, may prove to be useful.
Throughout a transition to single-pilot operations, operators must ensure that the quality of training is not compromised, he said.
With cost cutting in mind, "companies often want to cut back on training as much as possible," he said, but their goal instead should be to optimize training and make it more appropriate.
Proposed Study
In a related development, the U.S. House of Representatives has approved a measure that would require the Federal Aviation Administration (FAA), working with NASA and other agencies, to establish a research and development program "in support of single-piloted cargo aircraft assisted with remote piloting and computer piloting," and to conduct a review of related FAA research and development activities.
The proposal, which would not take effect unless it is also approved by the Senate and signed into law by President Donald Trump, was immediately denounced by major airline pilots' organizations.
Under the House-passed legislation, the FAA administrator would be required to submit a report on its single-pilot study describing the research and development program and the results of the review.
In a joint statement issued in mid-April, after the provision was incorporated into the House version of the FAA reauthorization bill, the cargo pilots of the Air Line Pilots Association, International (ALPA), the Independent Pilots Association and the International Brotherhood of Teamsters Airline Division said they were "deeply concerned" by the provision, which they said would "introduce significant aviation safety and security risks for cargo aircraft."
Their statement said that approval of the provision would be "counterproductive and unacceptable to the common good. With the increasing frequency and severity of reports regarding computer hacking, accidents in current military and civilian drone operations and mounting reports of autonomous vehicle accidents, we think any serious consideration of this technology is premature at best."
Later in April, after the House approved the bill and sent it to the Senate, ALPA President Capt. Tim Canoll said his organization was disappointed that the single-pilot provision had been included in the legislation. (Senate action was pending in mid-May.)
"Air transportation is extremely safe in North America, due in no small part to the presence of two well-qualified, adequately trained and properly rested pilots at the aircraft controls," Canoll said.  "While we support new technology, ALPA agrees with NASA that single-operator aircraft are not safe. We oppose the provision … because it will undermine the safety of our airspace, and we urge Congress to reject it."
Economic Motivations
His reference to NASA was a nod to a 2017 research report that concluded that further technological advances must be achieved before the industry adopts reduced crew operations ("Cutting Back?" ASW 3/18).1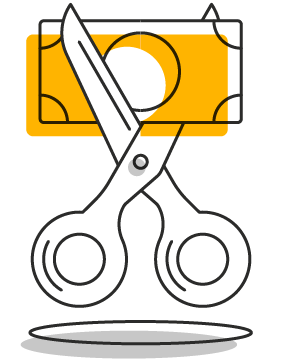 The report acknowledged that many people consider reduced crew operations or single pilot operations2 "as a next logical step in aviation advancement," but said that that the motivation for such action often stems from economic factors.
The document added, "Two-crew operations provided four hands, four eyes and two brains to monitor and work the problem(s). … Two pilots provided for workload sharing … where the physical workload to control the vehicle was significant. Two pilots provided a larger wealth of experience … to draw from, such as adapting to unique flying techniques (using asymmetric thrust to help balance fuel load or rudder trim); knowing nearby available, suitable but underused airports … ; or understanding secondary or compounding failure effects that are not checklist items (loss of generators will cause pressurization effects)."
The report also cited anecdotal evidence that implies flight crews "routinely handle and adapt to ever-present and ever-changing operations and system failures" but that, eventually, new forms of automation might be developed that could support single pilot operations.
Notes
Bailey, Randall E.; Kramer, Lynda J.; Kennedy, Kellie D.; Stephens, Chad L.; Etherington, Timothy J. "An Assessment of Reduced Crew and Single Pilot Operations in Commercial Transport Aircraft Operations." Document ID No. 20170009542; Report/Patent No. NF1676L-26640. Sept. 17, 2017. https://ntrs.nasa.gov/search.jsp?R=20170009542.

Reduced crew operations

refers to a reduction in the number of flight crewmembers required for a particular mission.

Single pilot operations

refers to a one-person crew, with either a captain or a first officer alone in the cockpit.
Featured image: © Ercan Karakas | Wikimedia GFDL 1.2
Cockpit illustration: © artisticco | iStockphoto
Cost cutting illustration: © studioworkstock | VectorStock