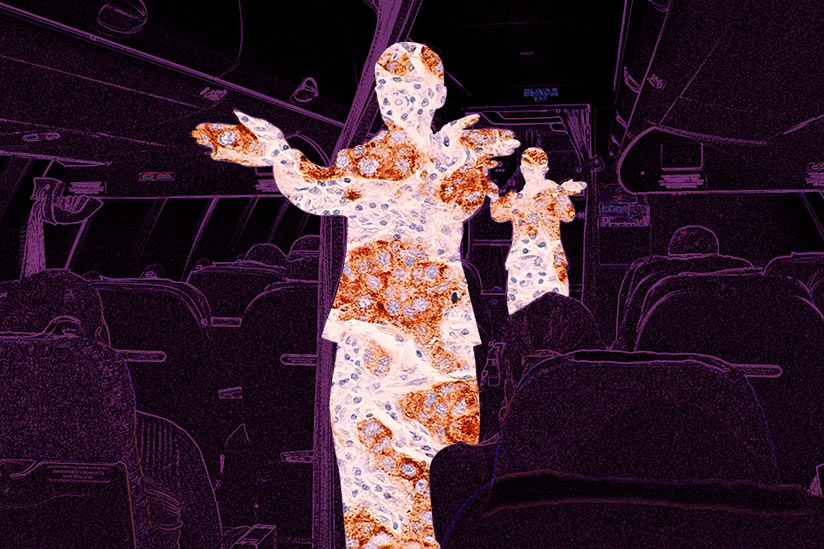 Flight attendants are contracting several types of cancer — including breast cancer and skin cancers — at elevated rates, compared with members of the general U.S. population, a team of Harvard University medical researchers says.1
The elevated cancer rates have occurred "despite low smoking and obesity levels indicative of positive health behaviors," said the report, published online in the Environmental Health journal in late June.
The findings were based on a survey conducted in 2014 and 2015 of participants in the Harvard Flight Attendant Health Study (FAHS), which began in 2007 as an ongoing study to collect data on the effects of occupational exposures on the health of flight attendants.2
A 2014–2015 survey questioned 5,366 flight attendants, and compared the results with those of 2,729 people of similar socioeconomic status who participated in a separate 2013–2014 study — the National Health and Nutrition Examination Survey.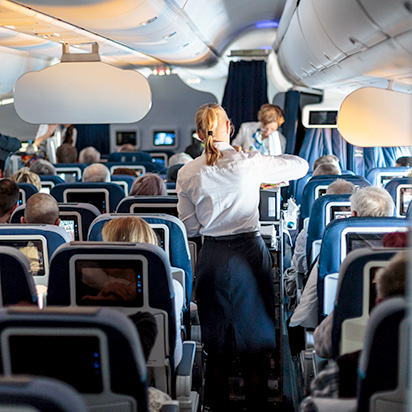 The comparison showed that the flight attendants "had a higher prevalence of every cancer we examined, especially breast cancer, melanoma, and non-melanoma skin cancer among females," the report said. For example, among female flight attendants, the prevalence of non-melanoma skin cancer was about four times higher than it was for members of the control group, and for breast cancer, the prevalence was 50 percent higher.
The prevalence of other cancers — including uterine, cervical, gastrointestinal and thyroid cancers — also was higher among flight attendants, the report said.
The report said that the study was the first to detect an increase in non-melanoma skin cancer among U.S. flight attendants, adding that the finding was consistent with conclusions of studies of European flight attendants and pilots.
Of those participating in the study, 91 percent were currently employed as flight attendants and 9 percent were former flight attendants. More than 80 percent were women. Eight percent were current smokers. The mean age of all participants was 52; and 54 percent of all participants were between ages 40 and 59, 32 percent were older than 60, and 15 percent were between 18 and 39. Slightly more than 15 percent said that they had at some time been diagnosed with some type of cancer. For female flight attendants, length of time in their careers was not related to the prevalence of breast cancer, thyroid cancer, or melanoma; however, length of time in the job was a factor in non-melanoma skin cancer, the report said.
The research team noted that during workdays, flight attendants are routinely exposed to known and suspected cancer-causing agents, including cosmic ionizing radiation,3 disruption of their Circadian rhythms (their "body clocks," or physical and mental changes that respond primarily to cycles of darkness and light in the human environment), and the poor quality of cabin air. Many also were exposed to secondhand tobacco smoke before smoking was prohibited in airliners in the United States in the early 1990s.
"The long-term health effects of this mix of occupational exposures, including with regard to cancers which develop over the course of many years, have not been well characterized," the report said, noting that few previous studies have examined the prevalence of cancer among flight attendants.
Results of those previous studies have been mixed, the document said, but in general, they "point towards associations between in-flight exposures or job tenure as a flight attendant and increased rates of breast and skin cancers, as well as aggregated cancers at all sites."
Unmonitored Exposure
The report added that flight attendants' exposure to ionizing radiation "is still not monitored or regulated in any way, despite the fact that cabin crew are exposed to the largest average annual effective dose relative to all other U.S. radiation workers [those who work with or near radioactive materials]."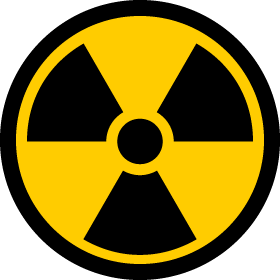 In addition, flight attendants were excluded until 2014 from workplace protections specified by the U.S. Occupational Safety and Health Administration (OSHA) to ensure safe working conditions. In 2014, they became subject to limited protections, including those designed to protect against exposure to blood-borne pathogens. Other OSHA protections typically do not apply.
The FAHS was begun in 2007 to address the scarcity of information on flight attendants' cancers. Initially, the study compared cabin crew cancer rates with those of the general population and evaluated the effects of the length of time on the job with reports of the disease. That first study found elevated rates of reproductive cancers in female flight attendants and a link between length of time on the job and skin cancers; however, survey participants were not questioned about specific cancer diagnoses.
The 2014–2015 "second wave" of the FAHS distributed questionnaires to those who had participated in the 2007 study and recruited new respondents at five large airports around the United States and through a social media campaign.
The researchers "hypothesized that we would observe associations between work as a flight attendant and prevalence of reproductive, melanoma and non-melanoma skin cancers," the report said.
Limitations of the Study
Among the study's limitations, the report said, was the possibility that it attracted a disproportionate number of flight attendants who had been diagnosed with cancer "as flight attendants with worse health are likely to be more motivated to participate in an epidemiological study of flight attendant health, are likely to attend regular medical checkups (this is true for flight attendants in general), and the question of cancer risk in relation to flight exposures is well known within the aviation community."
Other limitations included the self-reporting nature of the study, with validation through the examination of associated medical records not possible, and the selection of study participants from a combination of company rosters, social media and airport recruitment, the report said.
Study volunteers may differ from other study participants who are recruited through a random approach that considers a variety of factors, including socioeconomic status, attitudes toward health research and the time and ability to respond to online surveys, the report said.
The report said that the findings of the study may ultimately be applicable to passengers, especially to frequent flyers. The document described studies of flight attendant health as "sparse," and the authors added that more high quality studies in this area are needed, especially because U.S. flight attendants "are subject to fewer protections than most workers in this country, and relative to flight attendants working in the European Union (EU)." For example, the report noted that EU requirements call for airlines to monitor radiation doses and organize flight attendant schedules to reduce radiation exposure, as well as to inform affected workers of current, relevant studies.
Notes
McNeely, Eileen; Mordukhovich, Irina; Staffa, Steven; Tideman, Samuel; Gale, Sara; Coull, Brent. "Cancer Prevalence Among Flight Attendants Compared to the General Population." Environmental Health Volume 17 (June 2018). https://doi.org/10.1186/s12940-018-0396-8
The Harvard Flight Attendant Health Study, conducted by the university's T.H. Chan School of Public Health, began in 2007 with financial support from the U.S. Federal Aviation Administration (FAA) and has recruited more than 12,000 current and former flight attendants, questioning them about their jobs and health to gauge the health consequences of working as a flight attendant.
At higher altitudes, crewmembers are exposed to ionizing radiation, which research has shown is primarily from galactic cosmic radiation. Supernovae and, infrequently, the sun are sources of ionizing radiation. Researchers from the FAA and other organizations have found that exposure to ionizing radiation leads to a "small increase" in the risk of fatal cancers and have recommended limiting crewmembers' exposure.
---
Featured image: illustration, Susan Reed; cabin image, © SuperJet International | Wikimedia CC-BY-SA 2.0; cancer cells, U.S. National Cancer Institute | Wikimedia Public Domain
Flight attendants: © kasto | Adobe Stock
Radiation symbol: © Fastfission | Wikimedia CC-BY-SA 3.0