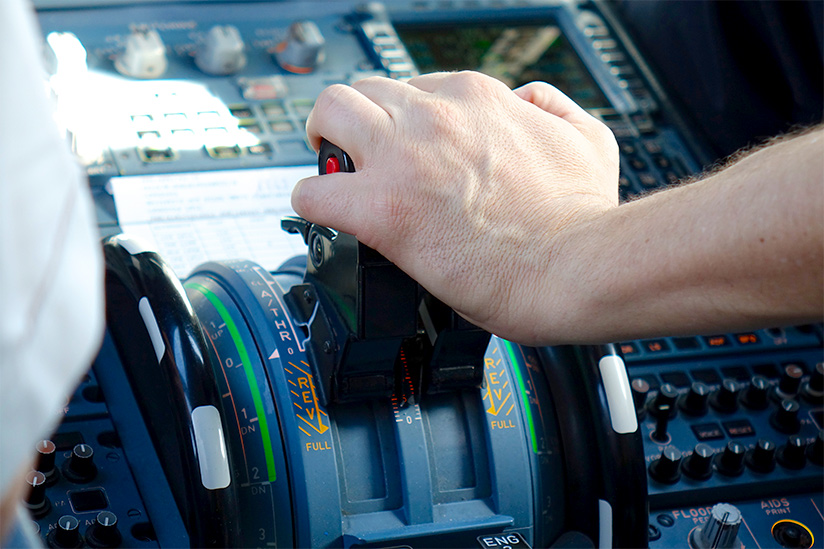 Air carrier training and line operations policies should encourage pilots to fly their aircraft manually, with crews using basic threat and error management principles to determine the best circumstances for manual flight, the U.S. Federal Aviation Administration (FAA) says.
The FAA laid out its thinking in Safety Alert for Operators (SAFO) 17007, issued in early May.1
"The … FAA believes maintaining and improving the knowledge and skills needed for manual flight operations is necessary for safe flight operations," the SAFO said, adding that the document was intended to encourage the development and implementation of training and line operations policies that ensure proficiency in manual flight operations.
For these purposes, the FAA defines manual flight operations as "managing the flight path through manual control of pitch, bank, yaw and/or thrust." According to that definition, manual operations may be conducted with or without a flight director, and require knowledge and skill in several areas:
"Pitch and power basics;
"Energy management;
"High- versus low-altitude aircraft performance;
"Aircraft type-specific factors with an impact on handling (e.g., effects of swept versus straight wings, turbojet versus turbo prop versus piston prop engines … etc.)
"Timing, coordination, anticipation;" and,
"Steps required and corresponding instrument display changes that occur as automation levels are changed for manual flight operations."
According to an account published on Skybrary — the electronic repository of aviation information founded by Eurocontrol in cooperation with several other aviation organizations, including Flight Safety Foundation — manual flying skills typically are considered "pure core flying skills" with maneuvers performed solely according to information obtained by basic flight instruments and without advanced technology such as flight management systems, autothrottles and autopilot.2
Although air carrier pilots once were evaluated according to their manual flying skills, assessments today lean heavily on their ability to manage the cockpit's many automated systems and maintain acute situational awareness.
A number of recent studies have concluded that heavy use of automated systems can weaken airline pilots' proficiency.
For example, a 2014 study by researchers at the U.S. National Aeronautics and Space Administration (NASA) Ames Research Center measured a decline in some cognitive skills — an example was keeping track of an aircraft's position without using a map display — while other skills, such as instrument scanning and manual control skills, remained strong, even if they were seldom used.3
In 2012, Ohio State University Professor David Woods told the Air Line Pilots Association, International Safety Forum that years of studies have reaffirmed a mid-1990s recommendation by researchers from NASA, the FAA and the U.S. Department of Defense that said pilots need more practice in handling non-routine situations.4
"Initial training to proficiency was getting easier and easier, but long-term growth of expertise — the new forms of airmanship that are necessary — were lagging behind," Woods said. "It is time we moved forward, got proactive."
A 2010 report in AeroSafety World discussed a 30-pilot study that compared the pilots' perceptions of their own instrument flying skills with their actual performance, in a simulator, on five basic instrument maneuvers flown with reference to raw data from basic flight instruments (heading, airspeed, attitude and vertical speed indicators) and without autothrottles, a flight director or a flight management computer/map.5
Although about 75 percent of the pilots said they practiced basic instrument skills often, when they were graded on their performance of the five maneuvers, the average grades were significantly below the FAA standard for acceptable performance by airline transport pilots.
Accidents and Poor Manual Flying Skills
Investigative authorities worldwide have cited poor manual flying skills as a cause of numerous accidents and incidents, including the following:1,2
The Jan. 16, 2013, crash of an Agusta 109E into a construction crane near Vauxhall Bridge during an approach to the London Heliport (see "Unaware," ASW 11/14). The pilot and a pedestrian were killed. The U.K. Air Accidents Investigation Branch cited as causal factors the pilot's decision to turn onto a collision course with the unlighted crane and the fact that he did not see the crane or saw it too late to avoid it. According to the accident report, the manufacturer said that the helicopter's tight right turn and its too-rapid descent indicated that it was being flown manually.
An Aug. 8, 2011, incident in which an Airbus A319 landed on the wrong runway during a visual approach to Casablanca, Morocco. No one was injured and the airplane was not damaged. In an unofficial English-language translation of the incident report, the Moroccan Bureau d'Enquêtes et d'Analyses D'Accidents d'Aviation Civile said probable causes included the crew's failure to anticipate a visual approach and their deviation from the usual approach path, along with inappropriate crew resource management.
An Oct. 17, 2014, incident in which the crew of an Airbus A319 shut down the malfunctioning right engine soon after takeoff from Zurich and manually flew the return to the departure airport. None of the 125 people in the airplane was hurt. The Swiss Transportation Safety Investigation Board said the cause was that the flight crew, "in an overhasty manner and without prior analysis of the situation, initiated a risky landing approach, after having switched off the right engine as a result of a leak in the air-cooled oil cooler."
Notes
Skybrary. "Pilot Handling Skills."
Aviation Safety Network. "Databases."
Poor manual flying skills have been blamed for numerous accidents and serious incidents (see "Accidents and Poor Manual Flying Skills"), including, for example, a March 2, 2013, accident in which the crew of a SATA International Airbus A310 experienced a tail strike during landing at Ponta Delgada in the Azores after a flight from Lisbon, Portugal, with 17 passengers and eight crewmembers. None of those on board were injured, but the accident resulted in substantial structural damage to the airplane, according to the final safety report by Gabinete de Prevenção e Investigação de Acidentes com Aeronaves (GPIAA), the Portuguese accident investigation authority.6
The report cited as the primary cause of the accident the "inadequate recovery handling of a bounced firm landing (deviation from recommended flying pilot technique)."
The FAA said that, to avoid similar events in the future, it had incorporated additional manual flight maneuvers into the approved training program requirements outlined in U.S. Federal Aviation Regulations Part 121, which regulates air carrier operations.
The new training requirements include manually controlled slow flight, loss of reliable airspeed and instrument departure and arrival, along with upset recovery, stall prevention and recovery, and recovery from a bounced landing.
"All curricula should be designed in accordance with the philosophy that manual flight is the foundation upon which other technical flying skills are built," the SAFO said. "Therefore, the primacy of manual flight should be emphasized throughout all flight training syllabi, while recognizing that manual flight operations involve more than motor skills."
All curricula should incorporate the training and proficiency assessment of a pilot's manual flight operations, the document said. It suggested that potential training scenarios could include, among other possibilities, recovering from out-of-trim conditions, managing workload during manual flight, conducting go-arounds from altitudes other than the minimum descent altitude or decision altitude, conducting visual approaches in varying conditions, and operating with different combinations of automation, such as using the flight director and autothrottle/autothrust but not using the autopilot, or not using any of the devices.
In addition, line operations policies should encourage manual flight operations, the SAFO said. The document endorsed policies that allow for manually flying an aircraft "when conditions permit, including at least periodically, [throughout] the entire departure and arrival phases, and potentially the entire flight, if/when practicable and permissible."
Nevertheless, flight crews should carefully consider whether manual flight is appropriate, the SAFO said.
"When deciding to fly manually, crews should apply basic threat and error management principles and take into account the various factors affecting operational workload," the SAFO added.
Among the factors the FAA says should be considered are weather conditions and terrain, time of day, psychological or physiological factors, crew experience, traffic density, aircraft condition, air traffic control or instrument procedural challenges, non-normal conditions and other operational issues.
As in training, operators should allow their pilots to fly manually "with all approved combinations of automation, based on aircraft equipage," the SAFO said.
It added that an airline's operations policy should avoid "overly general statements, such as 'should never manually fly at night' or 'shall always manually fly in day visual meteorological conditions (VMC).'"
Instead, the SAFO said, the operations policy should allow the pilot-in-command to consider all relevant information and "apply his/her good judgment" about whether to fly the aircraft manually.
Airlines also should avoid establishing quotas for how many flight hours should be devoted to manual flight, unless such a directive is based on scientific evidence, the SAFO said.
Notes
FAA. SAFO 17997, "Manual Flight Operations Proficiency." May 4, 2017.
Eurocontrol. "Pilot Handling Skills."
Casner, Stephen M.; Geven, Richard W.; Recker, Matthias P.; Schooler, Jonathan W. "The Retention of Manual Flying Skills in the Automated Cockpit.

Human Factors

Volume 56 (December 2014): 1506–1516.
Rosenkrans, Wayne. "Top-Level Automation."

AeroSafety World

Volume 9 (September 2014): 43–47.
Gillen, Michael W. "Diminishing Skills?"

AeroSafety World

Volume 5 (July 2010): 30–34.