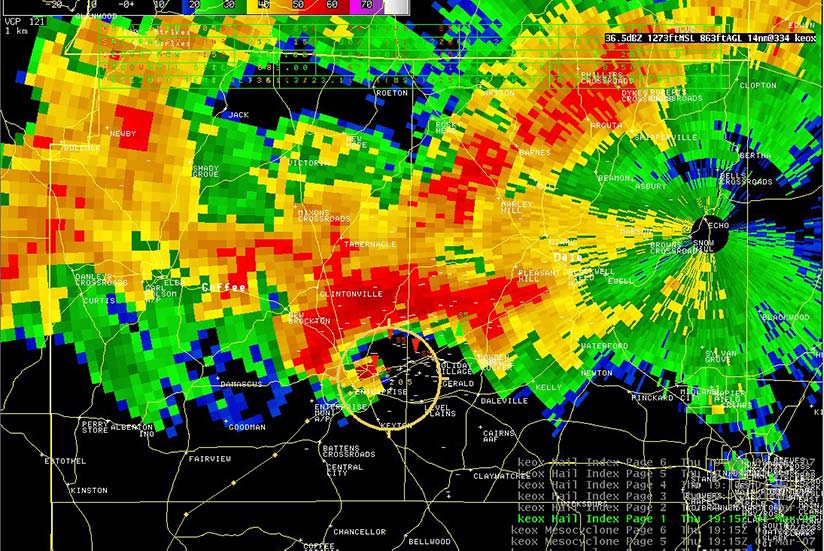 The goal of the NextGen air traffic modernization program in the United States is "to increase the safety, efficiency, capacity, predictability and resiliency of American aviation,"1 according to the Federal Aviation Administration (FAA). But at times, safety and efficiency can be competing goals. Delays for safety reasons can impede efficiency, certainly in terms of schedules. However, strict adherence to schedules could increase risk in some situations. Safety must be and is the paramount concern, and caution must be used at the expense of efficiency. One of the goals of NextGen is to improve this balance of safety and efficiency; to increase efficiency but not increase risk.
Weather is a major factor in safety and therefore also in efficiency. According to FAA, "Inclement weather, including thunderstorms, snowstorms, wind shear, icing and fog, creates potentially hazardous conditions in the nation's airspace system. These conditions are, by far, the largest cause of flight delays. In an average year, inclement weather is the reason for nearly 70 percent of all delays."  Weather-related delays cost airlines and their passengers billions of dollars each year."2
To deal with the weather issue, the NextGen Weather Program is intended to  help reduce the impact of weather on aviation, resulting in safer, more efficient and predictable day-to-day National Airspace System (NAS) operations, FAA says." The goal of the NextGen Weather Program is to improve safety when weather is an issue, but, at the same time, to better define the weather hazard in terms of time and location. This would lessen delays due to weather, thus improving efficiency. Specifically, FAA says, "The flying public will experience less weather delay, including fewer departure and arrival delays, reduced number of flight cancellations and refueling stops, and overall increased dependability in flight schedules."
How will this be accomplished? First and foremost, by utilizing the technology now available and replacing older, less efficient systems. Increasingly accurate aviation weather products will be developed using massive computing power. These products, along with many current ones, will be disseminated by "modernized information management services," according to FAA, with the goal of "helping controllers and operators develop reliable flight plans, make better decisions and improve on-time performance."3 FAA is working closely with the National Oceanic and Atmospheric Administration and the National Aeronautics and Space Administration on this endeavor.
NextGen Weather comprises several components.
The Common Support Services (CSS-Wx) will modernize information management services for weather. It will be a single source for FAA-tailored weather products within the NAS via System Wide Information Management (SWIM). It will replace a number of current weather dissemination systems.
The CSS-Wx (to be built by the Harris Corp.) will serve as a hub for weather information. It will take in observations of current weather, including the most recent surface observations from automated weather observing stations (AWOS) and automated weather sensor systems at airports and the National Weather Service (NWS) network of automated surface observing (ASOS) stations; terminal doppler weather radar (TDWR) information, including data from airports; the NWS Next Generation Weather Radar (NEXRAD) network, and Canadian radar sites; input from lightning sensors; data from the Geostationary Operational Environmental Satellites (GOES), which sense electromagnetic energy and five different wavelengths; and low level wind shear alert system (LLWAS) data from airports. All of this amounts to petabytes of data every hour.
At the heart of NextGen Weather will be the NextGen Weather Processor (NWP), which will consolidate four legacy aviation weather systems to deliver a single, high-resolution picture of the weather. This fully-automated computer system will take all current information described above, as well as the latest data generated by NWS numerical forecast models, and, to relate this to aircraft in flight, air surveillance radar (ASR) data. The NWP, which is to be built by Raytheon, will then produce aviation-specific weather products for the current time and forecasts out to eight hours. The NWP will identify terminal and en route safety hazards and provide translated weather information needed to predict route blockage and airspace capacity constraints up to eight hours in advance.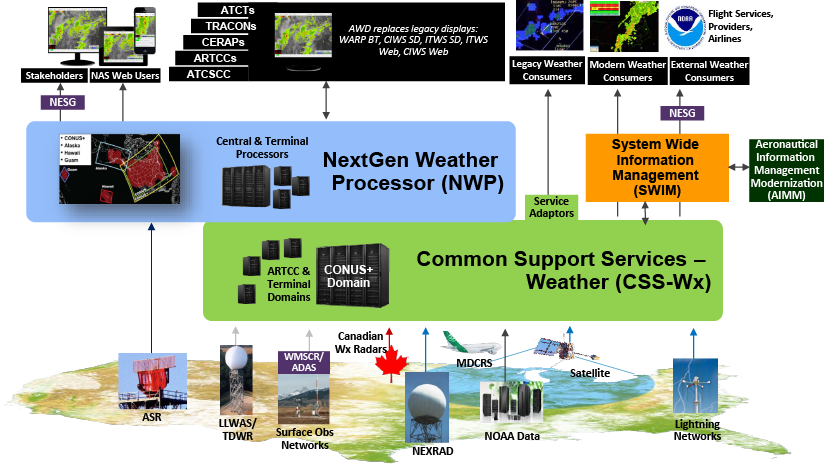 Four main categories of products will be produced. Mosaic products will combine similar products from different data sources. Current weather conditions will be described with Analysis products that will combine current data with past data. Forecasts will be available with Predictive products that will utilize past and current products and predictions from NWS numerical forecast models. Finally, Translation products will convert basic weather information into "weather avoidance" products that can be used for decision making. In all, there will be 30 gridded weather data products and 51 non-gridded weather products. Gridded data consist of either actual observations uniformly spaced or computed values that can be represented on typical rectangular arrays (a gridded map). Non-gridded data consist of singular or sparsely distributed data points that cannot be fitted to a gridded display.
New products will include convective weather avoidance polygons, forecast confidence, offshore precipitation and 4D trajectory weather. Geographic information system (GIS) technology will allow layering of data, Flexible Layer Mosaics. For example, radar data, which will be updated every 25 seconds, will be three dimensional from the surface to 60,000 ft and be available in 1,000 ft increments. Radar forward predictions will be available out to eight hours. For icing, icing contours can be overlaid on radar mosaics.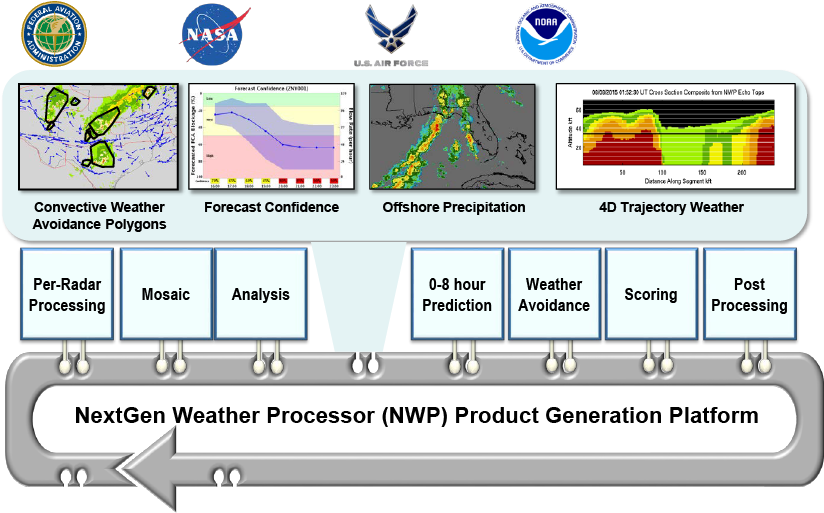 The overall goal is to get a better idea of when and where bad weather will hit, which should lead to more accurate warnings and lessen "over-forecasting" of hazardous weather, thus reducing weather delays. These weather products are then sent back to the CSS-Wx to be distributed to a variety of users.
Currently, there are a number of weather products from different sources. Not only does this mean that users must look at a variety of products but also that the final outputs at times give a conflicting picture of events. The NWP should provide a single, accurate depiction of weather. And the final product will be presented in an easily understandable display.
The Aviation Weather Display (AWD) will make NWP products readily accessible to air traffic controllers, traffic flow management specialists, pilots and airline operators. Current aviation weather products will be consolidated and added to new information from the NWP to produce one high-resolution picture of easily viewed material for both terminals and flight routes. Weather products still generated by NWS will also be accessible. Safety-critical products, such as microburst and wind shear alerts, will be provided directly to local users, as well as published for NAS-wide use.
One of the main goals of NextGen Weather is to "support both tactical and strategic management of air traffic during weather events, helping to minimize passenger delays as well as improve aviation safety." Strategic traffic flow management will be improved as traffic flow managers can reroute flights around bad weather, determine the best direct safe routes to destination terminals, and if needed, delay arriving aircraft until weather at an airport clears.
Finally, the Weather Technology in the Cockpit (WTIC) program is a research program that aims to provide pilots with the latest weather information. The goal is "to resolve gaps in cockpit weather information and technology, pilot knowledge and training, and pilot-weather decision making." This is especially crucial for adverse weather such as convection, lowered ceiling and visibility, icing and turbulence. In addition, automatic dependent surveillance–broadcast (ADS-B) will provide all pilots with the latest weather information free of charge ("Weather Concerns for General Aviation," (ASW, 6/18)There will be other, more general benefits of NextGen Weather. FAA operations costs will be cut. Overall, the NAS will be modernized as older, outdated systems are eliminated and data are standardized. Efficiency will improve with collaborative decision making and a reduction in flight delays. And safety will be improved with better weather information, greater access to this information, and increased situational awareness for pilots. Terminal safety products will now be available domain-wide, and terminal weather coverage will cost less. Efficiency will be increased as weather products are converted into pilot avoidance metrics. There will be more decision support tools available.
The initial implementation of CSS-Wx and NWP should occur late in 2019. And in the following two years, full deployment will include NWP at two central facilities, 34 terminal radar approach control facilities, air route traffic control center facilities, three center-radar approach control facilities, numerous air traffic control towers and the Air Traffic Control System Command Center.4
The goals of NextGen Weather would then be to produce more accurate forecasts that are more specific in terms of time and location, to display these products in a more coherent and understandable way and to get this information quickly to the aviation users. Aviation safety should be advanced and weather-related flight delays should be lessened.
Edward Brotak, Ph.D., retired in 2007 after 25 years as a professor and program director in the Department of Atmospheric Sciences at the University of North Carolina, Asheville.
Sources
---
Featured image: U.S. National Weather Service
NextGen architecture and products: U.S. Federal Aviation Administration