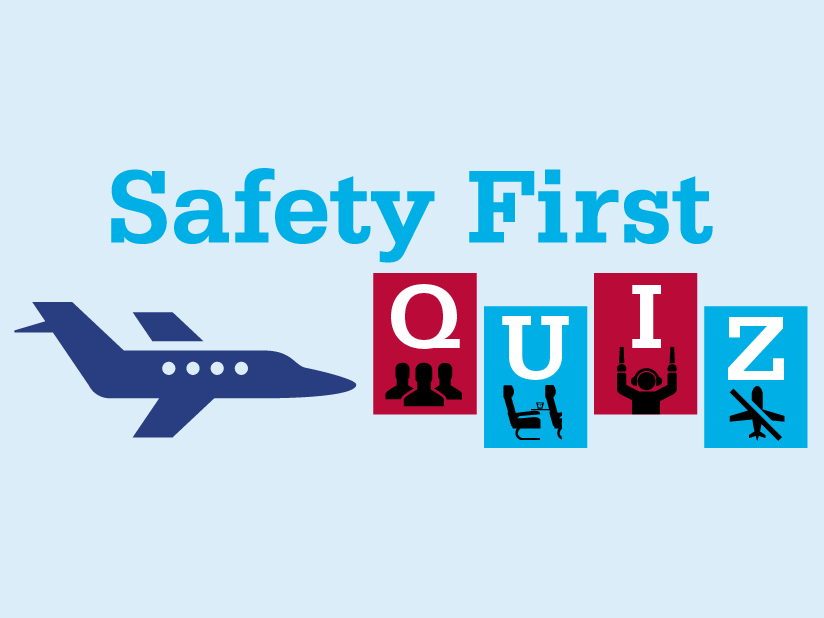 "Safety first" should be a strategy and not simply a slogan. Use the following short quiz, which is based on risks that have resulted in significant losses during business aviation operations, as a tool to guide your flight department's continuous improvement and to make "safety first" more than just words.
The quiz questions below focus on these important areas:
People Performance — Eighty percent of accidents are people-sourced. Therefore, the vast majority of safety initiatives should be people-oriented.
Passengers —The safety of passengers has a critical impact on the success of the enterprise. Your team can help prevent even a minor injury that can disrupt the timing of critical projects and the loss or delay of millions of dollars of business.
Ground Operations — The greatest source of aviation insurance claims is from ground operations failures. Most of these issues can be addressed with appropriate processes, procedures and behaviors.
Supplemental Lift Services — Do your passengers incur elevated risks when they fly with other business aviation providers? You can manage that.
People Performance

Regarding a holistic safety management system (SMS):

Does your SMS include a flight risk assessment tool (FRAT) that is actively updated by your flight crews for each leg?
Does your FRAT emphasize human performance? In other words, does your FRAT score place greater weight on human factors items than on those assessing aircraft, weather and runway conditions?
Does your maintenance team use an SMS process? Do they use a maintenance risk assessment tool (MRAT)? Does the MRAT focus only on major-risk operations?
Does your scheduling/dispatch team use an SMS process? Scheduling is the area where risk identification and mitigation begin. Shouldn't scheduling be integrated into a comprehensive departmental SMS?

Regarding fatigue management and rest assurance (reference Duty/Rest Guidelines for Business Aviation, published in April 2014 by Flight Safety Foundation and the National Business Aviation Association):

Are your acute fatigue management guidelines well understood, routinely adhered to, measured and reported?
Are your chronic fatigue management guidelines well understood, routinely adhered to, measured and reported?
Are your crew rest guidelines well understood, routinely adhered to, measured and reported? Note: This element often is cited in U.S. National Transportation Safety Board accident reports.

Regarding fitness for duty:

Do you require your pilots to maintain a current first-class medical certificate?
Do you require your pilots to use only company-approved aviation medical examiners?
Does your company have loss of license insurance for your pilots? If not, what incentives do you have for pilots to stop flying when they should?
Do you have a mandatory retirement plan for your pilots and maintenance technicians? If not, do you have a retirement incentive program?
Do you have a fitness-for-duty assurance program for your maintenance technicians?

Passengers

Regarding cabin safety:

If you have super-midsized or larger aircraft, do you require a trained cabin safety attendant to be a crewmember for all passenger-carrying legs?
Do you require all frequent passengers to participate in formal cabin safety/evacuation training? Note: If the answer to 4a is "no," then 4b becomes even more critical.

Regarding seat belt and loose equipment discipline:

Do your passengers always fasten their seat belts when they are in their seats?
Do your passengers stow their tables, trays and loose equipment (computers, portable video monitors, etc.) below 10,000 ft or when the "fasten seat belt" light is on?

Regarding aircraft embarking and disembarking safety:

Do you always have a crewmember/staff member stationed at the base of the aircraft stairs in case a passenger slips or trips while entering or exiting the aircraft?
Do you take all passenger carry-on items onto/off the aircraft for your passengers so they have both hands free for climbing and descending the aircraft stairs?
When it is raining, do you have a crewmember handle the passengers' umbrellas while they get into and out of the aircraft?
Are passengers routinely escorted to and from the aircraft across all aircraft operations areas?

Ground Operations

 Regarding hangar and ramp safety, and aircraft movement/storage:

At home, is the aircraft moved using a trained ground-handling team of a driver plus at least two wing walkers equipped with whistles or horns?
When stowing the aircraft, do you maintain a minimum clear zone to avoid overlaps and "hangar rash" (damaging contact with nearby aircraft or objects)?
When away from home, is a crewmember required to directly supervise all servicing of the aircraft (fuel, lavatory, movement)?

Regarding fall protection:

Do you have fall protection equipment?
Is fall protection used for all operations involving a specific vertical exposure — 4–6 ft (1–2 m)?

Supplemental Lift Services

Regarding vetting of supplemental lift services:

Do you use either Wyvern's and/or ARGUS' top ratings as your minimum standard for the identification of other companies to provide supplemental lift support? Is that "good enough"?
Do you have minimum equipment requirements for the aircraft you use for supplemental lift?
Do you have an age limit for the airframes or flight crews you allow to be used for your supplemental lift?

Regarding minimum experience:

Do you have minimum experience levels that you require for pilots providing supplemental lift? The accident rate for pilots during their first 100 hours of operating a new aircraft type is dramatically elevated. If they have fewer than 400 hours in type, they probably have not seen how the aircraft performs in all four seasons.
Do you require two highly qualified, highly experienced captains as a crew? If the aircraft requires a crew of two, why would you settle for, in effect, single-pilot operations supported by an under-qualified or inexperienced second pilot?
How did you do on this quiz? Even more important: What will you do? Consider following these next steps as you make improvements:
Highlight your successes. Be sure to reinforce what you are doing right.
Discuss among your flight operations team the quiz items you missed.
For each item you agree should be done: Do it. Confirm it. Track it. Report it.
Pete Agur is chairman and founder of The VanAllen Group, a management consulting firm for business aviation. He holds an MBA, a B.S. in aeronautical sciences and a certified aviation manager designation from the NBAA. He also holds an airline transport pilot certificate for fixed-wing aircraft, a commercial pilot certificate for helicopters and a private pilot glider rating. He has been an active member of Flight Safety Foundation's Business Advisory Committee for over 25 years.