FAA Orders Expansion of SMS
The U.S. Federal Aviation Administration (FAA) has issued a final rule that will require most of the country's commercial airlines to implement safety management systems (SMS) by 2018.
The rule sets out a timetable for SMS adoption, beginning with a requirement for airlines to submit implementation plans to the FAA within six months and to inaugurate the systems by 2018.
"An SMS defines what is expected rather than how the requirement is to be met," the FAA said when it issued the final rule in January. "This allows each air carrier to design an SMS to match the size, complexity and business model of its organization."
The agency emphasized that SMS — which builds on many safety programs already used by the airlines — is designed to supplement FAA oversight, inspections and audits and not to replace them.
Many U.S. airlines already have implemented SMS, FAA Administrator Michael Huerta said.
The requirement to expand SMS to all U.S. Federal Aviation Regulations Part 121 (air carrier) operators was included in federal legislation enacted in 2010; the new rule is consistent with standards set forth by the International Civil Aviation Organization.
---
Support for Conflict Zone Plan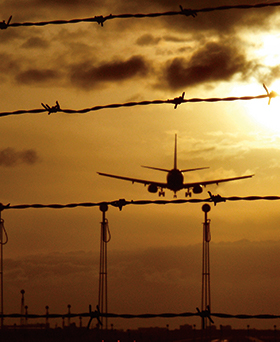 A program developed by the International Civil Aviation Organization (ICAO) to mitigate risks to aviation associated with areas of armed conflict has won support from 850 backers in government and industry, ICAO says.
The participants in ICAO's High Level Safety Conference, which concluded in early February, endorsed the program, which includes a proposal to develop an online source of information on conflict zones around the world and the associated risks to aviation.
The online database was proposed by ICAO's Conflict Zone Task Force, convened after the July 17, 2014, downing of Malaysia Airlines Flight 17, a Boeing 777-2090ER, over an area in Ukraine where separatists have been battling government forces. The airplane had been en route from Amsterdam, Netherlands, to Kuala Lumpur, Malaysia. All 298 people in the airplane were killed. The investigation of the event by the Dutch Safety Board is continuing.
ICAO Secretary General Raymond Benjamin said the online database is intended to serve as "a single source for up-to-date risk assessments from states and relevant international organizations."
Participants in the High Level Safety Conference also supported other related plans, including aviation industry initiatives "to share operational information and be more transparent with passengers on conflict zone risk methodologies being applied," ICAO said.
---
Two Airlines Face Million-Dollar Penalties
The U.S. Federal Aviation Administration (FAA) has proposed civil penalties in excess of $1 million each against two U.S. airlines.
The unrelated cases involve Alaska Airlines, which faces $1.6 million in penalties for allegedly operating airplanes that were not in compliance with Federal Aviation Regulations, and United Airlines, which faces a $1.3 million penalty for alleged violations of hazardous materials regulations.
The FAA outlined two separate cases against Alaska Airlines. In the first, the FAA said that the airline installed systems between 2010 and 2012 to pulse the external lights on 66 of its Boeing 737s and activated the systems on 59 of the airplanes without conducting required tests to determine whether the system caused interference with other electronic systems. The 59 airplanes were then flown on more than 48,000 flights, the FAA said.
In the second case, the FAA said the maintenance personnel who repaired a 737's cracked engine thrust lever in July 2011 used fasteners that obstructed access to the left side takeoff/go-around button. The airplane was then flown on 549 flights before the lever was replaced in December 2011.
The case against United Airlines involves allegations by the FAA that United failed, in at least 120 instances, to provide the pilots-in-command with accurate information about hazardous materials that had been loaded onto their airplanes. The materials included lithium-metal batteries, dry ice, radioactive materials and nonflammable aerosols, the FAA said.
Both airlines have 30 days from their receipt of the FAA's enforcement letters to respond.
---
E-Cigarette Warning
After several reported fires involving electronic cigarettes on airplanes, the International Civil Aviation Organization (ICAO) is urging aircraft operators to take steps to keep passengers from packing electronic cigarettes in their checked baggage.
The e-cigarettes, also known as personal vaporizers or electronic nicotine delivery systems, are battery-powered devices containing a heating element that vaporizes a liquid solution. The heated vapor substitutes for nicotine delivery via cigarette smoke.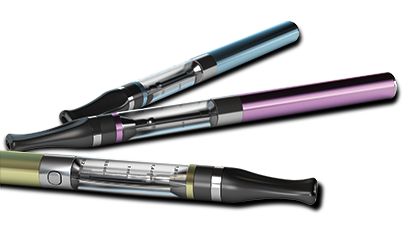 Passengers have been permitted to carry e-cigarettes under provisions that apply to dangerous goods. ICAO said in Electronic Bulletin EB 2014/074, issued in December 2014, that its Dangerous Goods Panel will address the issue during its next meeting and that the outcome of the discussion probably will be an amendment to Document 9284, Technical Instructions for the Safe Transport of Dangerous Goods by Air.
"Until such time," ICAO added, "states are encouraged to inform operators of this safety risk and to recommend that they require passengers to carry such devices in the cabin, where an incident can be immediately mitigated, and not in checked baggage."
The U.S. Federal Aviation Administration (FAA) cited ICAO's action in Safety Alert for Operators (SAFO) 15003, issued in January, to notify operators of recent incidents involving e-cigarettes in checked baggage and recommend that the devices be carried only in the passenger cabin.
The FAA cited two events involving e-cigarettes in passenger aircraft in the United States:
On Aug. 9, 2014, a fire in a checked bag in the cargo hold of a passenger airplane at Logan International Airport in Boston resulted in an evacuation of the airplane; and,
On Jan. 4, fire broke out inside a checked bag still in a baggage area at Los Angeles International Airport. Emergency responders said the cause was an overheated e-cigarette.
"These incidents and several others occurring outside of air transportation have shown that e-cigarettes can overheat and cause fires when the heating element is accidentally activated or left on," the FAA said. "This danger may be exacerbated by the growing trend of users modifying and rebuilding their reusable e-cigarette devices … and interchanging original and aftermarket batteries, heating elements and vaporizing components."
---
Capacity Constraints
U.S. airports with frequent flight delays — especially those in New York, Philadelphia, Atlanta and San Francisco — will need to implement NextGen technologies and procedures, as well as runway improvements, if they are to cope successfully with capacity constraints, the U.S. Federal Aviation Administration (FAA) says.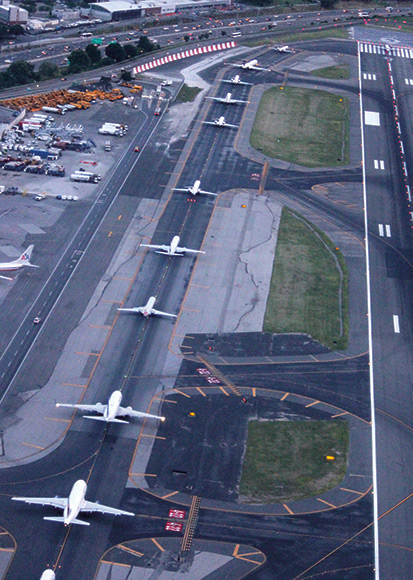 The FAA, in its third Future Airport Capacity Task report (FACT3), said that for the rest of the decade, capacity is adequate at most U.S. airports, "except for several high-demand airports that have consistent delays."
Capacity at other airports has been improved in recent years by the construction of new and extended runways at 15 hub airports, the report said. The FAA said it would continue to work with airports in planning future projects to improve capacity and lessen delays.
New or reconfigured runways are crucial to improving capacity, the report said, adding that NextGen technologies and procedures would provide "helpful but modest" improvements.
"Ensuring that we have adequate airport infrastructure is critical to the efficient operation of the national air transportation system," U.S. Transportation Secretary Anthony Foxx said. "Keeping the industry abreast of current and future airport capacity needs will put everyone in the best position to plan for the future."
---
Bigger Runway Markings
The Civil Aviation Safety Authority of Australia (CASA) wants to require larger markings to indicate runway closures.
Citing a 2008 incident in which the pilots of a Boeing 737-800 attempted to land on a closed section of runway at Perth Airport, CASA has proposed that when runways wider than 23 m (75 ft) are closed, they should be marked with white crosses that are 14.5 m (48 ft) wide and 36 m (118 ft) long. If a closed runway is no wider than 23 m, then 9-m (30-ft) crosses should be used, CASA said, and closed taxiways should be marked with 9-m yellow crosses.
CASA said the changes would bring its requirements more closely in line with those of the International Civil Aviation Organization.
In the 2008 incident, the closed section of runway was marked with a 6-m (20-ft) cross. In its final report on the incident, the Australian Transport Safety Bureau (ATSB) said that such a small marking "increased the risk of a flight crew conducting a visual approach to the still-visible permanent threshold/touchdown area."
The crew of the 737 told ATSB investigators that they had noted in an en route briefing that the runway threshold was displaced because of construction. The controller in the air traffic control tower repeated similar information during the first approach; the crew saw cars on the runway and conducted a go-around. The controller again mentioned the displaced threshold during the second approach and then saw the airplane "on what appeared to be an approach to land on the closed section of the runway"; he instructed the crew to go around.
The ATSB said that additional information from the controller, added to the pilots' heavy workload, "may have momentarily confused them, with the effect that they did not assimilate and act on the instruction to go around."
They flew the airplane over the construction area at 30 to 50 ft above ground level and touched down beyond the displaced threshold, the ATSB said.
---
In Other News …
The U.S. Federal Aviation Administration (FAA) is issuing new guidance to aviation medical examiners in March for screening pilots for obstructive sleep apnea (OSA). The guidance — which backs away from a stricter plan proposed in 2013 by Fred Tilton, then the federal air surgeon (ASW, 2/14) — will allow for medical certification of most applicants with clinical indications of OSA. … Dubai Air Navigation Services and Eurocontrol have signed an agreement calling for an exchange of information and collaborative research and development programs, including new research into wake vortex concepts. … At press time, the U.S. Federal Aviation Administration proposed regulations to allow the routine use of small unmanned aircraft systems that weigh less than 55 lb (25 kg) and are used in nonrecreational operations. The aircraft would be limited to daytime operations within the operator's line of sight. Additional details will be available in the April issue of ASW.
Compiled and edited by Linda Werfelman.