Drone Traffic Management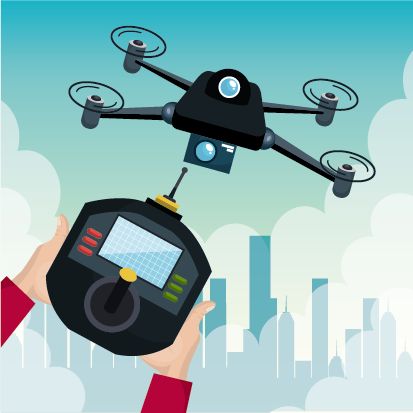 The International Civil Aviation Organization (ICAO) says it will develop a common global framework for managing drone flights in low altitude airspace.
ICAO requested comments in mid-May on the unmanned aircraft systems traffic management program (UTM), which will include provisions for registration and identification of drones, also known by a number of other terms, including unmanned aircraft systems (UAS) and remotely piloted aviation systems (RPAS). The UTM initiative is part of a program assigned to ICAO by its 191 member states.
Leslie Cary, ICAO's RPAS program manager, said ICAO is requesting feedback on the priorities that must be addressed to develop safe and efficient UTM systems.
The requested information "will allow further developments to focus on better-defined issues, whether technical, operational or legal," Cary said. "It will also ensure safety continues to remain the driving factor."
Cary added that, with the proliferation of new proposals for operations at low altitudes, "it's in everyone's interest to determine sooner rather than later how and where they can safely operate, so as to minimize all related noise and privacy concerns."
All responses to the request for input will be reviewed and submitters of the best proposals will be offered an opportunity to present information during ICAO's UAS Industry Symposium in September in Montreal.
---
New Bird Strike Weapon: Bird Drones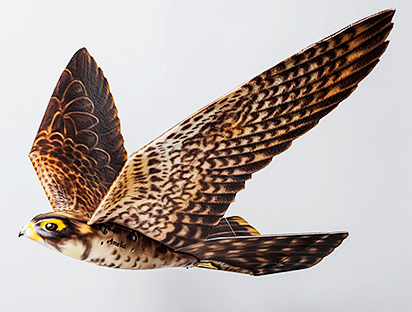 Edmonton (Alberta, Canada) International Airport (EIA) is planning to incorporate drones — especially drones resembling raptors — into their ongoing efforts to keep birds out of the paths of landing and departing aircraft.
The airport's plans call for the introduction later this year of Robirds, developed by Clear Flight Solutions of Enschede, Netherlands, to resemble falcons and eagles, which are natural enemies of many other bird species.
As one element of the EIA Wildlife Management Plan, the Robirds will guide birds away from air traffic and discourage them from nesting near airside operations and glide paths, the airport said.
Clear Flight Solutions said that the Robirds offer "unique possibilities" for controlling birds.
"The most important one: the ability to exert influence beyond the fences of the airport," the company said. "Since the Robirds influence the eco-system in a wide area, they become the first line of defence in diminishing the presence of birds. When Robirds are operated inside and outside the fences of the airport, this can increase the effects. Birds will eventually learn to avoid the area as much as possible, giving the Robirds a unique preventive effect."
The Robirds will be part of an overall program aimed at integrating a number of drones into daily EIA operations. The other drones, provided by Aerium Analytics of Calgary, Alberta, Canada, will be used in mapping and inspections services to support airport maintenance programs and economic development, the airport said, adding that supervised drone operations already have been conducted within 400 m (1,312 ft) of active runways.
Clear Flight Solutions and Aerium Analytics will continue working toward full integration of drone operations into airside operations, EIA said.
EIA is the largest major Canadian airport, according to land area, and the fifth busiest airport in the country, according to passenger traffic.
---
ICAO Voices Support for SAR in Africa
The International Civil Aviation Organization (ICAO) has endorsed an agreement to improve search and rescue services (SAR) in Africa.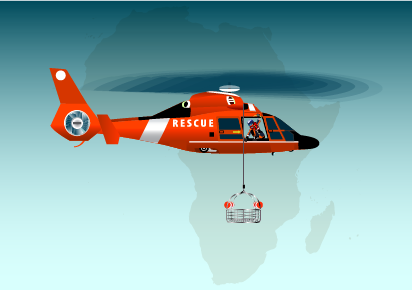 The agreement was approved during a late April conference hosted by ICAO and the African Civil Aviation Commission in Lomé, Togo, and will be implemented, in part, under a plan approved by officials of the participating states, ICAO said. At the same event, Olumuyiwa Benard Aliu, president of the ICAO Council, emphasized the importance of SAR services in ensuring civil aviation safety.
He urged ICAO member states to cooperate to improve compliance with ICAO standards and recommended practices for SAR services.
"The provision of effective SAR services entails the mobilization of essential state assets and requires substantial financial commitments by your governments," Aliu said. "The ICAO 'No Country Left Behind' initiative is specifically aimed at ensuring that international standards are implemented in a harmonious manner in all member states so that they all have equal access to the socioeconomic benefits of aviation."
---
EC Revises Air Safety List
The European Commission (EC) has removed all air carriers from Benin and Mozambique from the European Union (EU) Air Safety List, which had prohibited them from operating in the EU.
The updated list, approved in mid-May, bans 181 airlines from EU skies, including four airlines that were added to the list for the first time.
"I am glad that we are able to take all carriers from Benin and Mozambique out of the Air Safety List," said EU Commissioner for Transport Violeta Bulc. "Their reforms have paid off. This is also a signal to the 16 countries that remain on the list. It shows that work and cooperation [pay] off. The Commission and the European Aviation Safety Agency are ready to assist them and raise the safety standards worldwide."
The banned airlines include all 174 airlines certified in 16 countries — with certain exceptions — because of what the EC says is a "lack of safety oversight" by their civil aviation authorities: Afghanistan, Angola (with the exception of one airline operating under restrictions and conditions), Republic of the Congo, Democratic Republic of the Congo, Djibouti, Equatorial Guinea, Eritrea, Gabon (with the exception of two airlines operating under restrictions and conditions), Indonesia (with the exception of seven airlines), the Kyrgyz Republic, Liberia, Libya, Nepal, São Tomé and Príncipe, Sierra Leone and Sudan.
The list also bans seven individual airlines from other countries because of what the EC called "safety concerns with regard to these airlines themselves." Those on the list include the four airlines added in this revision: Med-View of Nigeria, Mustique Airways of St. Vincent and the Grenadines, Aviation Company Urga of Ukraine and Air Zimbabwe.
Six additional airlines may fly to and from EU counties only with specific aircraft types.
---
Proactive Runway Safety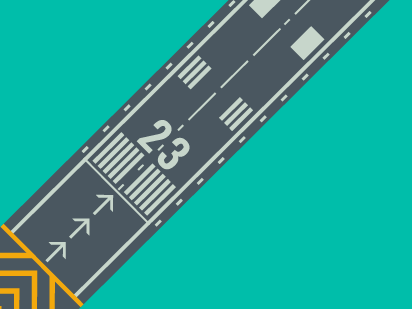 The Transportation Safety Board of Canada (TSB) says it has met with officials of two of the country's largest airports as part of a promise to be more proactive in advancing issues on its safety Watchlist — in this case, advancing runway safety.
"Runway incursions have been on the … TSB Watchlist since 2010," the agency said after the meetings with representatives of the Toronto and Vancouver airports. NAV CANADA data show that there were 2,041 runway incursions, including 27 serious incursions, between 2011 and 2015.
Runway overruns were first placed on the Watchlist in 2010, and the TSB has investigated 16 overrun accidents in the years since then.
The TSB criticized the lack of a requirement for Canadian runways to meet International Civil Aviation Organization (ICAO) standards and recommended practices for runway-end safety areas (RESAs). In addition, many Canadian airports do not meet a Transport Canada guideline calling for 150 m [492 ft] RESAs, the TSB said, noting that most of Canada's largest airports do not meet the ICAO recommended practice of 300-m [984-ft] RESAs.
"As a result, the terrain beyond the end of many runways in Canada could, in the event of an accident, contribute to aircraft damage and injuries to passengers and crew," the TSB said.
TSB Chair Kathy Fox noted that the board promised a more proactive approach to items on its current Watchlist, announced late in 2016, and said that the resulting meetings with stakeholders throughout Canada's transportation network are part of that initiative.
---
Remote Tower Testing
Nearly two years after air traffic controllers tried out a remote airport traffic control tower at Leesburg (Virginia, U.S.) Executive Airport, pilots are being included in a new round of testing, the U.S. Federal Aviation Administration (FAA) says ("Controlling Interests," ASW 9/15).
The testing period is expected to run from June 5 through Aug. 12, with a remote tower operation in place, along with a temporary mobile air traffic control tower, the FAA says. A Leesburg Airport Traffic Area will be established for the duration of the testing period, and visual flight rules tower services will be provided to all aircraft operating at the airport.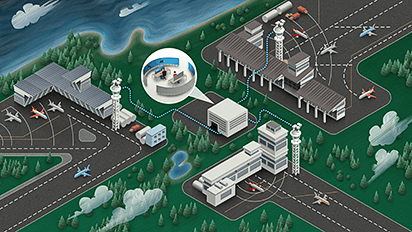 The remote tower set up for initial testing at Leesburg in late 2015 — the product of a partnership between manufacturer Saab Sensis; the Town of Leesburg, the airport operator; and the Virginia Small Aircraft Transportation System — was the first of its kind in the United States.
Elsewhere, Saab Sensis and other companies and air navigation service providers have remote towers either in operation, or in various stages of development and implementation, at several airports in Europe and Australia.
In a related development, NATS, the U.K. air traffic management company, says it will partner will NAV CANADA in Searidge Technologies, a Canadian firm that has established remote towers at more than 30 sites in 16 countries.
---
In Other News …
To standardize the regulations in European Union member states, the European Aviation Safety Agency has proposed rules for operating small drones (less than 150 kg/330 lb). Public comments on the proposal are being accepted through Aug. 12, and a final opinion will be submitted late this year to the European Commission. … Three aviation organizations have signed a memorandum of understanding aimed at strengthening safety and quality assurance in global aviation fueling. The International Air Transport Association, the Joint Inspection Group and Airlines for America agreed in mid-May to a plan to encourage standardization of fuel processes and to facilitate compliance with industry standards and best practices.
Compiled and edited by Linda Werfelman.
Image Credits
Drone and controller: © studiogstock | VectorStock
Bird drone: © Clear Flight Solutions
SAR in Africa: © VVVDALLAS | VectorStock
Runway: © Godruma | VectorStock
Remote Tower Testing: © SAAB