TSB's 'More Proactive' Watchlist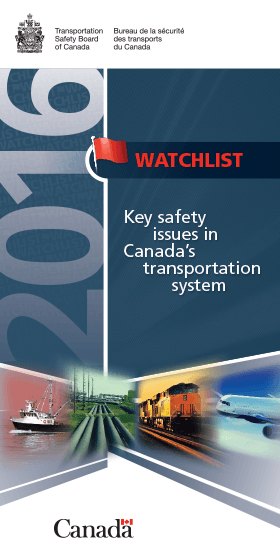 Pledging a "more proactive approach" to improving safety, the Transportation Safety Board of Canada (TSB) has issued the newest version of its safety Watchlist.
The new list, made public in late October, includes five areas involving aviation, including unstable approaches, the risk of collisions on runways and runway overruns. Two additional areas involve problems that affect all forms of transportation: safety management and oversight, and slow progress by Transport Canada (TC) in addressing TSB safety recommendations.
Other entries on the 10-item list involved forms of transportation other than aviation.
In discussing the unstable approach item, TSB cited Flight Safety Foundation research that has found that 3.5 to 4 percent of approaches are unstable and that, of these, only 3 percent result in go-arounds. TSB said that although some airlines are addressing the problem with flight data monitoring, flight operational quality assurance programs, explicit standard operating procedures and nonpunitive go-around policies, major airlines should "expand the use of these tools, evaluate them to confirm that they are effective … and integrate them fully into their safety management systems."
TSB said the runway overrun and runway collision issues — both on the Watchlist since 2010 — would remain on the list until the agency sees substantial improvements.
TSB Chair Kathy Fox said the board plans to increase its efforts to "engage government and industry leaders in dialogue and action that leads to safety improvements.
"No longer is it enough to point out a problem and wait for others to take notice. In the next few days and weeks, we'll meet with key stakeholders to push for concrete action, and then we'll report publically on the results."
---
Search for MH370
Officials looking for the wreckage of Malaysia Airlines Flight 370 say their countries have agreed to end the search if the airplane is not found in a 120,000-sq-km (46,332-sq-mi) area now being examined. Nevertheless, efforts to find the Boeing 777 will continue, the Australian Transport Safety Bureau (ATSB) said.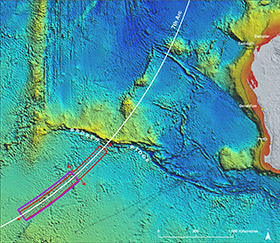 The 777 disappeared with 239 people on board on March 8, 2014, during a scheduled flight from Kuala Lumpur, Malaysia, to Beijing. Since then, several parts that were determined to have come from the airplane have washed ashore on islands in the Pacific Ocean, but the main wreckage has not been found.
The ATSB said in early November that searchers had covered more than 110,000 sq km (42,471 sq mi) on the floor of the southern Indian Ocean and that they will have examined the entire 120,000-sq-km area early in 2017.
Officials of Malaysia, Australia and the People's Republic of China agreed in late July that "should the aircraft not be located in the current search area, and in the absence of credible new evidence leading to the identification of a specific location of the aircraft, the search would be suspended upon completion of the 120,000 square kilometer search area," the ATSB said.
"Ministers went to great lengths to explain this does not mean the termination of the search. Should credible new information emerge that can be used to identify the specific location of the aircraft, consideration will be given to determining next steps."
---
ICAO Signs pact with Russian IAC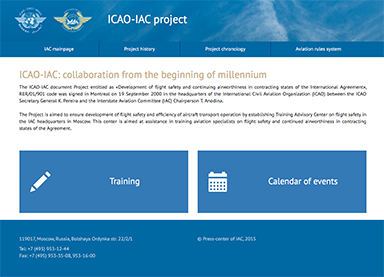 The International Civil Aviation Organization (ICAO) has reached agreement with Russia's Interstate Aviation Committee (IAC) for increased collaboration on global aviation safety.
The agencies signed a supplementary memorandum of understanding (MoU) during a September meeting in Montreal of ICAO's 39th Assembly. The MoU "recognizes the importance of the contributions to the development of international aviation that has resulted from collaboration between the two organizations to date and calls for further cooperation," ICAO said.
Olumuyiwa Benard Aliu, president of the ICAO Council, added, "Compliance with ICAO standards is the prerequisite for accessing international air connectivity and all the socio-economic development opportunities it offers. These standards support the safety, security, efficiency and overall sustainability of the aviation network."
The two organizations first signed the MoU in 2001, with supplementary MoUs in April 2012.
---
New Zealand Watchlist Addition
The New Zealand Transport Accident Investigation Commission (TAIC) is reiterating its warning that past safety recommendations must be implemented to limit the risk of mast-bumping accidents involving Robinson helicopters.
The TAIC added the item in late October to its Watchlist of most pressing transportation safety concerns.
Mast bumping involves contact between an inner part of a main rotor blade or rotor hub and the helicopter's main rotor drive shaft, also known as the mast. The outcome of such events is "usually catastrophic," the TAIC said.
About 300 Robinson helicopters are registered in New Zealand — about 40 percent of the nation's total helicopter fleet.
The TAIC said that in the past 20 years, Robinson helicopters have been involved in 14 mast-bumping accidents; the accidents have resulted in 18 fatalities.
"We understand what mast bumping is, but it is often difficult to determine exactly what happened to cause the mast bump," said TAIC Commissioner Stephen Davies Howard. "The condition results when low g occurs — a bit like when you leave your stomach behind when going over hump on a country road."
The TAIC said that although it has adopted U.S. Federal Aviation Administration measures intended to prevent mast-bumping accidents, the measures did not significantly reduce the rate of Robinson helicopter in-flight breakups in New Zealand.
The commission also said that Robinson's "flight manuals and terminology did not draw enough attention to safety-critical instructions and conditions that could result in serious injury or death."
Inaction on four safety recommendations regarding Robinson mast-bump accidents has left the commission concerned about the continuing risk of additional accidents, the TAIC said.
---
Experience and Fatal Night HEMS Crashes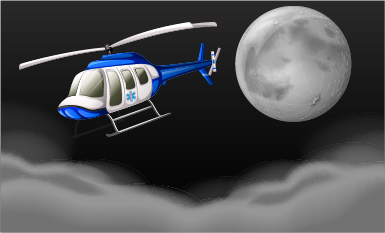 Pilots with limited experience in helicopter emergency medical services (HEMS) operations are more likely than their experienced colleagues to fail in their assessments of hazardous conditions at night, according to a study of U.S. HEMS fatal accidents.
The study — conducted by Bryan B. Aherne, Chrystal Zhang and David G. Newman and published in the June issue of Aerospace Medicine and Human Performance — found that the weak assessments place their flight crews "at high risk in the VFR [visual flight rules] night domain."
The conclusions were based on fatal HEMS accident rates from 1997 through 2001 in the United States. The researchers identified 32 fatal accidents in that time period and 100 associated fatalities — a rate of 3.12 fatalities per accident. All flights were conducted under VFR flight rules. Some 66 percent of the accidents occurred in instrument meteorological conditions, despite a requirement that the flights be conducted in VFR conditions.
The pilots on all 32 accident flights were men, ranging in age from 30 to 65 and with between 1,902 and 20,537 flight hours.
The report on the study cited earlier research that found that total flight hours had no relationship to the likelihood of being in a fatal HEMS accident.
However, the average domain task experience (DTE) — that is, the length of time spent in HEMS operations — of the accident pilots was 4.10 years. Of the 32 pilots, 56 percent had two years or less of HEMS experience, and 9 percent had more than 10 years' experience.
"There was a statistically significant increase in accident rates in pilots with [less than two and less than four years of] HEMS DTE, and a statistically significant decrease in accident rates in pilots with [more than 10 years] HEMS DTE," the report said.
The document contained a number of recommendations, including that low-time HEMS DTE pilots be closely supervised under an industry mentoring program, that they gain experience by operating into areas with man-made lighting and that they operate with weather criteria more stringent than regulatory or operators' minimums.
---
New Deadline for Fatigue Rules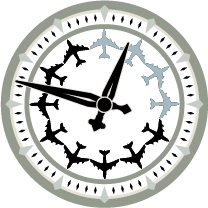 Aviation operators in Australia have been given an additional year to complete their transition to new flight and duty time regulations.
The Civil Aviation Safety Authority (CASA) said in October that operations now have until May 2018 to switch to the new regulations. The deadline extension was ordered in response to feedback from the aviation community that indicated "there was a need for CASA to provide more support through education and information on the new fatigue rules," the agency said.
CASA said it is developing revised guidance material to help ease the transition.
Operators will be required to submit draft operations manual changes or to apply for a fatigue risk management system by Oct. 31, 2017.
The agency said that it is "committed to modernising and improving the safety regulation of fatigue and is encouraging a continued focus on fatigue management by air operators."
---
In Other News …
The U.S. Federal Aviation Administration's Unmanned Aircraft Safety Team (UAST) — modeled on the Commercial Aviation Safety Team (CAST), with the goal of mitigating the root causes of accidents — has held its first meeting. UAST, with members from the unmanned aircraft systems and aviation industries, will use a data-driven approach to develop specific safety interventions. … The Transportation Safety Board of Canada (TSB), citing its investigation of the fatal Oct. 13 crash of a Cessna Citation near Kelowna, British Columbia, has renewed its call for flight recorders in all commercial aircraft. TSB said the Citation's lack of either a cockpit voice recorder or a flight data recorder will make the investigation of the crash, which killed all four people in the airplane, "particularly challenging." Canada requires the recorders only in multi-engine, turbine powered commercial aircraft with two pilots and at least six passengers.
Compiled and edited by Linda Werfelman.