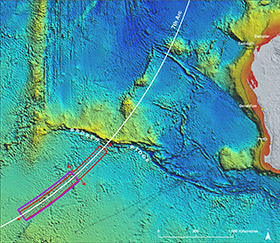 Despite the suspension in January of the underwater search for Malaysia Airlines Flight 370 (MH370), the Australian Transport Safety Board (ATSB) has released two reports stemming from "residual analysis activity" that identified "probably man-made" objects in imagery obtained near the search area.
The two reports include analysis of satellite imagery obtained on March 23, 2014, two weeks after the Boeing 777 disappeared over the Indian Ocean during a flight from Kuala Lumpur, Malaysia, to Beijing with 239 passengers and crew.
In one of the reports, Geoscience Australia detailed its findings, which "identified a number of objects in the satellite imagery which have been classified as probably man-made," said Greg Hood, chief commissioner of the ATSB. "The image resolution is not high enough to be certain whether the objects originated from MH370 or are other objects that might be found floating in oceans around the world."
Because the objects were near the underwater search area, the Commonwealth Scientific and Industrial Research Organisation — the Australian government's agency for scientific research — conducted a drift study, which determined that on March 8, 2014, the day of the crash, the objects could have been in the area previously identified as the most likely location for the 777 to have entered the water.
"Clearly we must be cautious," Hood said. "These objects have not been definitely identified as MH370 debris."
Hood added that information in the two reports would be useful if the underwater search is resumed.