ICAO Urges Child Restraint Rules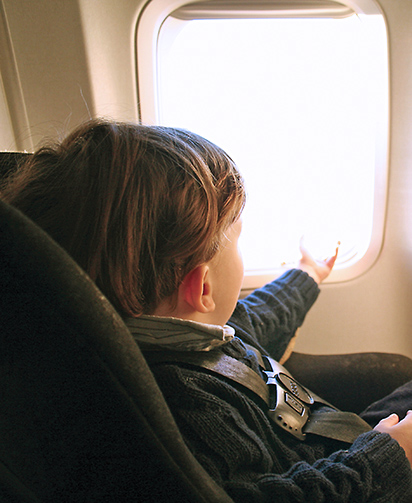 The International Civil Aviation Organization (ICAO) is recommending steps to be taken by member states in developing regulations for the use of child restraint systems (CRS) in aircraft (ASW, 9/15).
ICAO said in late August that the guidance on development of regulations and approval processes enabling CRS use is contained in ICAO Document 10049, Manual on the Approval and Use of Child Restraint Systems.
The document also offers guidance for operators in identifying CRS that can be used in aircraft and in related training, as well as in managing changes through operator safety management systems to allow the use of CRS.
"Proper use of occupant restraints is one of the most basic and important factors in surviving an accident," said ICAO Council President Olumuyiwa Benard Aliu.
"It is not possible for a parent to physically restrain an infant or child, especially during sudden accelerations and/or decelerations, unanticipated or severe turbulence or during impact. The use of CRS provides an equivalent level of safety to infants and children as that afforded to adult passengers wearing seat belts."
---
Tracking Trial Completed
Satellite operator Inmarsat and Airservices Australia say they have completed a trial of oceanic flight tracking that has shown that existing systems could be used to satisfy new tracking requirements outlined by the International Civil Aviation Organization (ICAO).
ICAO's requirements, developed in the aftermath of the March 8, 2014, disappearance of Malaysia Airlines Flight 370, call for commercial aircraft to report their positions at least every 15 minutes — instead of the currently required 30- to 40-minute intervals.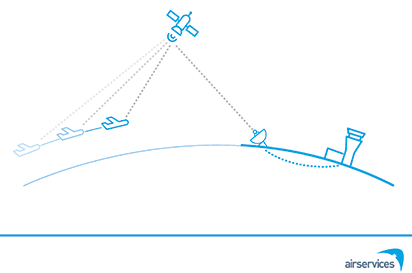 A continuing search of large portions of the Indian Ocean has failed to locate Flight 370, a Boeing 777 that had carried 239 people on a planned flight from Kuala Lumpur, Malaysia, to Beijing, although debris has been found on Réunion Island.
The 15-minute reporting interval is intended to give air traffic control a more accurate picture of each flight's progress and to enable controllers to respond more quickly to potential incidents.
Mary McMillan, vice president of Inmarsat's Safety and Operational Services division, said in mid-September that the flight tracking evaluation was "a success and met the ICAO-defined requirements and regulatory performance criterion. Ongoing monitoring of the Inmarsat [satellite communications] network continues to confirm that the increased message frequency has had a negligible impact on the network and total ADS-C [automatic dependent surveillance–contract] messages."
ADS-C messages transmit information to air traffic control systems about aircraft position, altitude, speed and direction of flight.
The results of the trial prompted Airservices Australia to adopt a 14-minute reporting requirement as its standard.
---
Wake Turbulence Study
She Civil Aviation Authority of Singapore and the European Aviation Safety Agency (EASA) are conducting a study of wake turbulence and aircraft separation standards at Singapore's Changi Airport.
In announcing their plans in mid-August, the agencies said their goal is to safely reduce aircraft separation standards and, in turn, increase runway capacity.
They said they would review air traffic control procedures and methods of ensuring safe aircraft separation, and use laser imaging detection and ranging technology to measure wake vortices at Changi. Their findings will be used as the scientific basis for safely modifying aircraft separation standards, they said.
EASA Executive Director Patrick Ky said that the agreement is designed to "bring valuable data and information on wake turbulences in an operational environment and will further improve our understanding of this complex topic in order to guarantee the highest level of safety to passengers."
---
Load Manifest Requirements
Operators of all U.S. commuter and on-demand aircraft should be required to prepare accurate load manifests for each flight to show that the aircraft are being operated within approved center-of-gravity limits, the U.S. National Transportation Safety Board (NTSB) says.
In a safety recommendation to the U.S. Federal Aviation Administration (FAA) in late August, the NTSB said the requirement should apply to all U.S. Federal Aviation Regulations Part 135 operations. The recommendation also called for a copy of the center-of-gravity document to be in the aircraft for the related flight and for a copy to be preserved for at least 30 days after the flight.
"The NTSB's interest in this safety issue is longstanding," the agency said, noting that it issued similar recommendations in 1989 and 1999.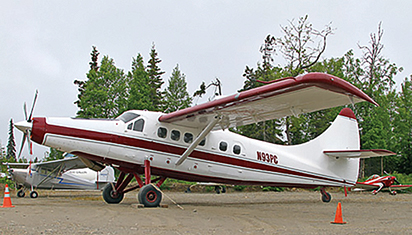 In the current case, the agency cited circumstances surrounding the fatal crash of a deHavilland DHC-3 Otter on July 7, 2013, shortly after takeoff from Soldotna, Alaska, "due to the pilot's operation of the airplane outside of the weight and center of gravity … limits contained in the airplane flight manual." The crash, which is still under investigation, killed the pilot and nine passengers and destroyed the airplane.
The NTSB said the flight was an on-demand charter flight destined for Bear Mountain Lodge, about 90 mi (145 km) southwest of Soldotna.
---
Encouraging NextGen Interoperability
The U.S. Federal Aviation Administration (FAA) should conduct a risk assessment to identify potential threats and vulnerabilities to its Next Generation Air Transportation System (NextGen), the ongoing effort to modernize the nation's air traffic management (ATM) system, a government watchdog agency says (see "Optimally Safe Practices").
The Government Accountability Office (GAO) said the information gathered through the risk assessment should be used to identify how the information would be used "to mitigate risks and prioritize resources."
Information gained through the risk assessment process would be critical to the FAA's efforts to develop a system that is compatible with ATM modernization in other countries.
In an audit report made public in late August, the GAO said it based its findings in part on interviews with 25 aviation industry stakeholders, who described a number of factors that could affect NextGen's interoperability with other ATM systems. Among those factors is "the ability of key stakeholders, particularly air navigation service providers (ANSPs) from different countries, to agree on the desired outcome of ATM modernization efforts," the GAO report said.
The stakeholders also told the GAO that they were concerned that "government and industry resource constraints" could delay efforts by some countries to modernize their ATMs and, as a result, could delay the interoperability of NextGen with those systems.
The report said that the FAA's NextGen plans already have addressed a number of the GAO's concerns but that the agency lacks a mechanism for a comprehensive risk assessment and for "prioritizing resources to manage NextGen's interoperability risks."
The FAA agreed with the report's recommendations, the GAO said.
Examples of Air Traffic Management (ATM) Modernization Programs Worldwide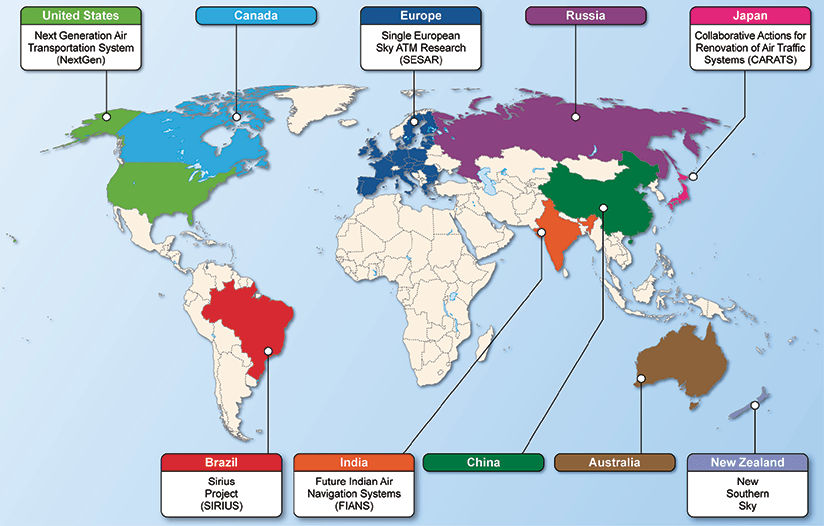 Note: Australia, Canada, China and Russia have modernization programs under way but do not have umbrella names for these programs.
---
Variations in ATC Tower Efficiency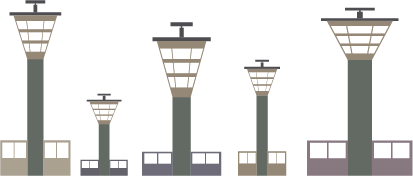 The efficiency of airport air traffic control (ATC) towers in the United States varies dramatically from one tower to the next, according to a report by the U.S. Department of Transportation Office of Inspector General (OIG).
The report, made public in late August, said that control towers operated by the U.S. Federal Aviation Administration (FAA) "function at considerably different levels of efficiency relative to each other.
"The least efficient towers used from 42 to 98 percent more resources than those of comparable, relatively efficient towers, depending on the year and airport type [whether the towers were located at hub airports or not]."
The OIG estimated that extra costs associated with the relatively inefficient towers totaled $853 million from fiscal years 2008 through 2013, at an average of $142 million a year. The 10 towers identified as the least efficient hub towers accounted for 57 percent of the total amount, the report said.
The OIG recommended that the FAA "identify the factors contributing to the greater resource use by the least efficient towers, as compared with the relatively efficient towers, and develop a plan for addressing them."
---
Delay in Fatigue Rules
Australian operators have been given an additional year to transition to new rules for fatigue management for flight crewmembers.
The Civil Aviation Safety Authority (CASA) said the new deadline for completion of the transition is May 1, 2017; the previous deadline was April 30, 2016.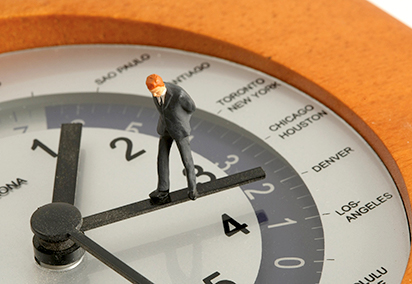 The August announcement of the deadline extension was accompanied by proposals calling for a number of modifications of the new requirements, CASA said.
The new rules prescribe adjustments in flight and duty time limits, "while remaining in line with scientific principles," CASA said, noting that the proposed changes would allow some operators to implement the new limits without also developing a fatigue risk management system and submitting it to CASA for approval.
CASA said that it would require operators to tell the agency before Oct. 31, 2016, the exact date on which they will transition to the new rules. By that date, they also will be required to turn over to CASA the proposed amendments to their operations manual that will accompany the transition.
---
In Other News …
The Asia Pacific region has become the world's largest aviation market, the International Air Transport Association says, citing 2014 data showing that international air traffic to, from and within the region represented 42 percent of international passenger revenue-kilometers. Carriers registered in the region transported 33 percent of passengers worldwide, and the five busiest international and domestic routes were within the Asia Pacific. … The U.S. Federal Aviation Administration (FAA) is lagging behind civil aviation authorities in several other countries in establishing unmanned aircraft systems (UAS) regulations and in approving specific commercial operations, the U.S. Government Accountability Office (GAO) says. A GAO report made public in mid-August said Australia, Canada, France and the United Kingdom already have "well-established UAS regulations," and Canada and France have authorized more commercial operations than the United States. The FAA's proposed UAS rules are similar to those in the countries included in the study, the GAO said.
Compiled and edited by Linda Werfelman.
Image credits
Child: © Jyn | AdobeStock
Tracking diagram: © Airservices Australia 2015
DHC-3 Otter: Keith Burton | Wikimedia CC BY-SA 2.0
NextGen diagram: U.S. Government Accountability Office GAO-15-608
ATC towers: © macrovector | VectorImages
Chronometer: © Maxisport | Adobestock