---
FAA Head Defends MAX Certification Process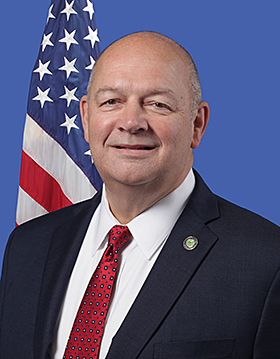 Administrator Stephen Dickson of the U.S. Federal Aviation Administration (FAA) has defended the certification process used by the FAA to certify the Boeing 737 MAX, which was grounded in March after crashes in Ethiopia and Indonesia that killed a total of 346 people.
"The grounding of the Boeing 737 MAX placed a spotlight on safety and the FAA's approach to oversight of those we regulate," Dickson said during a September meeting with aviation regulators from around the world. "For the MAX, as with all aircraft, we made use of a thorough certification process that has consistently produced safe aviation products." His remarks were published on the FAA website.
Dickson added that the certification process and associated regulations are "not static. They are continuously evolving." He said the FAA welcomes feedback from the world's other national civil aviation authorities, the aviation industry and others on the MAX aircraft as well as the agency's certification process.
"The collaboration and transparency that [have] been so vital to our progress in understanding and responding to the 737 MAX accidents must continue as the world aviation community pursues new and more innovative ways to improve safety,"  he said.
He said that the FAA "clearly understands its responsibilities as the state of design for the 737 MAX," and added that one of those responsibilities involves sharing information on the status of the agency's efforts toward returning MAX airplanes to service.
Dickson reiterated that he intends to fly a 737 MAX himself before the FAA returns the airplanes to service.
The grounding on March 13 followed the Oct. 29, 2018, crash of Lion Air Flight 610 after takeoff from Jakarta, Indonesia, with 189 passengers and crew and the March 10 crash of Ethiopian Airlines Flight 302 after takeoff from Addis Ababa with 157 passengers and crew. All occupants of both airplanes were killed.
Preliminary investigations have indicated that, in both crashes, the airplane's maneuvering characteristics augmentation system activated in response to erroneous information about the MAX's angle of attack.
In related developments, Boeing established a new Aerospace Safety Committee — to be chaired by retired Adm. Edmund Giambastiani Jr. — that will be responsible for safety oversight in the design, development, manufacture and delivery of Boeing aerospace products and services, and the company's Board of Directors said safety-related experience would factor in the selection of future members of the board.
---
New Delay for Remote ID Rules
The planned publication of a notice of proposed rulemaking (NPRM) that calls for implementation of a system for the remote identification (remote ID) of drones has been delayed until December, the U.S. Department of Transportation (DOT) says.
Remote ID refers to the ability of drones — also known as unmanned aircraft systems (UAS) and by several other names — to provide information while in flight on their identification that can be received by other parties, specifically law enforcement authorities and the U.S. Federal Aviation Administration.
Remote ID is intended to "address security and law enforcement concerns" associated with the integration of drones into the National Airspace System (NAS) while also "enabling greater operational capabilities by these same aircraft," DOT said in a report on significant rulemaking action.
The NPRM, which had been expected in May and was postponed twice, first until July and then until September, is now expected to be published Dec. 20.
The drone industry considers publication of the rule a crucial step in providing for more advanced commercial drone operations and in integrating drones into the NAS.
Brian Wynne, president and CEO of the Association for Unmanned Vehicle Systems International, said the delay was disappointing.
"The need for remote identification cannot be overstated, as the advancement of the UAS industry depends on identifying and tracking UAS flying in the airspace," Wynne said. "Remote ID is necessary for enabling advanced and expanded operations such as flights over people and beyond line of sight, which will provide significant benefits throughout our economy and society. Most importantly, remote ID is critical for ensuring airspace safety by helping law enforcement identify and distinguish authorized UAS from those that may pose a security threat."
---
ICAO Sees Advances in Aviation Safety
The Council of the International Civil Aviation Organization (ICAO) has recognized 16 member nations for what it called significant progress in resolving safety oversight deficiencies and for improving their implementation of ICAO standards and recommended practices (SARPs).
The ICAO Council also recognized 17 member nations for improvements in aviation security deficiencies.
"Since the launch of the No Country Left Behind initiative, impressive strides have been achieved and partnerships have materialized supporting the sustainable development of aviation, and beyond, of states themselves," said Olumuyiwa Benard Aliu, president of the ICAO Council.
The initiative is ICAO's effort to increase global awareness of the importance of effective implementation of SARPs and other ICAO policies, plans and programs.
ICAO said that since the implementation of the No Country Left Behind initiative five years ago, the number of aircraft accidents has decreased, with data showing declines worldwide and also regionally.
Data also show progress in achieving a global overall effective implementation (EI) of ICAO safety and security requirements, the agency said, adding that most countries that previously were below the threshold 60 percent EI rate have now increased their EI  to more than 60 percent. On a global basis, safety implementation has increased 9.4 percent since 2014 to 68 percent. Similar progress has been achieved in aviation security, ICAO said, with the EI up 3.8 percent to 72.6 percent.
---
BVLOS Drone Flights Pass Early Tests
Demonstration flights at three separate U.S. test sites have shown that simultaneous beyond visual line-of-sight (BVLOS) drone operations can be safely conducted at low altitudes in areas where U.S. Federal Aviation Administration (FAA) air traffic services are not provided, the FAA says.
The FAA said the flights were part of an effort to pave the way for a drone traffic management system.
The most recent demonstrations, which involved the Nevada Institute for Autonomous Systems, took place Aug. 1 in Las Vegas. Operators of participating flights by drones — also known as unmanned aircraft systems (UAS), unmanned aerial vehicles and by other names — surveyed a golf course, obtained video of a property being sold and scanned a lake for boating opportunities, the FAA said.
Another demonstration, conducted July 10 in Grand Forks, North Dakota, involved the Northern Plains UAS Test Site. Participants photographed firefighter training, scanned the University of North Dakota to identify a tailgating location and evaluated power line damage after previous strong winds.
The earliest of the three demonstrations, conducted June 13 by the Virginia Tech Mid-Atlantic Aviation Partnership at Virginia Tech in Blacksburg, Virginia, involved drones delivering packages, studying wildlife, surveying a cornfield and reporting on a court case.
During each of the three events, emergency operations required that helicopters not involved in the demonstrations be flown in the same area, and in each case, the drones were either landed or their flights were continued at a safe distance from the emergency flights, the FAA said.
Information gathered during the demonstration flights will be analyzed to "provide an understanding of the level of investment required for each stakeholder's implementation" and to help in further developing traffic management plans, the FAA said.
---
Crackdown on Weather-Related Crashes
The Australian Transport Safety Bureau (ATSB) has opened a campaign to reduce weather-related accidents involving general aviation aircraft.
The ATSB said in late September that its actions followed the deaths of 21 people who were killed over the past 10 years in accidents in which general aviation pilots operating under visual flight rules (VFR) flew into clouds, fog or darkness.
ATSB Chief Commissioner Greg Hood said data show that one in 10 VFR general aviation flights into instrument meteorological conditions (IMC) ended in a fatal accident.
"Weather-related general aviation accidents remain one of the ATSB's most significant causes for concern in aviation safety," Hood said. "The often-fatal outcomes of these accidents are all the more tragic because they are avoidable."
The ATSB said its new campaign is aimed at reminding pilots how to avoid weather-related accidents. The campaign emphasizes thorough preflight planning, including preparation of alternate plans; reminds pilots of the risks of spatial disorientation if their VFR flight enters IMC; and stresses the value of a "personal minimums checklist" to manage flight risks. The overall effort carries the slogan, "Don't push it, don't go. Know your limits before flight."
---
In Other News …
The U.S. Federal Aviation Administration (FAA) has proposed a $514,558 civil penalty against Aerospace Support International for allegedly selling ball bearings that lacked proper airworthiness documentation. The bearings are used in a component designed to ensure that a generator provides steady electrical power to the aircraft, the FAA said. … The U.S. Transportation Department's Office of Inspector General (OIG) says that 76 percent of U.S. commercial air carriers have equipped their aircraft with ADS-B Out — the satellite-based GPS technology that will enable more efficient management of air traffic — but smaller commercial operators and general aviation lag behind. The deadline for compliance is Jan. 1.
Compiled and edited by Linda Werfelman.
---
Image credits
Stephen Dickson: U.S. Federal Aviation Administration
Drone broadcasting ID: Abdul Karim | The Noun Project CC-BY 2.0, modified by Susan Reed
Hand with up arrows: Gregor Cresnar | The Noun Project CC-BY 2.0, modified by Susan Reed
Drone flying over water: © skypicsstudio | VectorStock
Airplane flying into storm: airplane, Pixabay; background and clouds, Susan Reed
---
You Must Be an FSF Member to Have Full Access to This Article