Psychological Evaluations Proposed
Pilots should be required to undergo a psychological evaluation before starting work at an airline, and airlines should create internal pilot-support systems, according to a task force that reviewed the fatal March 24 crash of a Germanwings Airbus A320 (ASW, 6/15).
The airplane crashed in the French Alps, killing all 150 passengers and crew. Preliminary reports indicate that the first officer, who reportedly had been treated for depression, flew the airplane into the ground.
The task force, led by the European Aviation Safety Agency (EASA), issued its recommendations in mid-July, based on an analysis of preliminary findings by accident investigators.
EASA's other recommendations called for requiring at least two people in the cockpit at all times, random drug and alcohol testing programs, a program of oversight for aeromedical examiners and establishment of a European aeromedical data repository.
The task force said its recommendations reflected an attempt to "reach a balance between medical secrecy and safety, and not to create additional red tape for airlines."
The European Commission said that it would review the recommendations and then ask EASA to "develop concrete proposals, which will then be included in EU [European Union] aviation safety regulations. EASA will also be asked to produce non-legislative deliverables such as guidance material and practical tools for information sharing, and to monitor actions taken by member states and industry."
In a separate statement in early August, the International Federation of Air Line Pilots' Associations (IFALPA) said that systematic psychological/psychiatric evaluation should only be conducted during pre-employment testing, and if a subsequent need arises for additional testing, "adequate safeguards should be mandated to protect the pilot."
For example, IFALPA said, decisions to conduct further tests should be made in consultation with pilot associations, pilot assistance programs and medical authorities, and every "evaluation event" should provide for evaluation by a second organization "in case the pilot does not agree with the first opinion."
IFALPA added that the goal should be "to encourage pilots to consider their lifestyle and thereby improve the likelihood that they will remain in good mental health during their careers."
The organization added that in many cases, "it will be possible for the pilot to receive behavioral assistance while maintaining a regular schedule."
---
UAS Safety Campaigns
Aviation authorities in at least two countries have begun new safety awareness campaigns aimed at operators of small unmanned aircraft systems (UAS), especially those used for recreational purposes.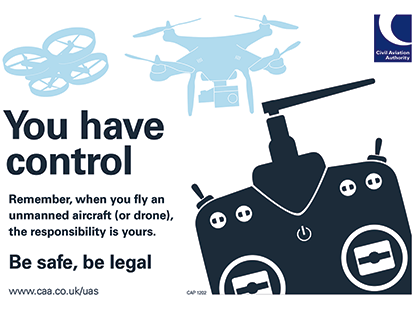 In the United Kingdom, the Civil Aviation Authority (CAA), in conjunction with air traffic services provider NATS and the British Airline Pilots Association, began a campaign in July to ensure that UAS operators use the devices "as safely as possible."
CAA Director of Policy Tim Johnson added, "We want to embrace and enable the innovation that arises from the development of drone technology, but we must ensure that this is done safely, with all airspace users in mind. It is imperative that people observe the rules when operating a drone."
He outlined the CAA's "Dronecode," which calls for keeping the UAS aircraft within the operator's line of sight, no higher than 400 ft and away from other aircraft and airfields.
The CAA said that the initiative follows "a number of recent incidents involving drones and various aircraft. On each occasion, the drone users appeared to be flying the devices well above drone height limits, with some reported as high as 2,000 ft from ground level and in areas where large aircraft are present."
The CAA's effort was announced several weeks after the U.S. Federal Aviation Administration's (FAA's) demonstration of a smartphone application called B4UFLY, which is designed to tell users of model aircraft and UAS aircraft "if it is safe and legal to fly in their current or planned location."
The app was designed to complement an educational program — Know Before You Fly — that provides UAS operators with information for safe flight. The program is run by the FAA and several partner organizations — the Association for Unmanned Vehicle Systems International, the Academy of Model Aeronautics and the Small UAV Coalition.
Plans called for the app to be tested by about 1,000 users before being made more widely available.
---
Language Proficiency Testing Plan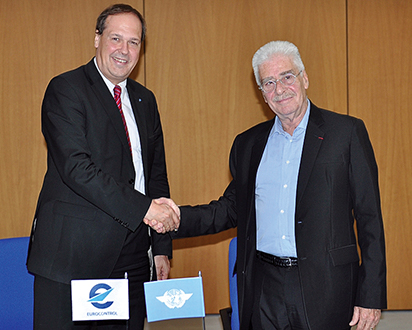 Eurocontrol and the International Civil Aviation Organization (ICAO) have agreed to a plan that they say will support more effective implementation of ICAO's English language proficiency requirements.
The plan, adopted in July, calls for Eurocontrol to make its test of aviation English proficiency available to all ICAO member states.
"Clear aeronautical communications are vitally important to safeguard flight safety and ICAO provisions therefore require flight crews, air traffic controllers and aeronautical station operators to demonstrate a measurable aviation-related proficiency in English," ICAO Secretary General Raymond Benjamin said.
"ICAO is refocusing itself today … on improving local and regional capacities and assistance so that ICAO SARPs [standards and recommended practices] are effectively adopted and all states may benefit from the presence of safe and reliable international operations."
Eurocontrol said that its English Language Proficiency for Aeronautical Communication test is the only test of its kind to be recognized by ICAO for conforming to SARPs.
In its most recent session, the ICAO Assembly adopted a resolution encouraging the organization to help member states implement proficiency requirements for aviation English through stronger partnerships with other organizations.
---
Testing, Testing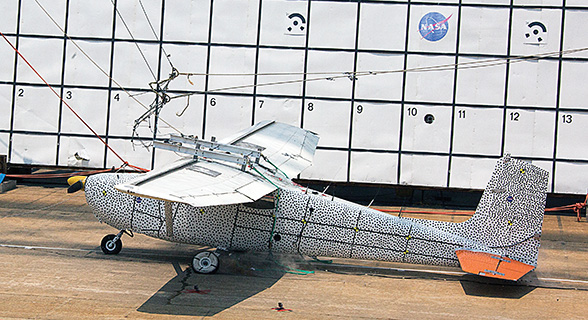 Crash researchers have dropped a black-and-white speckled Cessna 172 equipped with four emergency locator transmitters (ELTs) in a simulated emergency landing designed to help determine why ELTs sometimes fail.
Researchers from the U.S. National Aeronautics and Space Administration (NASA) said that "everything worked" in their July test at the NASA Langley Research Center in Hampton, Virginia.
Chad Stimson, ELT survivability and reliability project manager, added that his team would analyze data obtained in the experiment to determine "why the ELTs performed the way they did." The test, in which the Cessna was dropped from 82 ft and caught in a net, was designed to simulate an emergency landing on a highway or runway. Cameras inside and outside the airplane recorded the drop. Researchers said the black and white paint job was selected because it would aid in data collection "as part of a full field photogrammetry technique." Detailed evaluation of the four ELTs began after the test.
Data from their evaluation will aid in another aircraft drop test, scheduled for later this year.
---
Meeting HEMS Challenges
The U.S. Federal Aviation Administration (FAA) must update key policies and obtain "meaningful safety data to analyze for trends" if it is to effectively monitor helicopter emergency medical services (HEMS) in the United States, a government watchdog agency says.
The Transportation Department's Office of Inspector General (OIG) said in a report released in April that the HEMS industry has grown in recent years and now transports more than 400,000 patients in the United States each year in 1,500 specially equipped helicopters used by 75 companies.
The report noted that the industry's expansion has been accompanied by an increase in accidents, which led to new controls imposed under a 2012 law and subsequent regulatory action by the FAA.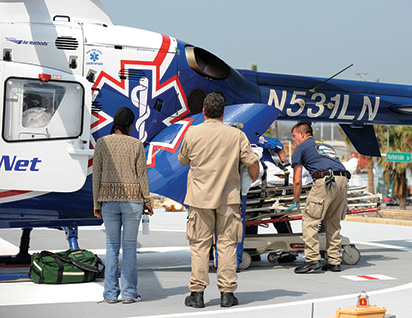 The OIG said that the FAA's HEMS rule "is a good first step" toward accomplishing the goals set by Congress in the 2012 law. That law outlined six major safety requirements for operators. Of those, the FAA has at least partially met three requirements — completing a night vision goggle study and issuing a rule calling for new operational procedures and equipment requirements, as well as initiating a second HEMS rule that will strengthen training standards and impose new safety equipment requirements.
However, the agency has not completed the three remaining requirements, which involve data collection, storage and reporting, the report said.
The report also said that the FAA has not upgraded its oversight of the HEMS industry, established HEMS accident-reduction goals or gathered HEMS-specific data.
The report included several recommendations, including the development of specific accident-reduction goals, an assessment of the work force to determine whether there are an adequate number of inspectors with specialized knowledge in the required locations to provide adequate surveillance of HEMS operations, and implementation of a plan to ensure that inspectors have access to technology-training opportunities required to conduct surveillance.
---
SkyWest Faces $1.2 Million in Proposed Penalties
SkyWest Airlines faces $1.2 million in civil penalties proposed by the U.S. Federal Aviation Administration (FAA) for its alleged operation of three airplanes that were not in compliance with federal aviation regulations.
The FAA proposed a $911,000 penalty for SkyWest's alleged operation of two Bombardier CL-600s that had not undergone required inspections of the cargo door skins. The airline operated the airplanes on 15,969 flights while the inspections were overdue, the FAA said.
A second penalty, of $320,000, was proposed for the airline's alleged failure to conduct required inspections of main landing gear components on four CL-600s, which were flown on 6,700 flights while the inspections were overdue.
The FAA did not specify when the flights took place.
SkyWest has 30 days after receiving the FAA's enforcement letters to respond.
---
In Other News …
Eurocontrol and the International Air Transport Association have agreed to cooperate in an 18-month program to help African states and their air navigation service providers to improve aeronautical information services. Their efforts will focus in part on conducting workshops that will emphasize the role of aeronautical information services in improving aviation safety. … The U.S. Federal Aviation Administration (FAA) has yet to implement an effective program of repair station oversight in the European Union, the U.S. Department of Transportation's Office of Inspector General (OIG) says. A July report from the OIG says the FAA transferred oversight responsibilities to European aviation authorities, as outlined in an agreement with the European Union, but completed the transfer "without ensuring that the authorities were fully prepared to accept their new roles."
Compiled and edited by Linda Werfelman.
Image credits
Language Proficiency Testing Plan: © Eurocontrol
Testing, Testing: U.S. National Aeronautics and Space Administration
Meeting HEMS Challenges: U.S. Federal Emergency Management Agency