---
FAA Cautions Operators on AOA Sensors
Aircraft operators should be aware of the potential for damage to angle-of-attack (AOA) sensors during routine aircraft operations and ensure that they perform all proper maintenance tasks on the sensors to avoid subsequent malfunctions, the U.S. Federal Aviation Administration (FAA) says.
The FAA issued Information for Operators (InFO) 19009 in mid-August, saying the document was intended to "inform aircraft operators of the potential for AOA sensors to be damaged during the course of normal operations."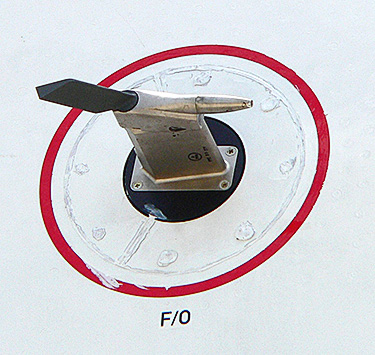 The agency noted "continued airworthiness activity" involving AOA sensors on a number of aircraft, from small general aviation airplanes to large transport airplanes, including the Boeing 737 MAX, grounded in March after two fatal crashes.
Accident investigators expressed concern that the sensors might have provided incorrect information to aircraft systems in the Oct. 29, 2018, crash of Lion Air Flight 610 after takeoff from Jakarta, Indonesia, and the March 10, 2019, crash of Ethiopian Airlines Flight 302 after takeoff from Addis Ababa, Ethiopia. The crashes killed all passengers and crewmembers in both airplanes — 346 people — and destroyed the airplanes. Both accident investigations are continuing.
InFO 19009 recommended that aircraft operators, maintenance providers and others "should review current procedures identified in their appropriate operational, maintenance or servicing manuals" to ensure that the manuals provide adequate information on the appropriate policies and procedures involving AOA sensors.
"It is imperative that all operators are aware of the criticality of AOA sensors and the potential for damage during normal operations, maintenance procedures, servicing procedures and any other procedures around an aircraft where damage to an AOA could occur," the FAA said.
AOA sensors measure the amount of lift generated by an airplane's wings, providing pilots with  information about whether the airplane might enter an aerodynamic stall because of insufficient lift.
---
Increasing Airport Capacity
Two new concepts for staggered threshold approach procedures could help achieve a 10 percent increase in airport capacity, a new study by Eurocontrol and French air navigation services provider DSNA says.
Eurocontrol said in August that the validation study was based on scenarios from Paris Charles de Gaulle Airport and was conducted with support from Thales.
One of the validated concepts, static pairwise separation for departures, "tackled increasing departure traffic, with optimised wake turbulence separation minima and improved separation delivery," Eurocontrol said.
The second concept, dual threshold, "involved landing aircraft on closely spaced dependent parallel runways, using staggered thresholds to help reduce wake separation minima and increase throughput," Eurocontrol added.
Both concepts were derived from Single European Sky Air Traffic Management Research (SESAR) solutions that deal with improving runway and airport throughput, taking into account weather conditions, wake vortices and environmental and noise issues.
Eurocontrol said that, if approved, the concepts and their associated tools will be incorporated into a runway throughput package to help improve performance at European airports. That package is expected to be produced by 2022.
---
Amazon Plans for Drone-Delivery Flights
Amazon is asking the U.S. Federal Aviation Administration (FAA) to consider exempting the company from certain regulations so that it can use drones to deliver packages.
The FAA published information on Amazon Prime Air's request in August in the Federal Register. In that notice, the FAA set an Aug. 28 deadline for public comments on the company's request.
In its petition to the U.S. Department of Transportation, Amazon said that it wanted to operate the drones according to U.S. Federal Aviation Regulations Part 135, which governs commuter and on-demand aircraft operations, with exemptions in several specific areas.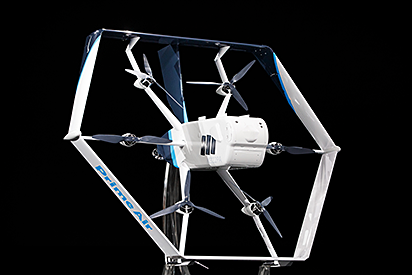 Amazon said the delivery drones would be MK27s — battery-powered, fixed-wing aircraft designed by Amazon and capable of vertical takeoff and landing (VTOL) and wing-borne flight. The drones can carry internal payloads of up to 5 lb (2 kg) and have a range that would allow for a 15 nm (28 km) round trip, Amazon said.
Plans call for the packages to be delivered to customers within 30 minutes after they place their orders, the company said, adding that initially, drone deliveries would be conducted only during the day and only in low-population areas that have been "thoroughly vetted for proximate airborne operations, obstructions, communications coverage and sensitive overflight areas, and will be subject to FAA [U.S. Federal Aviation Administration] approval in the form of a certificate of authorization."
Among Amazon's requests is one provision that would allow its drones to operate without an airworthiness certificate. The company said it has applied for a type certificate, but the lengthy approval process is unlikely to be completed before drone deliveries are ready to begin.
Existing rules call for drone operations to be conducted at or below 400 ft above ground level, but Amazon asked that it be permitted to deviate from those rules "when necessary for safety."
Other requested exemptions included relief from regulatory provisions that have applied to manned aircraft regarding fuel reserve minimums, required aircraft equipment, record-keeping and qualifications for serving as pilot-in-command.
In a related matter, a long-range gas-electric drone has completed the first civilian beyond-visual-line-of-sight (BVLOS) flight conducted without observers under rules set forth by the FAA, the drone manufacturer Skyfront says.
The mid-August flight by Skyfront's Perimeter 4 hybrid drone was "a significant step toward the safe integration of unmanned aerial vehicles into the national airspace," the company said.
The company said the Perimeter 4 was flown in accordance with U.S. Federal Aviation Regulations Part 107 rules for the operation of small unmanned aircraft — those weighing less than 55 lb (25 kg). One provision of those rules says that the drones are to be flown within the visual line of sight of the operator or a visual observer.
In this case, the BVLOS flight was approved by the FAA. It was conducted over what was described as mountainous terrain above a 4 mi (6 km) length of the Trans-Alaska pipeline.
---
CASA Finalizes Pilot Fatigue Rules
The Australian Civil Aviation Safety Authority (CASA) says it has finalized new fatigue rules, which take effect in early September.
Under a phased-in transition to the new rules, high-capacity regular public transport operators are required to submit their plans for adopting the requirements by Nov. 30. Smaller operators will have more time, but by Oct. 1, 2020, all operators will be expected to comply with the rules, which were developed after consultation with an industry/CASA technical working group, the Aviation Safety Advisory Panel and members of the public.
In general, the rules "align Australia with international standards, address known risks to improve aviation safety and provide flexibility," CASA said, adding that it will "be providing plenty of support to everyone who needs to make the transition."
The rules include provisions for companies to implement fatigue risk management systems or to operate according to prescribed flight and duty time limits, which vary, depending on the type of operation. CASA said that it would consider allowing variations to the prescriptive rules, provided that fatigue risks 'are adequately identified, mitigated and monitored."
---
Penalties Proposed for Charter Operator
The U.S. Federal Aviation Administration (FAA) says it has proposed $533,320 in civil penalties against a California aircraft charter operator that allegedly conducted unauthorized flights using pilots who had not been properly trained.
The FAA announced the proposed penalty in July against Steele Aviation of Beverly Hills, California, U.S. The FAA said this was the third time since 2017 that it has proposed penalties against the company. The FAA also revoked the pilot certificates of Steele Aviation President Nicolas Steele, as well as a pilot who was employed by the company.
The FAA said that Steele Aviation conducted "at least 10 unauthorized for-hire flights" in a Hawker HS-125-800 between Jan. 28 and Feb. 14, 2019. The flights were to and from various destinations in the United States and Canada.
"The flights were unauthorized because Steele Aviation did not have an air carrier certificate; used pilots who had not passed required annual knowledge checks [and] annual flight-competency checks and undergone recurrent training; used an aircraft that was not on the operating specifications of any air carrier certificate; and did not have economic operating authority from the Department of Transportation," the FAA said.
Earlier cases involving similar allegations involved a proposed $167,500 civil penalty in December 2017 for conducting 37 unauthorized flights and a proposed $624,000 civil penalty in October 2018 for 16 unauthorized flights, the FAA said. Both cases are pending.
---
In Other News …
Enhanced training is required if the international aviation industry is to support "a bold new generation with fresh ideas and enthusiasm," Fang Liu, secretary general of the International Civil Aviation Organization (ICAO), says. Liu told Hanseo University's International Aviation Conference in July that the industry must identify "appropriate intelligence that will allow us to rapidly provide optimal aviation training solutions." … Stephen Dickson, a former senior vice president for flight operations at Delta Air Lines, has been sworn in as administrator of the U.S. Federal Aviation Administration (FAA). Dickson succeeded Acting Administrator Dan Elwell, who took over the post after the January 2018 resignation of Michael Huerta. Elwell has returned to his previous job as deputy administrator.
Compiled and edited by Linda Werfelman.
---
Image credits
Angle of attack sensor: David Monniaux | Wikimedia CC-BY-SA 3.0
Airport capacity simulation video: © Eurocontrol
Prime Air drone: © Amazon
Calendar icon: ProSymbols | The Noun Project CC-BY, modified by Susan Reed
---
You Must Be an FSF Member to Have Full Access to This Article