Industry Updates
Posts Categorized:

Ground Safety
Viewing 1 - 3 of 3 results
An FAA safety alert says operators should review ground procedures to ensure the safety of ramp workers.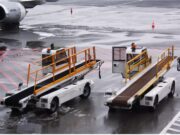 Ground Ops, Ground Safety, News
An IATA report says transitioning to enhanced ground support equipment (GSE) would reduce damage caused by aircraft-GSE collisions.
by Linda Werfelman
A small child's fall reminds adults of the need for close supervision and reveals inadequate updates to operators.
by Wayne Rosenkrans