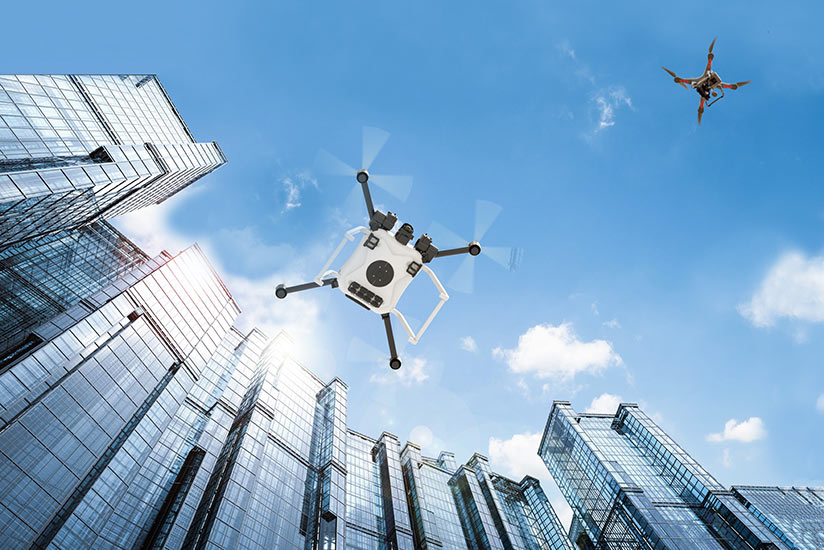 Drones are easing into the U.S. National Airspace System (NAS), drawn in partly because of research being conducted through federally backed programs at a collection of unmanned aircraft systems (UAS) test sites authorized by the Federal Aviation Administration (FAA).
At the end of April, the FAA counted 350,000 commercial drones, "going places and doing things that would otherwise be dangerous for people or other vehicles," the agency said.1
Research to open the skies to these drones got a boost from the FAA in 2013, when the agency designated six UAS test sites across the country — in addition to another previously designated site — for the study of a range of related topics, including UAS human factors, airworthiness testing and the changes in air traffic control procedures likely to be required to enable the integration of drones into airspace previously occupied only by manned aircraft. In the years since, other participants at other sites — including state departments of transportation in Kansas, North Carolina and North Dakota; the cities of Reno, Nevada, and San Diego, California; the Choctaw Nation of Oklahoma; and the Memphis-Shelby County Airport Authority in Tennessee — have been singled out to study other aspects of drone operations.
In 2019, the FAA and designated sites are exploring two primary initiatives: the UAS Integration Pilot Program, designed to help the agency develop rules, policies and guidance for complex low-altitude drone operations in the NAS, and the UAS Traffic Management Pilot Program, which is charged with identifying the industry and government capabilities needed to support drone operations at lower altitudes. Both projects were established in 2017.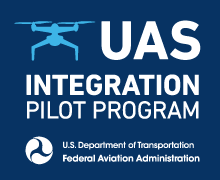 The Integration Pilot Program is responsible for determining how to balance local and national interests associated with drone integration; improving communication with people from diverse jurisdictions; addressing security and privacy risks; and speeding the approval of operations that now require special authorization.
So far, participants have examined areas that are considered challenges to safe airspace integration, including nighttime operations, flights over people, operations beyond the pilot's line of sight, delivery of packages, detect-and-avoid technologies and the reliability and security of data links connecting pilots and their unmanned aircraft.
One of the program's goals is to gauge how communities react to the presence of drones flying overhead, and the FAA said that the overall response has been favorable. As an example, the FAA cited the response to the Chula Vista, California, Police Department's use of drones to give first responders an advance look at the site of incidents where their help has been requested, as well as the University of Alaska–Fairbanks' use of a drone on pipeline patrols — and the subsequent discovery of a methane pipeline leak.
Much of the data collected through the Integration Pilot Program flights involves information about flight paths, communications connectivity and deviations from the original plans — in short, how well the drones perform, compared with the original plans for the associated projects, the FAA said.
The data will be analyzed so the FAA can determine how effectively the risk mitigations functioned, and then can develop regulations and guidance for future drone use.
Traffic Management
The FAA, the U.S. National Aeronautics and Space Administration (NASA) and partners in the aviation industry also are working to develop a UAS traffic management (UTM) infrastructure, which the FAA says is needed to accommodate flights below 400 ft, primarily by small drones (those weighing less than 55 lb [25 kg]).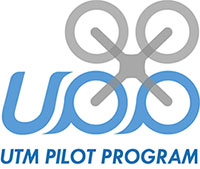 The UTM "relies on industry's ability to supply services under FAA's regulatory authority where these services do not currently exist," the FAA said, describing the program as a "community-based traffic management system, where operators are responsible for the coordination, execution and management of operations, with rules of the road established by the FAA."
The program is designed to help identify services, information architecture, data exchange protocols, software functions and other operations that will help manage low-altitude drone operations without the use of air traffic control facilities, the FAA said.
In January, three of the original six UAS test sites became partners with the FAA in the traffic management pilot program — the Nevada Institute for Autonomous Systems (NIAS) in Las Vegas; the Northern Plains UAS Test Site in Grand Forks, North Dakota, (NPUAS); and the Virginia Tech, Mid-Atlantic Aviation Partnership (MAAP) in Blacksburg, Virginia — with a goal of developing "enterprise services, using a cloud service infrastructure, which will support the implementation of initial UTM operations," the FAA said. These services are intended to support information-sharing associated with  "cooperative separation" and situational awareness, the FAA said.
Selected test sites
The agency added that, with time and the continuing development of UTM operational concepts, the system's capabilities and services will change.
NIAS said that its efforts are generating "safety incursion research data, drone technology best practices, educational materials and … public workshops that promote and protect the public's safety and privacy in an open and ethical manner."
The institute noted that drone incursions into airspace in the NAS, which currently occur once every seven hours, are projected to increase to once every two hours as the drone population increases to more than 450,000.
"The NIAS-UAS will protect against drone users that pose a public safety hazard due to drones falling out of the sky or that have the potential to cause an airline disaster," the institute said.
Deliveries by Drone
In other projects, conducted at MAAP facilities in Virginia, several years of work by the partnership and the drone delivery company Wing culminated in the receipt in April of air carrier certification from the FAA to allow the use of drones for the commercial delivery of food and other items around Blacksburg. MAAP has worked with Wing since 2016 on delivery testing and drone traffic management.
Wing already has begun delivery flights of food, medicine and household goods in Australia, and deliveries were scheduled to begin soon in Finland. The delivery drones have wingspans of about 1 m (3 ft), weigh about 5 kg (11 lb) and can carry packages weighing as much as 1.5 kg (3.3 lb) for distances of up to 20 km (11 nm), the company said.
As deliveries by drone spread to other jurisdictions, alternative methods of controlling the volume of unmanned aircraft traffic will be required, and MAAP has focused its efforts on exploring how to coordinate multiple drone operations and associated flight planning, communication and other support services.
All three sites are responsible for testing that will assess the readiness of the technology and will produce data to help in further research and more widespread establishment of programs enabling delivery by drones.
The NPUAS website cites 11 research programs, including those focusing on drone operations at higher altitudes than are currently permitted and beyond the operator's visual line of sight, drone detection, the integration of unmanned aircraft into airport operations along with manned aircraft, and the operation of drones in urban areas.
Urban Traffic Management
NASA, working with teams of researchers from the Lone Star UAS Center of Excellence and Innovation at Texas A&M University and NIAS in Reno, Nevada, is trying to determine how to safely integrate drones into the airspace above urban areas. Tests being conducted from May through August are focusing not only on safe operations but also on effective communications and delivery of weather information.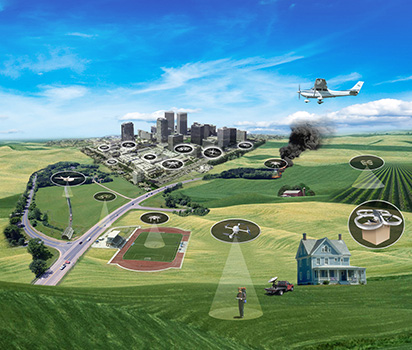 "Drones need more frequent and more localized weather updates than airplanes do," Ron Johnson, UTM Project Manager at the NASA Ames Research Center, said in a printed statement. "From the traffic management standpoint, we want to know what the weather is when someone submits a flight plan to the UTM system, then get more specific microweather predictions, for instance, about wind speeds downtown along the intended path."2
He said that, for example, if the system detects high wind speeds, it could direct the operator to "re-plan."
Communications are more difficult in urban areas, where radio signals between an operator and a drone can be blocked by tall buildings, NASA said, adding that one possibility being tested is whether cellphone networks could be used for communications.
In addition, tall buildings in cities are obstacles for drones, as are other drones and helicopters operating at low altitudes. NASA said obstacle-detection may depend on a special camera to "see" the building or other object and provide information to the drone or its remote operator on avoidance.
NASA said that research may find that rooftops are the preferred locations for takeoffs and landings. During tests in Reno, the drones will be directed to maneuver around buildings to reach a rooftop landing site while researchers collect data on their performance, NASA said.
Johnson added, "We can project out from the lessons learned to ask how any potential future risks can be minimized. For example, we could learn that the best way to fly drones in cities is for them to follow rivers or railroad tracks whenever possible to avoid flying directly over people."
NASA said that during testing, all traffic would be kept out of areas where the drones are flying. Because the drones will remain below 400 ft, they will not encounter manned aircraft, the agency added.
"Vehicles, bikes and pedestrians will not cross paths with these small research aircraft," NASA said, and operators on the ground can take control if necessary.
Wind Tests
Another test site also has conducted tests to determine the impact of high winds on drones. NUAIR (Northeast UAS Airspace Integration Research), based at Griffiss International Airport in Rome, New York, worked with Swiss-based Windshape, using microweather simulations to determine how wind affected the airworthiness and performance of a number of drone models. Arrays of small fans generated variable wind profiles, allowing researchers to evaluate drone behavior.
"This information is incredibly important to the safe integration of drones in the national airspace and ultimately our ability to unlock the commercial potential of UAS," said Marke F. Gibson, chief executive officer of NUAIR.
NUAIR counts more than 2,000 drone test flights since 2015, with missions that were designed to determine how drones would function on public safety flights, search and rescue operations, precision agriculture and other fields.3
New Agreement
The New Mexico State University Unmanned Aircraft Systems Flight Test Site in Las Cruces, New Mexico, was the original UAS flight test center, selected in 2008. It has collected data during unmanned flights in public airspace up to 18,000 ft above sea level. The site reached agreement in early June with the University of Alabama in Huntsville for continuing research into UAS design, the use of alternate UAS energy sources and other topics.
Notes
FAA. "Fact Sheet — The UAS Integration Pilot Program and UAS Traffic Management Pilot Program" and related documents. April 30, 2019.
Tabor, Abigail. "Big City Life Awaits Drones in Final Year of NASA Research." May 20, 2019.
---
Featured image: U.S. National Aeronautics and Space Administration
Integrated Pilot Program logo: U.S. Federal Aviation Administration
UAS Traffic Management Pilot Program logo: U.S. Federal Aviation Administration
Test site locations: Susan Reed based on information from U.S. Federal Aviation Administration
Traffic management concept: U.S. National Aeronautics and Space Administration