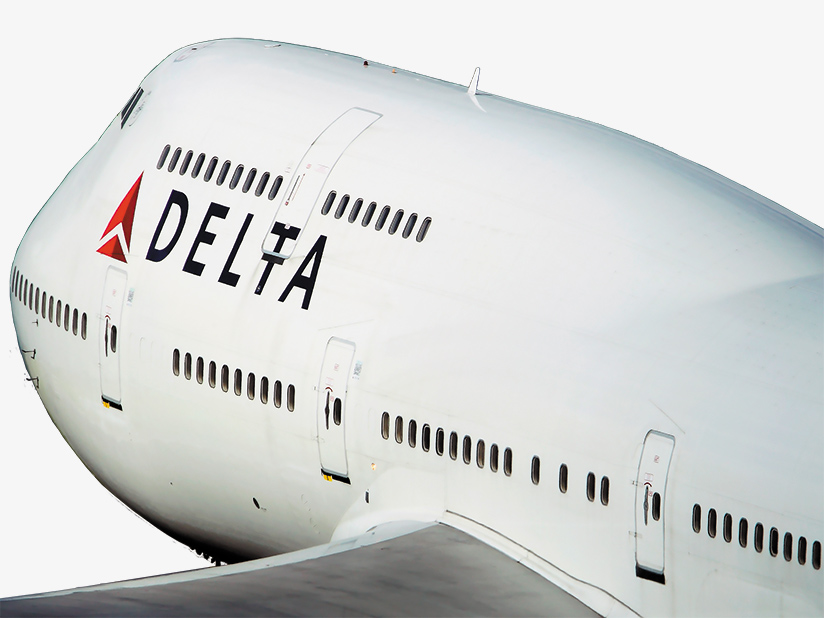 Delta Air Lines has partnered with a U.S.-based flight training organization specializing in airplane upset prevention and recovery training (UPRT) to develop advanced-handling training programs for eight jet airplane types.1 A cadre of 16 simulator instructors being trained in the first half of 2015 is part of a larger group of simulator instructors who comprise roughly half of about 450 total Delta instructors.
"Delta embraces the critical importance of providing our pilots with advanced training to maintain air travel as the safest mode of transportation," Jon Tovani, a Delta captain and its managing director, flight training, said in April during the World Aviation Training Conference and Tradeshow (WATS 2015) in Orlando, Florida, U.S. The airline is partnering with Aviation Performance Solutions (APS) to develop the training programs. The advanced-handling training essentially will provide the more than 11,000 Delta pilots with increased skills and knowledge designed to prevent upset conditions from developing and help ensure flight crews' correct recovery responses to upsets, according to Tovani and APS President Paul BJ Ransbury.
In 2015, anecdotal evidence still shows that some percentage of airline pilots continue to doubt the need for UPRT because of the reliability they see daily in electronic flight control systems and automated flight-envelope protections against aerodynamic stalls and airplane upsets. "We heard questions from the WATS 2015 audience yesterday that there's a concern or a doubt in some pilots' minds as to whether or not we even need to be doing UPRT," Tovani said. "It's clear that when we talk to our pilots about UPRT, the first thing we have to do is to legitimize why we're even having the conversation. We heard, 'I fly an Airbus; we shouldn't have to do stalls or upset training.' Well, clearly, there are examples all over the world of circumstances where envelope-protected airplanes don't perform as expected, but not necessarily as a result of mistakes that the manufacturer or the flight control system made."
Among the unexpected cases documented in worldwide airlines' routine flight data monitoring (also called flight operational quality assurance [FOQA] programs) have been "flight control malfunctions that elicit upsets that require the pilot to take action to recover," "weather phenomena that create circumstances where the pilots have to take action to recover," and "pilot error [involving] manipulation of the controls in a way that leads to an undesired aircraft state," Tovani said.
In-flight examples of pilot interventions from Delta's FOQA database include two cases of A330s encountering mountain-wave downdrafts. One occurred at Flight Level 330 (about 33,000 ft), causing the envelope-protected flight control system to increase pitch to maintain the altitude, and then to increase thrust to attempt to maintain selected airspeed. In each case, the pilots had to descend 4,000 to 5,000 ft.
Training The Trainer
Ransbury said, "As an integral component of this program, APS is providing Delta with train-the-trainer services in the delivery of UPRT for these airline simulator instructors. The course also includes stall and approach-to-stall training in accordance with U.S. Federal Aviation Administration [FAA] Advisory Circular 120-109, "Stall and Stick Pusher Training."
Other partnership elements are preparatory academic training using web-based and tablet computer–based2 delivery, on-aircraft UPRT and "dedicated training by APS in Level D, CAE transport category simulators to learn how to apply concepts from the Airplane Upset Recovery Training Aid, Revision 2 to their airline training program," he said, noting that this knowledge and related hands-on practical skills are necessary to safely respond to possible-but-rare situations encountered in flight. "It is the responsibility of commercial aviation operators worldwide to implement and maintain the recently mandated, industry-standardized loss of control–in flight solutions." He also cited the International Civil Aviation Organization's (ICAO's) Doc 10011, Manual on Aeroplane Upset Prevention and Recovery — published in 2014 — and the new FAA Advisory Circular 120-111, "Upset Prevention and Recovery Training," issued April 14.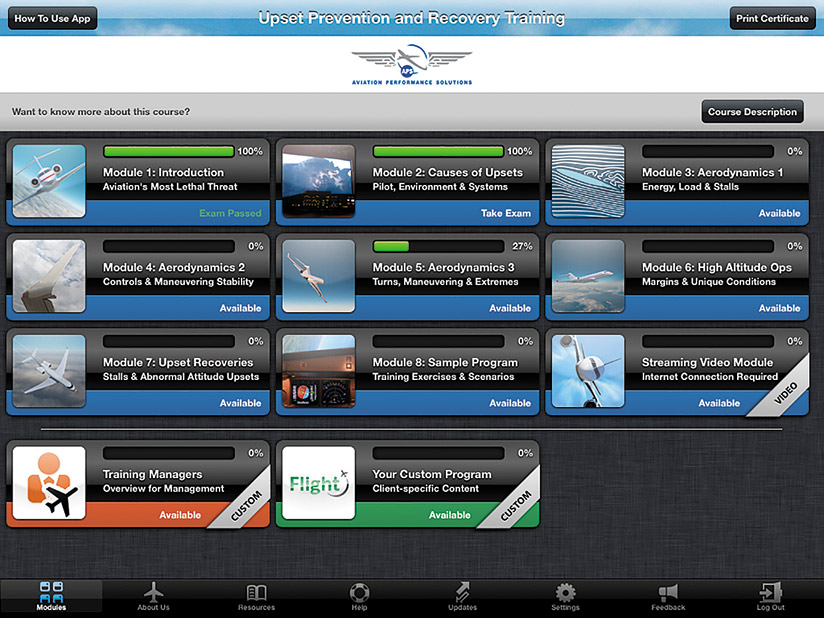 The five-day, integrated UPRT course comprises academic work (requiring study during the week before the course), on-aircraft experience and in-simulator sessions. As of late April, six simulator instructors had completed the course, and the courses for the other 10 were set for completion by mid-year.
Although instructor-focused UPRT has been taught at the request of other airlines (ASW, 6/12), Ransbury called the Delta partnership significant as "the first major U.S. air carrier to comprehensively integrate modern UPRT into their airline pilots' training programs." He said, "What I mean by modern UPRT is going beyond the typical 'unusual attitude' training that gets inserted briefly into type rating training — often without a lot of structure or specific training objectives."
Delta Context
Tovani's career as a Delta first officer, captain and simulator instructor on the Boeing 757 and 767 spanned the early evolution of both the FAA's advanced qualification program (AQP) and the developmental work on the Airplane Upset Recovery Training Aid in the early 1990s. "We sent individuals to Boeing to learn more about that upset training, and then they brought it back and we implemented it across Delta, including the 757/767 fleet," he said. "My first experience with significant upset recovery training at Delta was in the mid-1996–1997 time frame. We were taking simulators and creating upsets at 90 degrees of bank and beyond — to 135 degrees nose-low. One of the things that we noticed was that there was a lot of discussion about rudder use, and about variation in recovery that individuals were wanting to make based on their background."
Some of the most talented simulator instructors at the time — lacking any military all-attitude flight experience or upset recovery training — instinctively reverted to incorrect control inputs that "would probably not be a recoverable maneuver in an airliner," Tovani said.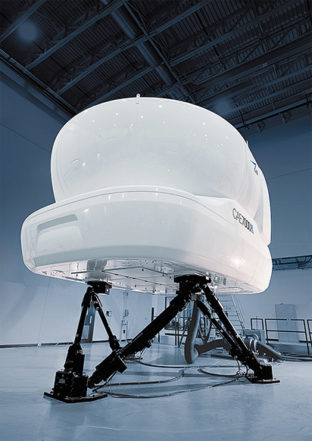 He tells each simulator instructor leaving to take the course, "You will be the stall/upset recovery experts; you're going to be able to develop training scenarios and add material, add exercises, add explanation, add what is most appropriate for your fleet based on what you learned. The first graduates are already using the language and the aerodynamic knowledge in briefing and debriefing of line pilots that are going through stall training. As this initial cadre comes back from training, they will engage on the next development cycle of continuing qualification training, so this will be presented to the line pilots in the first half of 2016."
When the next level of UPRT is implemented, Delta's "pilots are going to see more extreme upsets and stall scenarios than what they've seen before," he said. "These extreme scenarios are going to be training-only. They're not part of check rides. Delta's had a strong emphasis on maintaining manual flight skills and obviously these are at the extreme of those manual flight skills."
In addition to expected third-party auditing, Delta's AQP and training record divisions will track accomplishment of UPRT training objectives with AQP oversight by the FAA. Tovani also said that the airline will be open to sharing with other airlines the lessons learned from the partnership.
In the big picture, UPRT is only one of several priority subjects within Delta flight training. Relatively speaking, it involves knowledge and skills rarely applied in actual line operations. As an example of subjects with everyday application, he cited Delta's parallel efforts to strike a training balance between automation skills and manual flight skills.
"We're actually working very hard in that area," Tovani said. "I think that the solutions lie within the realm of CRM [crew resource management], TEM [threat and error management], and now pilot monitoring skills and [flight path monitoring] procedures. With the new technology, we're responsible for the whole gamut of skills from fully automated to fully manual flight, so maintaining pilot proficiency across the automation spectrum is a never-ending challenge."
Lessons From Teaching
Delta's multi-fleet pilot population is the biggest and most diverse that APS has engaged with in UPRT. Pre-course, online instructional media and teaching methods have been refined for many years, however, Ransbury said. "We provide a briefing by an instructor on each maneuver. Then we do an instructor version of how to teach that maneuver in the cockpit, and then we give an 'ideal demo to client' of how to introduce the maneuver to the customer and have them perform it. So it gives them three levels: academic, instructor to instructor and instructor to line pilot. We are very stringent in that we only communicate and relay ­industry-approved and vetted information. The importance to instructors is to know what is Delta-specific and what is industry-approved."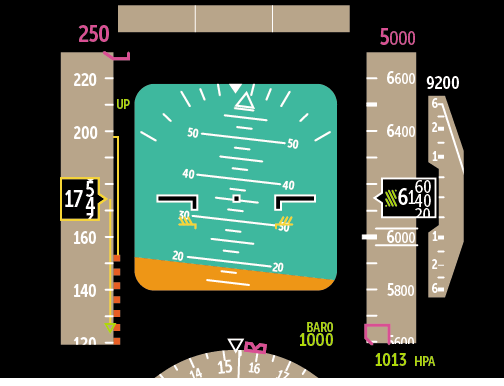 Prospective client airlines ask him what value the staff will add. "We say, 'We are going to teach you what the industry wants you to know and what the industry wants you to do. We have some special tools to help you be better at that than if you didn't use us," he said. The emphasis also is on benefiting airline simulator instructors at all levels of experience, from zero experience flying beyond 60 degrees of bank to all-attitude background of a military test pilot or fighter pilot, or aerobatic experience.
"The problem in the industry is that every single pilot — especially those with that type of experience — has in their mind the way they think upset training should be taught. So that's probably the big equalizer when people arrive for the course. They have vastly different experiences, vastly different understandings or maybe their own certain way of doing things when they arrive," Ransbury said. "We take them, we calibrate them, and by the end of the five-day program, they are all on the same page. They understand the threat of negative training. They understand industry UPRT principles. They understand that there are things they should teach and that they shouldn't teach in the simulator."
To date, hardly any airlines have declined the on-aircraft elements of the course for their instructors, he said, adding that the on-aircraft graduates universally see the value. "There are certain specific things — like the psycho-physiological aspects of UPRT, the motion cueing, the stress, the reality factor, startle factor, the things that they can experience in a real upset — that really make them better able to teach UPRT in a simulator," he said. Many of the benefits involve their ability to relay first-hand experiences and cautions about real-world differences, he said.
Auditing processes will assess how tightly the evolving Delta enhancements comply with industry principles and vetted information; whether there are any areas of potential negative training; and whether any of the competency-based, scenario-based training that Delta's simulator instructors develop proves to be inappropriate or unrealistic for effective UPRT. "This is also the best way to really judge the upset prevention capability of the pilots in more of a real-world situation as opposed to purely maneuver-based upset recovery," Ransbury said.
Notes
Currently involved Delta aircraft types include Airbus A320 and A330; Boeing 717, 737, 757/767 (flown as a single pilot category at Delta) and 777; and McDonnell Douglas MD-88 and MD-90.
The app version for the Apple iPad was selected by Delta for academic training of the initial cadre of Delta flight simulator training instructors.
Featured image: © nustyR | AirTeamImages
iPad training module screenshot: © Aviation Performance Solutions
Full-flight simulator: © CAE
Primary flight display: © Aviation Performance Solutions