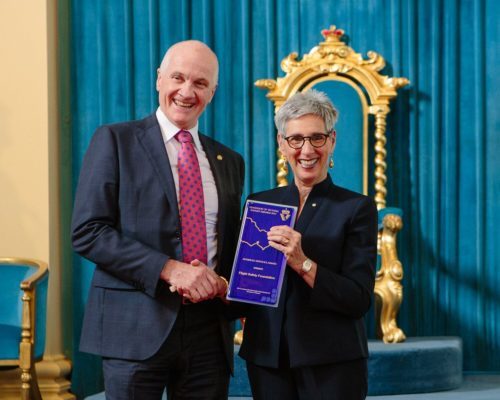 MELBOURNE, Australia — Flight Safety Foundation's Basic Aviation Risk Standard (BARS) program has been honored with the Governor of Victoria 2017 Export Award (GOVEA) for Business Services for its "outstanding international success" in professional business services.
BARS is a worldwide aviation safety audit program supporting the mining and resource sector, and humanitarian, government and insurance organizations, in their oversight of contracted aviation activities.
The award — presented Monday to BARS Program staff members and Julian Fraser, a member of the Board of Governors for Melbourne-based Flight Safety Foundation Limited — is designed to recognize the Australian state of Victoria's "most successful and innovative exporters with the stamp of international success."
As the winner of a GOVEA award, the BARS program is now a finalist for the Australian Export Award, a nationwide award honoring Australian businesses that have achieved sustainable export growth.
"This is great recognition of what a small and dedicated team can achieve in worldwide aviation safety initiatives," David Anderson, managing director of the BARS program, said. "We have continual support of some forward-thinking member organizations in managing aviation safety as a collective and doing it in such a way as to find efficiencies and savings. Flight Safety Foundation and its regional office are leading the way with this safety initiative in the contracted aviation sector."
The BARS program was established in 2010 to identify threats and risks to aviation operations being conducted in support of resource and mining companies. The program — which has expanded to include safety audits of aviation operations contracting with other industries, especially those operating in remote locations — is now active in 31 countries and has conducted nearly 500 safety audits.
Julian Fraser, member of the Flight Safety Foundation Ltd Board, receives the award from Linda Dessau AC, governor of Victoria.
###
About BARS
Flight Safety Foundation's Basic Aviation Risk Standard (BARS) program is designed to provide organizations that engage contracted aircraft operators with a standard to assist in the risk-based management of aviation activities. The Standard is suited to any organization that uses aircraft operators to provide contracted aviation support for their operations, particularly within remote and challenging environments.
About Flight Safety Foundation
Flight Safety Foundation is an independent, nonprofit, international organization engaged in research, education, advocacy and publishing to improve aviation safety. The Foundation's mission is to be the leading voice of safety for the global aerospace community.
Media Contact:
Frank Jackman
+1 703.739.6700, ext. 116
jackman@flightsafety.org
BARS Contact:
David Anderson
anderson@flightsafety.org