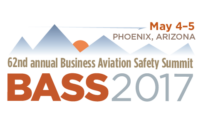 PHOENIX — Flight Safety Foundation's 62nd annual Business Aviation Safety Summit (BASS) is scheduled to get under way Thursday, May 4, with a keynote address by noted aviator, executive and motivational speaker Ron Mumm. The theme of this year's conference, which is being held at the Sheraton Grand Wild Horse Pass in Chandler, Ariz., is Safety through Synergy. Also scheduled to speak Thursday is former U.S. National Transportation Safety Board Chairman Christopher Hart.
Mumm, who was a U.S. Air Force (USAF) fighter pilot and commanded the USAF Thunderbirds Demonstration Squadron, is owner and managing director of Raven Aviation, a Chicago-based aviation management company. He plans to speak about teamwork and the key to high performance. Hart, who currently is a member of the NTSB, will talk about the challenges of increasing automation.
Subjects to be addressed and discussed during the two-day event, which is expected to draw more than 200 business aviation safety professionals, include upset recovery training, laser strike trends and solutions, unmanned aircraft systems, next generation flight safety systems, measuring safety performance, cyber security, runway excursions, lithium battery risk, fatigue management, and the impact corporate executives can have on safety performance.
Flight Safety Foundation's recently published Go-Around Execution and Decision-Making Project Final Report also will be discussed.
BASS 2017 is produced in partnership with the National Business Aviation Association. For more details on BASS 2017 or to register, please click here.
###
Flight Safety Foundation is an independent, nonprofit, international organization engaged in research, education, advocacy and publishing to improve aviation safety. The Foundation's mission is to be the leading voice of safety for the global aerospace community.
Media Contact:
Frank Jackman, Vice President, Communications
jackman@flightsafety.org