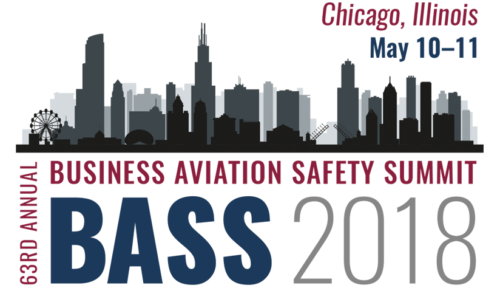 ALEXANDRIA, Va. — Flight Safety Foundation has issued a call for presentations for the 63rd annual Business Aviation Safety Summit (BASS 2018) scheduled for May 10–11, 2018, in Chicago. Submissions are due Sept. 1, 2017.
BASS, which is co-sponsored by the National Business Aviation Association (NBAA), provides a forum for examining safety matters of special concern to the business aviation community, and is recognized as the premier forum for the discussion and exchange of safety information for corporate and business aviation operators.
The Foundation and NBAA are seeking presentations on the following topics:
Go-arounds and energy management;
Safety performance indicators;
Flight attendants and cabin safety;
Hangar and ramp safety;
Practical approaches to safety leadership;
Emerging technologies;
Human performance;
Appropriate use of automation;
Lessons from recent accidents; and,
Fatigue.
More information on the requirement and how to submit presentations is available here. After all the submissions are received, a subcommittee of the Foundation's Business Advisory Committee will make the final selection of presentations and create the BASS 2018 agenda.
###
About Flight Safety Foundation
Flight Safety Foundation is an independent, nonprofit, international organization engaged in research, education, advocacy and publishing to improve aviation safety. The Foundation's mission is to be the leading voice of safety for the global aerospace community.
Media Contact:
Frank Jackman, Vice President, Communications
+1 703-739-6700, ext. 116
jackman@flightsafety.org
Events Contact:
Liz Solorzano, Manager, Conferences and Exhibits
+1 703-739-6700, ext. 143
solorzano@flightsafety.org