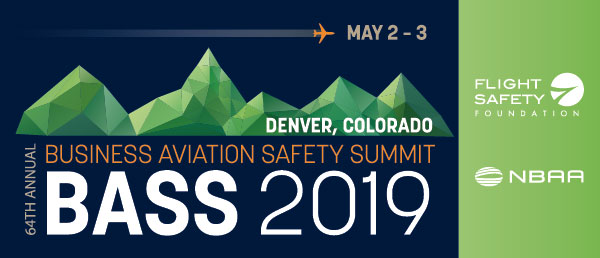 CHICAGO — Flight Safety Foundation announced Thursday that Denver has been selected as the site for the 64th annual Business Aviation Safety Summit (BASS), to be held May 2–3, 2019. The announcement was made by FSF President and CEO Jon Beatty on the opening day of BASS 2018 at the Radisson Blu Aqua Hotel in Chicago.
"We're excited to bring BASS 2019 to the Mile High City," Beatty said. "The scenery and hospitality in Denver are both spectacular, and we're committed to organizing and hosting an event that does justice to such a wonderful backdrop."
BASS is a forum for the business aviation industry to meet in a collaborative environment to identify safety concerns, devise approaches to reduce risk and implement initiatives to improve safety. The summit, organized by Flight Safety Foundation, in partnership with the National Business Aviation Association, covers safety, training, practical solutions, management, human factors and other issues for every segment of the business aviation industry.
###
About Flight Safety Foundation
Flight Safety Foundation is an independent, nonprofit, international organization engaged in research, education, advocacy and publishing to improve aviation safety. The Foundation's mission is to connect, influence and lead global aviation safety.
Media Contact:
Frank Jackman
Vice President, Communications
+1 703.739.6700, ext. 116
jackman@flightsafety.org