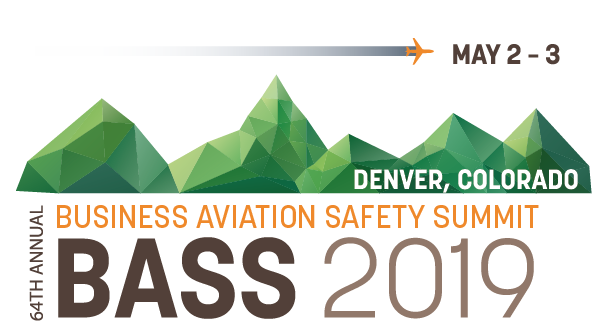 DENVER — Flight Safety Foundation's 64th Business Aviation Safety Summit (BASS) convenes Thursday morning at the Westin Denver Downtown with a keynote address by John S. Duncan, deputy associate administrator for Aviation Safety at the U.S. Federal Aviation Administration (FAA). Duncan is the co-leader of the FAA organization responsible for overseeing and enforcing safety standards in all aspects of the U.S. aviation industry.
Following Duncan's remarks and a welcome message from Dr. Hassan Shahidi, the Foundation's president and CEO, Mark Larsen, senior manager, Safety and Flight Operations at the National Business Aviation Association (NBAA), will update attendees on the NBAA Safety Committee's recent work. BASS is organized by the Foundation in partnership with NBAA.
BASS is a forum for the business aviation industry to meet and identify safety concerns, devise approaches to reduce risk and implement initiatives to improve safety. This year's event, which is expected to draw more than 200 attendees and numerous exhibitors, will cover a wide range of safety topics and will feature presentations, panel discussions and innovative audience polling. In addition, the program has been set up to be as interactive as possible, allowing attendees ample opportunities to ask questions and get answers.
In addition to Duncan's remarks, the first day of BASS will feature presentations on modernizing leadership, single pilot operations, fatigue mitigation strategies and related safety performance indicators, the danger of complacency, resilience and crisis management, and an accident case study and lessons learned.
The morning of Day Two will feature an update from the National Air Traffic Controllers Association Safety Committee, and a full session on runway and ramp safety issues, as well as the presentation of the Foundation's annual Business Aviation Meritorious Service Award.
Friday afternoon's program will feature a session on training that will include a discussion on whether training is preparing flight crews for the future. The day will wrap up with an in-depth look at emerging safety issues, and will feature the results of research being done on safety tools and decision aids for use in single pilot cockpits.
This year's event marks the third time that BASS has been held in Denver, and the first time since 1981. BASS, then known as the Corporate Aviation Safety Seminar, was first held in Denver in 1965.
More information on BASS and the Foundation's other upcoming events can be found on the events landing page on our website.
###
About Flight Safety Foundation
Flight Safety Foundation is an independent, nonprofit, international organization engaged in research, education, advocacy and communications to improve aviation safety. The Foundation's mission is to connect, influence and lead global aviation safety.
Media Contact:
Frank Jackman
Vice President, Communications
+1 703.739.6700, ext. 116
jackman@flightsafety.org