CHICAGO — Flight Safety Foundation on Friday presented its Business Aviation Meritorious Service Award to Peter v. "Pete" Agur Jr., founder and chairman of VanAllen, a management consultancy based in Atlanta. Agur was cited for his extensive and prolonged efforts to improve business aviation growth, performance and safety, for his contributions to the industry, and for making business aviation safety a central theme of his career.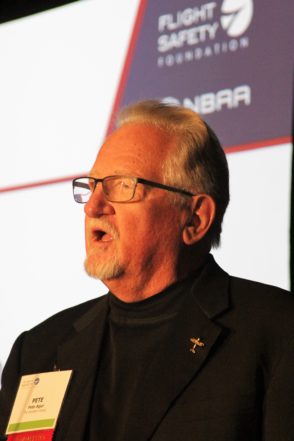 The award was presented by FSF President and CEO Jon Beatty at the Foundation's 63rd annual Business Aviation Safety Summit (BASS), being held at the Radisson Blu Aqua Hotel in Chicago.
"It's an honor to present this award to Pete," said Beatty. "Through his consulting practice and his long-time involvement with the Foundation's Business Advisory Committee and with the National Business Aviation Association (NBAA), Pete has influenced thousands of individuals and organizations. It's fitting that we recognize Pete in front of an audience of his peers, many of whom have benefited from Pete's counsel."
Agur began his aviation career in 1968 as a U.S. Army helicopter pilot and safety officer. From 1973 through 1985, he was marketing manager and sales representative for four domestic and international airframe manufacturers.
He began his consulting career in 1985 with the Mescon Group, an organization design consulting firm, and then founded VanAllen, formerly the VanAllen Group, in 1993.
Agur has served for two decades on the FSF Business Advisory Committee, including several years as vice chairman. He has helped organized and moderate BASS, made several presentations during the event, and has contributed a number of articles to the Foundation's AeroSafety World journal.
He twice has been a member of the NBAA's Safety Committee and was a 23-year member of its Corporate Aviation Management Committee. He has also served as chairman of the NBAA Convention's local committee, was instrumental in the start of the NBAA's Schedulers and Dispatchers Conference, and founded its Leadership Conference.
Agur holds an airline transport pilot certificate for fixed wing aircraft, a commercial pilot certificate for helicopters, and a private pilot certificate for gliders and is a former military, airline and civil flight and ground instructor.
###
About Flight Safety Foundation
Flight Safety Foundation is an independent, nonprofit, international organization engaged in research, education, advocacy and publishing to improve aviation safety. The Foundation's mission is to connect, influence and lead global aviation safety.
Media Contact:
Frank Jackman
Vice President, Communications
+1 703.739.6700, ext. 116
jackman@flightsafety.org