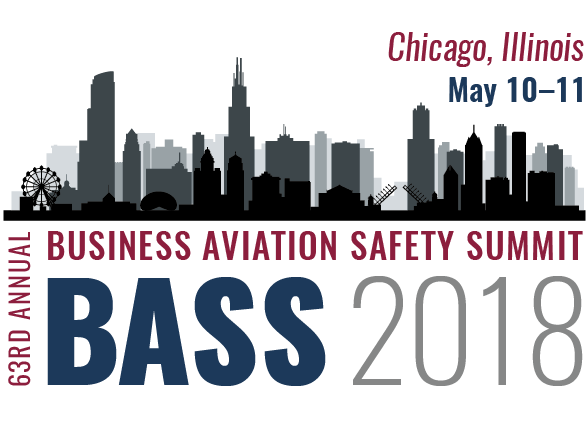 CHICAGO — Flight Safety Foundation's 63rd annual Business Aviation Safety Summit (BASS) gets under way Thursday morning with a lineup of speakers and presentations that will focus on some of the most important risks and mitigation strategies facing corporate operators and industry stakeholders.
The two-day safety event is expected to draw more than 225 aviation safety professionals and two dozen exhibitors to the Radisson Blu Aqua Hotel in Chicago. The Foundation organizes and hosts BASS in partnership with the National Business Aviation Association.
"Our team here at the Foundation, working with our Business Advisory Committee (BAC), has developed an insightful and provocative agenda that is sure to generate a lot of discussion in the general session, the networking breaks and on the floor of the exhibition space," said FSF President and CEO Jon Beatty. "Chicago is a great city and provides the perfect back drop for the industry's premier business aviation safety event.
"Many thanks to BAC Chair Lisa Sasse of VisionSafe and co-chair Jim Kelly of Pfizer Aviation, as well as the Foundation's Liz Solorzano, manager of events and marketing, and Mark Millam, vice president, technical, for all of the long hours they have dedicated to BASS 2018. Thanks also to sponsors Aircare International, Aviation Manuals, Baldwin Aviation, BusinessAir, Embraer, GE Aviation, Gulfstream, Rolls-Royce, VisionSafe and United Airlines."
BASS is a forum for the business aviation industry to meet in a collaborative environment to identify safety concerns, devise approaches to reduce risk and implement initiatives to improve safety. The summit covers safety, training, practical solutions, management, human factors and other issues for every segment of the business aviation industry.
###
About Flight Safety Foundation
Flight Safety Foundation is an independent, nonprofit, international organization engaged in research, education, advocacy and publishing to improve aviation safety. The Foundation's mission is to connect, influence and lead global aviation safety.
Media Contact:
Frank Jackman
Vice President, Communications
jackman@flightsafety.org
+1 703.739.6700, ext. 116