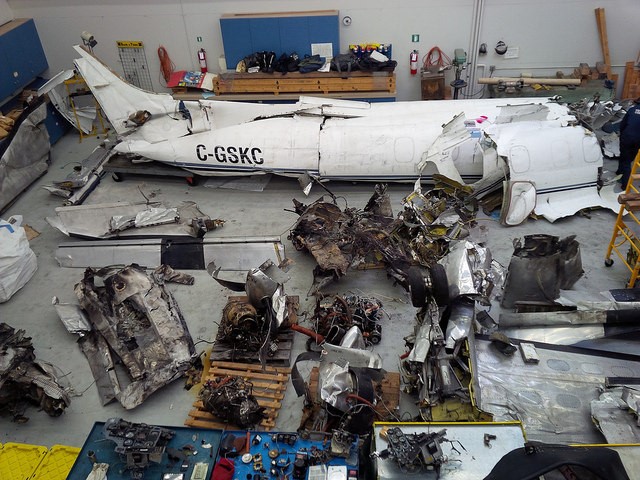 The Transportation Safety Board (TSB) of Canada is recommending that regulator Transport Canada work with aviation industry and union representatives to develop and implement requirements for a comprehensive substance abuse program. The program, intended to reduce the risk of impairment of persons while engaged in safety sensitive functions, should include mandatory testing, as well as education, employee assistance, rehabilitation and peer support, TSB said.
TSB made its recommendation in the final report, released Thursday, in the April 13, 2015, fatal accident of a Swearingen SA-226-TC Metro II operated by Carson Air Ltd. The Metro II was carrying freight from Vancouver International Airport to Prince George Airport when, according to TSB, it entered a steep dive shortly after takeoff and suffered a catastrophic in-flight breakup. Both pilots were fatally injured.
Toxicology testing indicated that the captain had a blood alcohol level of .24 percent and likely had consumed a significant amount of alcohol on the day of the accident flight.
"Based on the captain's blood alcohol content, alcohol intoxication almost certainly played a role in the events leading up to the accident," TSB said in its findings. But the investigative agency was unable to determine with certainty exactly what happened. "For unknown reasons, the aircraft descended in the direction of flight at high speed until it exceeded its structural limits, leading to an in-flight breakup," the report said.
The airplane was not equipped, nor was it required to be, with a flight data recorder or cockpit voice recorder.
"In Canada, regulations and company rules prohibit flying while impaired, but they rely heavily on self-policing," TSB Chair Kathy Fox said in a news release. "We realize that employees within Canada's aviation industry will have concerns under any possible testing regime," she said. "That is why we recommend that the substance abuse program consider and balance the need to incorporate human rights principles enshrined in the Canadian Human Rights Act with the responsibility to protect public safety."
In its report, TSB offered three possible scenarios that would explain the events and unsafe conditions that may have played a role in the accident: a pitot system blockage, pilot incapacitation, and an intentional act.
Wreckage of the accident aircraft at the TSB laboratory. Photo Credit: TSB