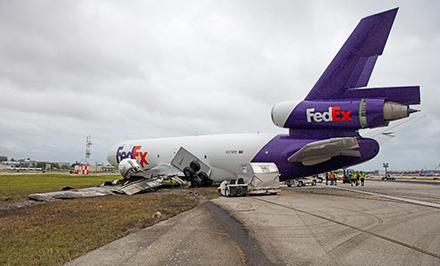 Fatigue cracking that started at a corrosion pit led to the left main landing gear (MLG) of a FedEx McDonnell Douglas MD-10-10 freighter collapsing shortly after the airplane landed at Fort Lauderdale-Hollywood International Airport in Florida on Oct. 28, 2016, the U.S. National Transportation Safety Board (NTSB) said in its final report on the accident investigation.
In its report, released Thursday, NTSB said that once the fatigue crack progressed to critical length, the left MLG cylinder "fractured in overstress" due to the loads imposed during landing.
Shortly after the aircraft touched down on Runway 10L, the pilots reported hearing a bang as the brakes were applied and the gear collapsed. The MD-10F, which began life as a DC-10-10 passenger aircraft in 1972, yawed to the left and came to a stop on the left side of the runway. A fuel-fed fire started on the left wing and the nearly empty left main fuel tank exploded as the crew prepared to evacuate. Both pilots evacuated safely, with one suffering minor injuries.
In explaining the probable cause of the accident, NTSB said the corrosion pit formed in the absence of a required protective cadmium coating, but that it could not be determined why the coating was missing. "It was not possible to determine whether cadmium plating applied during the last overhaul did not properly bond to the bore surface, was removed during later maintenance, or wore off over time because there is no routine procedure to effectively inspect this area during on-wing maintenance activities conducted since the last MLG overhaul," the report said.
Contributing to the failure of the landing gear was the operator's overhaul limit of nine years or 30,000 flight hours, whichever came first, NTSB said, noting that the manufacturer-recommended overhaul limit was eight years or 7,500 flight cycles, whichever came first. NTSB said FedEx's overhaul limit exceeded that of the manufacturer "without sufficient data and analysis to ensure crack detection before it progressed to failure." FedEx had adopted the limit from the previous owner/operator of the first DC-10s it purchased.
The failed gear had been overhauled 8.5 years before the accident, NTSB said. After the accident, FedEx reviewed its maintenance program and reverted to an eight-year overhaul limit on the MLGs.
NTSB Photo by Dan Bower