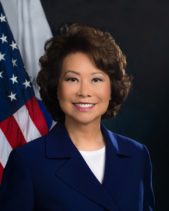 U.S. Secretary of Transportation Elaine L. Chao on Tuesday ordered an audit of the Boeing 737 MAX 8 certification process. The aircraft, which the Federal Aviation Administration (FAA) grounded last week, has been involved in two fatal accidents in the past several months.
In a brief memo to Calvin L. Scovel, III, the Department of Transportation's (DOT's) inspector general, Chao asked the Office of the Inspector General to proceed with an audit to compile an "objective and detailed factual history of the activities that resulted in the certification" of the MAX. She said the intent of the audit was to help inform DOT's decision making and the public's understanding, and to "assist the FAA in ensuring that its safety procedures are implemented effectively."
Ethiopian Airlines Flight 302 crashed shortly after takeoff from Addis Ababa, Ethiopia, on March 10. All 157 passengers and crew were killed. Lion Air Flight 610, also operated with a MAX 8, crashed into the Java Sea on Oct. 29, killing 189 passengers and crew. FAA grounded MAX 8 and MAX 9 airplanes on March 13.