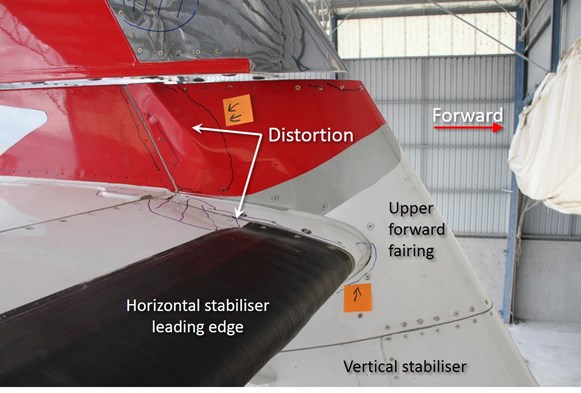 The European Union Aviation Safety Agency (EASA) and aircraft manufacturer ATR should act to improve aircraft system design tolerance to dual control inputs by pilots, the Australian Transport Safety Bureau (ATSB) says.
The recommendations, issued Friday, were contained in the ATSB's final report on a Feb. 20, 2014, event involving a Virgin Australia Regional Airlines (VARA) ATR 72 being flown from Canberra to Sydney. The report said that while descending through 8,500 ft, the airplane encountered significant wind shear, followed by a decreased tailwind.
The two pilots "unintentionally applied opposing control inputs to their control columns while trying to ensure the aircraft remained below its maximum operating speed," the ATSB said. "These differential forces activated the aircraft's pitch uncoupling mechanism." This led to a pitch disconnect, which meant each elevator could operate independently; the result was an aerodynamic load that exceeded the strength of the horizontal stabilizer.
The damage was not immediately detected, and the airplane was returned to service for 13 flights. A suspected bird strike prompted another inspection, which identified serious structural damage to the horizontal stabilizer, the ATSB said.
The ATSB's recommendation to EASA said the agency should take "further action to review the current design standard … in consideration of [the] effect that dual control inputs may have on control of aircraft."
The ATSB also issued two recommendations to ATR, including one calling on the manufacturer to "assess the operational risk associated with limited tactile feedback between left and right control columns in the context of no visual or auditory systems to indicate dual control inputs."
The second recommendation called on ATR to "perform a detailed review of the effects of dual control inputs on the aircraft's longitudinal handling qualities and control dynamics to determine if there are any detrimental effects that could lead to difficulty in controlling the aircraft throughout the approved flight envelope and operational range."
ATSB Chief Commissioner Greg Hood said that the incident "demonstrates aircraft and aircraft systems need to be designed in anticipation of, and tolerant to, foreseeable inadvertent pilot actions."
Photo caption: The upper tailplane of the incident aircraft shows damage to horizontal and vertical stabilizers. The damage was identified five days and 13 flights after the in-flight upset/pitch disconnect and associated maintenance. Source: ATSB