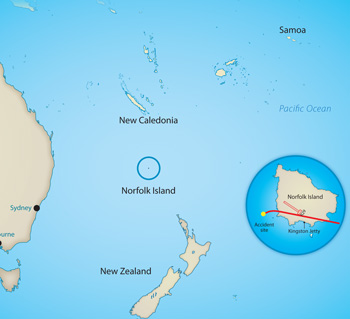 The Australian Transport Safety Bureau (ATSB) has issued a final report on its reopened investigation of the Nov. 18, 2009, ditching of an Israel Aircraft Industries Westwind 1124A — five years after the original report and four years after the initial investigation prompted a request for a review by the Transportation Safety Board of Canada (TSB) of ATSB procedures.
The emergency medical services flight from Apia, Samoa, was headed to Norfolk Island — a self-governing Australian territory in the Pacific Ocean — for refueling. Low clouds obscured the runway, and after several missed approaches, the crew ditched the airplane. All six occupants were rescued by boat; two suffered serious injuries.
In its original final report on the ditching, released in 2012, the ATSB said that the flight crew's preflight and en route planning was incomplete and that their late assessment of landing conditions left them a choice of making another approach at night in deteriorating weather conditions or ditching before fuel was depleted.
Australian lawmakers criticized those conclusions, and a Senate committee said the ATSB had "repeatedly deflected suggestions that significant deficiencies with both the operator … and [the Australian Civil Aviation Safety Authority (CASA)] … contributed to the accident."
In 2015, the TSB's review identified problems including poor data collection that hindered the ATSB's analysis of several safety issues, among them crew fatigue, fuel management, and company and regulatory oversight.
The Norfolk Island investigation was reopened in late 2014 and the new final report, issued last week, included a focus on the TSB's comments. The report said the captain's preflight planning "did not include many of the elements needed to reduce the risk of a long-distance flight to a remote island," including his decision to leave Apia without the maximum fuel load.
Neither the operator nor the regulator had specific fuel planning requirements for passenger flights to remote islands, the report said.
After the accident, CASA modified requirements, including fuel requirements, for operations to remote islands and strengthened its surveillance processes, the report said.
The report said that the "most fundamental lesson" of the new investigation "is to recognise that unforecast weather can occur at any aerodrome. Consequently, there is a need for robust and conservative fuel planning and in-flight fuel management procedures for passenger-transport flights to remote islands and isolated aerodromes."