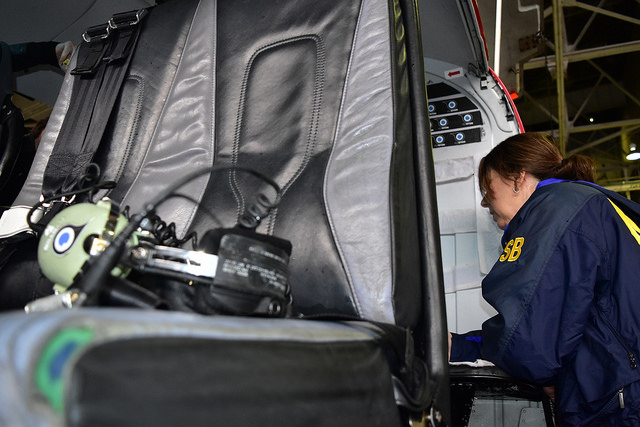 Citing the hazard of supplemental restraint devices, the U.S. Federal Aviation Administration (FAA) has ordered helicopter operators to end all "doors-off" operations if occupants are using restraints that cannot be released quickly in an emergency.
The FAA issued its order late last week, saying that it plans "a top-to-bottom review" of the rules governing doors-off flights in helicopters equipped with supplemental restraints.
The agency's order came in response to a March 11 accident in which an Airbus Helicopters AS350 B2 struck the East River in New York City during an autorotation maneuver and rolled inverted. All five passengers were killed, and the pilot was injured.
The preliminary investigation of the Liberty Helicopters aerial photography flight revealed no evidence of anomalies involving the helicopter's engine, its structure or its flight controls.
The investigation by the National Transportation Safety Board (NTSB) was continuing. The NTSB said the helicopter's passenger seats were equipped with harness systems consisting of "a nylon fall-protection harness tethered via a lanyard to the helicopter." Passengers were briefed before the flight on how to use a provided cutting tool to remove the harnesses in an emergency, but none of the passengers was able to escape from the helicopter.
News reports quoted first responders as saying that they had to cut passengers out of the restraints after the AS350 rolled inverted. The pilot told authorities that a passenger's bag might have been positioned in a way that activated the emergency fuel shutoff.
The NTSB called Monday for the FAA to prohibit commercial flights in helicopters with passenger harness systems that do not allow for easy release.
"While we applaud the FAA's intention to move forward on banning these types of doors-off flights, the FAA has not outlined how or when they plan to take action," NTSB Chairman Robert Sumwalt said. "Definitive action needs to be taken."
Photo Caption: An NTSB survival factors documents the restraint systems within the cabin of the Liberty Helicopters' helicopter that crashed in the East River March 11. (NTSB Photo by Chris O'Neil)