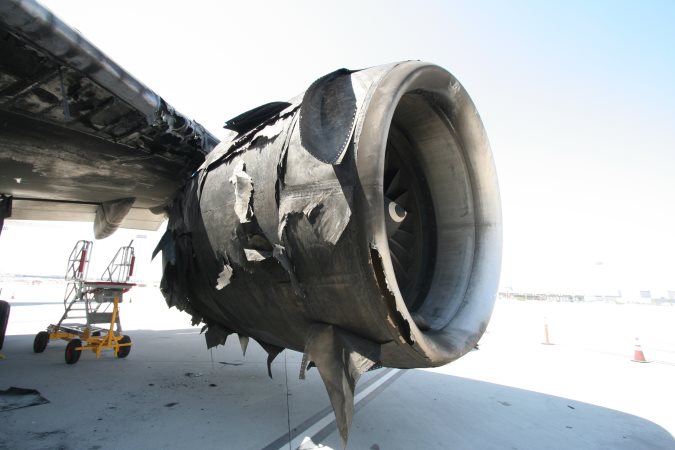 A fatigue crack in the engine of a British Airways Boeing 777-200ER was to blame for a Sept. 8, 2015, uncontained engine failure and fire during the airplane's takeoff roll at McCarran International Airport in Las Vegas, the U.S. National Transportation Safety Board (NTSB) says.
The captain rejected the takeoff and stopped the 777 on the runway within seconds, according to an NTSB report, released Wednesday. The 157 passengers and 13 crewmembers evacuated using emergency slides.
Although the captain ordered passengers to evacuate from the right side of the airplane, the right engine ran for 43 seconds after he issued the order, and the resulting jet blast blew two emergency slides out of position. As a result, passengers and crew were able to use only two of eight doors to leave the airplane before smoke and flames affected the fuselage, the NTSB said.
"The NTSB found that the captain did not use his quick reference handbook to read and do checklist items," the agency said. "It was only when a third pilot in the cockpit noticed instruments indicating the right engine was still running that the engine was shut down. Because the captain did not follow standard procedures, his call for the evacuation checklist and the shutdown of the right engine were delayed."
The NTSB said its investigation revealed a fatigue crack in the high-pressure compressor stage 8 disk web of the General Electric GE90-85BG11 engine, which had accumulated 11,459 total cycles. The crack initiated after about 6,000 cycles, "much earlier than the engine's manufacturer, GE predicted; the cause of the crack initiation could not be identified," the NTSB said.
Because the disk web was not an area that was subject to a required inspection, the crack was not detected, the NTSB said, adding that after the accident, GE implemented inspection procedures to detect disk web cracks.