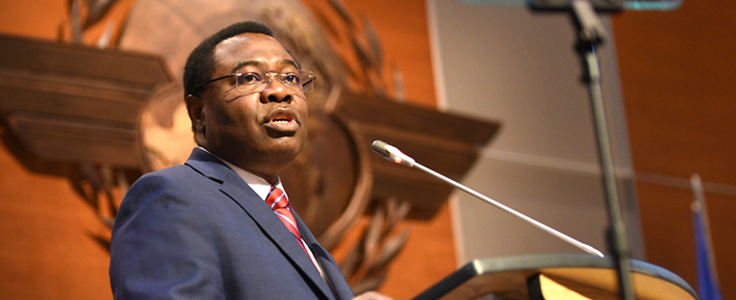 Expected growth in air traffic and the increased use of drones, artificial intelligence and other new technologies are about to transform aviation, and the industry must meet the transformation with plans for "a safe, interoperable, seamless and global civil air traffic management system," Olumuyiwa Benard Aliu, president of the Council of the International Civil Aviation Organization (ICAO) says.
Aliu (pictured above) made the remarks Tuesday during his keynote address on the first day of the ICAO Thirteenth Air Navigation Conference (AN-Conf/13) being held in Montreal. The10-day event runs until Oct. 19.
He said that the civil aviation community has been slowly moving toward a future air navigation system over the past few decades, and that "the future is now" for air traffic management and other operations that must be adapted to meet the industry's needs.
ICAO Secretary General Fang Liu told the conference that new entrants into the industry "enhance and expand the socio-economic value of aviation." Collaboration and planning among all sectors of the industry will prove more effective at problem-solving than "patchwork solutions, which can vary from state to state or region to region," she said.
Participants in the conference will review a range of items, "including revised policies and targets for the ICAO Global Aviation Safety Plan, new business case tools relating to infrastructure modernization projects and other revisions to the ICAO Global Air Navigation Plan, state endorsement of an international trust framework to bolster the security of future digital air transport requirements and a new global approach to cost-effective safety collaboration," ICAO said.
Mark Millam, vice president, technical, is representing Flight Safety Foundation at the conference.